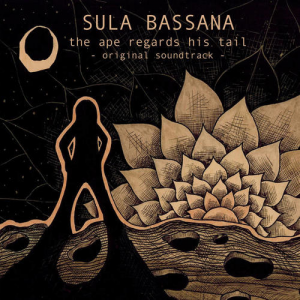 Beautiful artwork by Komet Lulu is wrapped around this new release by Sula Bassana, which already tempts the listener to give it a spin. This is Sula's first soundtrack album and is for Michael Yates's new movie The Ape Regards His Tail. Without having seen the film, I am discussing the soundtrack alone for its individual sonic merits as I have no idea how it links in with any visuals in the movie.
Things kick off with "The Begining", a glorious drone that hangs in the air like an expectant storm. The sound reminds me of
Brian Eno
's ambient work, in particular his
Apollo And Atmospheres
 soundtrack. There's
a glorious blissful energy
to the piece that moves languidly and swells at the right moments. It draws you in and makes you think of a night among the stars. "Dreams" haunts the speakers like something from
Klaus Schulze
's
Irrlicht
, its brief two-minute stay making it seem like a summer shooting star as organ chords hang in the dark sky.
"Rocks 1" rumbles like a Martian rover over its terrain. Big throbbing bass synth notes underlay beautiful and eerie chords that drift in the upper atmosphere. "Desert" begins to bring in more of a pulsing rhythm, although this is gently understated, and it's here where we pick up on the influence of Seventies Berlin School sounds creeping into Sula's palette. In a strange way, it comes across as an almost lilting lullaby to the cosmos, with echoed guitars playing a simple melody that adds space to the track rather than takes it away. It gives the impression of wide-open vistas, but ones found on some alien world.
"Sand Waves" starts with a squelching synth sound over wind noise. The track is a deep-sky opus that conjures up aural connections to
Tangerine Dream
's seminal
Phaedra
. Once the sequenced rhythm hits in,
we are off on a galactic ride and a journey into our inner universe
. The track bristles with energy like watching a storm on Jupiter, dances around and around like you are watching events from high above the Jovian cloud surface. "Rocks 2" has a similar atmosphere to its predecessor and can been seen as the only return to a theme that this soundtrack album has, Mellotron choirs drifting in its cold landscape.
At twenty minutes long, "Water" is the longest piece on the album. Beginning with the sound of waves on a beach, it instantly made me think of Jean Michel Jarre's first Oxygene album. Instead, the sounds here are a lot darker, like waking up on a beach on some distant world not knowing where you are. The mood of the piece shifts subtly as it goes on, but you are still left with that feeling that you are marooned on a planet somewhere and gazing off into void of unknown stars. This is ambient music that lets you drift in it's melancholy for a while, its inertia is a stunning thing and helps take you away from this world and its problems and out beyond the boundaries of Earth. When the organ chords slip in and the Mellotron plays mournfully, the track becomes a majestic overture to the birth of the cosmos. "Ending" finishes the album with some stunning otherworldly atmospheres and a catchy melody over the top that makes it feel like the end of a long journey, and it's a good way to round off the album, leaving you on a high.
If you like Berlin School atmospherics, then you will love this album, it ticks all the boxes of being
deep space music that takes you somewhere in your mind's eye that you have not been before
. The release is only available on CD at the moment, but I for one would love to see a vinyl issue of it as I think the analogue sound of records would suit its grooves and we would get to see that wonderful Lulu artwork in twelve inches. If you know Sula's other electronic albums then this is another must-have; if you don't then be prepared to take a trip to the other side of the sky.
-Gary Parsons-