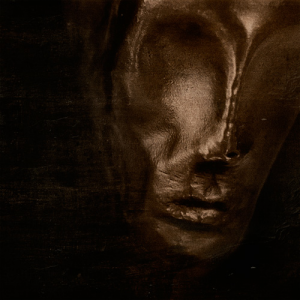 Packing a lot into its two sides of vinyl (or one track on the CD edition), Forever And A Day finds Mathieu Vandekerckhove (Amenra, Kingdom and Sembler Deah) in a musical meditation on his relationship with his father, and the sculpture that he made for his son around the time of his birth. This bronze torso and head appears in close-up detail on the LP sleeve and provides a weighty entry point to the album's shifting, slowly unfolding moods.
Fellow Sembler Deah member
Dehn Sora
intones the words to accompany Vandekerckhove's drones and repeated guitar figures, uttered solemnly and with a steady gaze fixed on describing the relationship between the sculpture and the paternal bond it signifies. Taken away from its autobiographical context,
Forever And A Day
works equally well as a piece of semi-instrumental post-rock meditation, the ebbs and flows and repeated figures presenting and re-presenting themselves on a flowing tide that switches between
immersive washes of processed electronics and FX and insistently cycling guitar filigrees
. When Sora whispers the title, huskily and with passion held in check (but not absently), it marks a second waypoint in the story, Vandekerckhove bringing forth his best
Papa M
melancholy, choruses of guitar strings rising and flickering in echoed trains that soon swell again into that now-familiar language of musical emotion,
speaking volumes through repetition and small variations on the theme
.
For all its relative brevity, after half an hour it already feels like Syndrome has lived up to its album title; and while not outstaying its welcome, knows when the story is done. As that final feedback trail ascends to the heavens, its equally inevitable dissolution in delayed vapour trails of noise is held self-evident with its very existence; much like life itself.
-Antron S Meister-