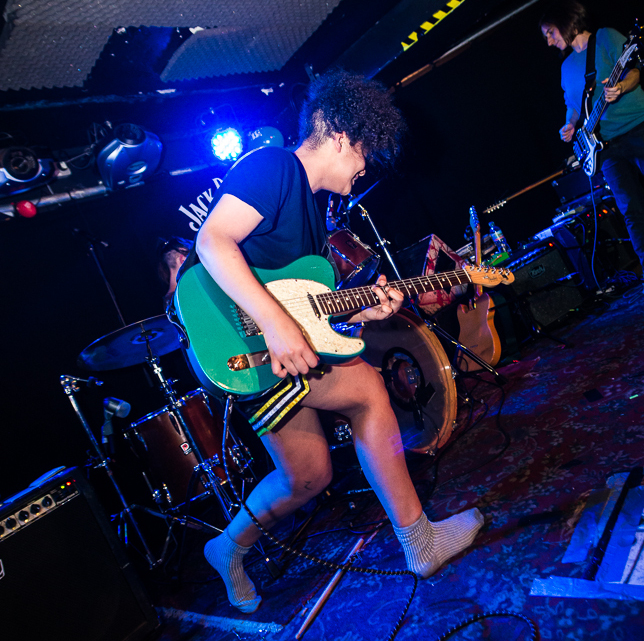 Brighton
10 December 2014
Gig-craft. It's a tricky thing. Something that's a perennial irritation for me is the way you'll get a touring band and three-five clones of that band. I always have this problem with things like grindcore gigs where you just get five of the same band. Which is great, for about two acts, then I get bored. SO one of the things about this gig was that it was really well-programmed. Dutch-language singer-songwriter stuff, fidgety improv, Ethiopian songs, something I'm going to vaguely call "dance-ish music with guitars" and The Ex. The latter of which I'm going to assume you're familiar with.
What The Ex seem to have done here is, rather than buy into the idea that everyone wants to see the headline band cloned, assumed that people have
a live show that's something more like an opulent banquet
than prisoner's gruel. Moreover, they've taken the approach that the idea of whether an act's "accomplished" or not makes less of a difference than where they fit on the bill.
Arend B Blauw
.
Arnold de Boer
introduces him as one of The Ex's neighbours and tell us it's his second gig. He proceeds to do a set of singer-songwriter stuff in Dutch. He's nervous and not a seasoned performer and it's in a language I don't understand in an area of music that's very lyrical. He's entirely brilliant. Of course, I'm getting nothing of what the songs are about but having those naked edges of inexperience and
the bedroom-rough voice, taken to rattly thresholds
, makes for a brilliant performance.
He treats us to a cover of "Wayfaring Stranger" where he's changed most of the syncopations and flattened out the melody and it's probably the most lively version I've heard for yonks, particularly impressive given the song's been done by everyone. I was flailing around at the time trying to think of comparisons — the voice might be something like early Blixa Bargeld but that could just as easily be my ear's relationship to the consonants of Dutch. The delivery isn't entirely unlike Shuji Inaba but nothing like as hysterical. Anyway, my lack of comparisons aside, it's a great performance and a stellar choice for an opening act.
Next — and worth noting, the changeovers for the first three acts are too-quick-for-a-wee swift —
Terrie Ex
and
George Haddow
, in which we get some
Keith Rowe
-esque eczematic scratch and squall against some of that really chopsticky drumming that's great when done well, and here it's done well. Free improv and associated areas are one of the most bastardly to write about for me, so I'll just say that it's in the upper tempos and it's good and anxious and there's a great exchange of
passages where both players are playing with and against each other
. I get the mild feeling that I'd be most happy watching Haddow solo BUT I do really like a drum solo because I am quite a sick human.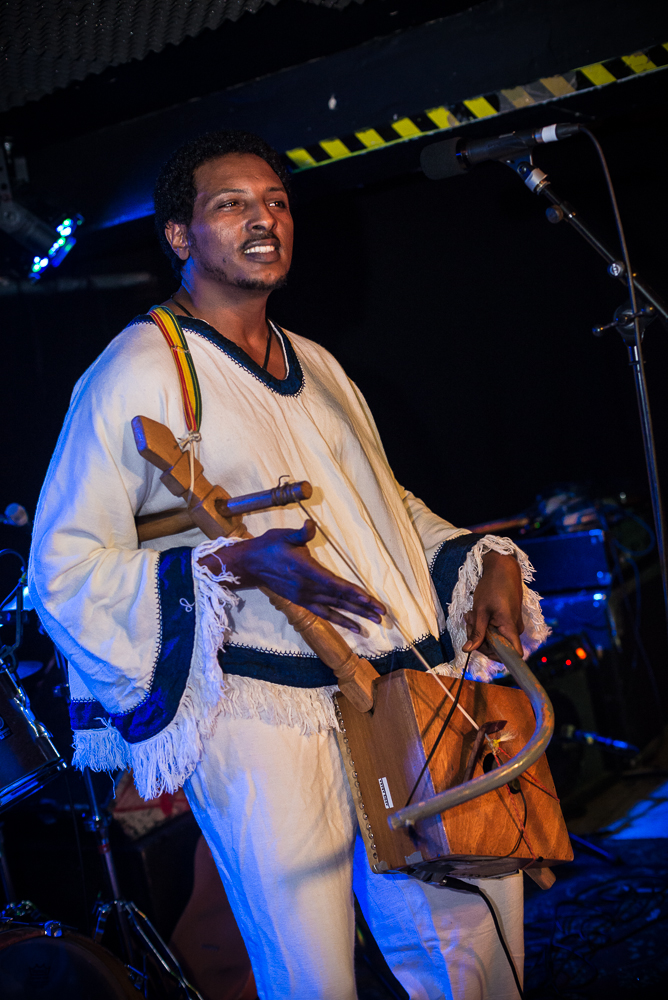 The real treat of the bill for me was the next act, Afework Nigussie playing masenqo. I'm not going to lie and give you the impression I know anything about the masenqo or Ethiopian music, but it's a pretty lush sound — a single-stringed instrument bowed around the waist in what I'm faintly imagining were pentatonics. Now. One of the things that impressed me most was Nigussie's fingers — where muscle memory and playing for a long time have changed his hands they seemed very long and flat, a specific and unusual kind of double-jointed that comes from playing an instrument that's fretted without a fingerboard at a different angle to most instruments. That's arguably a desperately uninteresting detail but there you have it.
The nearest comparison I can think of for the instrument's sound is maybe an
erhu
from China, but his playing includes minimal glissandi and dotes on some sewing machine-swift trills, so sounds nothing like the
erhu
in reality. Melodically, it's all tight and short but
it's the little transitions, syncopations and ornaments that make it
a pleasure to watch to the extent that I didn't start crawling when we all clapped along. And, perhaps most important of all, he had the best shoes of the evening by an enormous margin.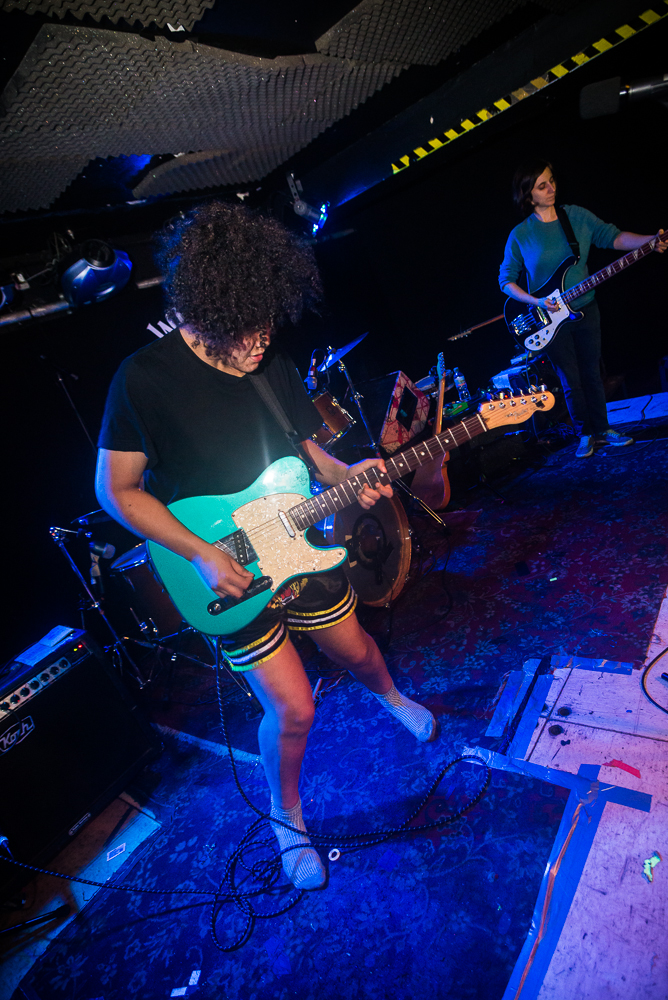 Fourth on the bill was Trash Kit, a band people keep telling me I should watch and a band I will henceforth be telling people to watch. Unfortunately, I made the mistake of nipping out for a tab and didn't want to push down the front, so I couldn't see terrifically well but musically 'twas spot on. Dense in dancey rhythms, a really lush sense of melody and a singer who was smiling like she was enjoying it, which makes me think she made the correct decision of enjoying her own band.
Bits of the guitaring reminded me of that trick
Lou Reed
did of playing melodies more like a sax player, and then bits of it reminded me of something more like Malian blues inflections. And the songs are all
tight and bouncy and move in a load of directions
without ever quite abandoning the idea that you can dance to them. Top audience banter of the evening came when the singer mentioned that the song was about her hair and dedicated it to her mum. Capital behaviour, that.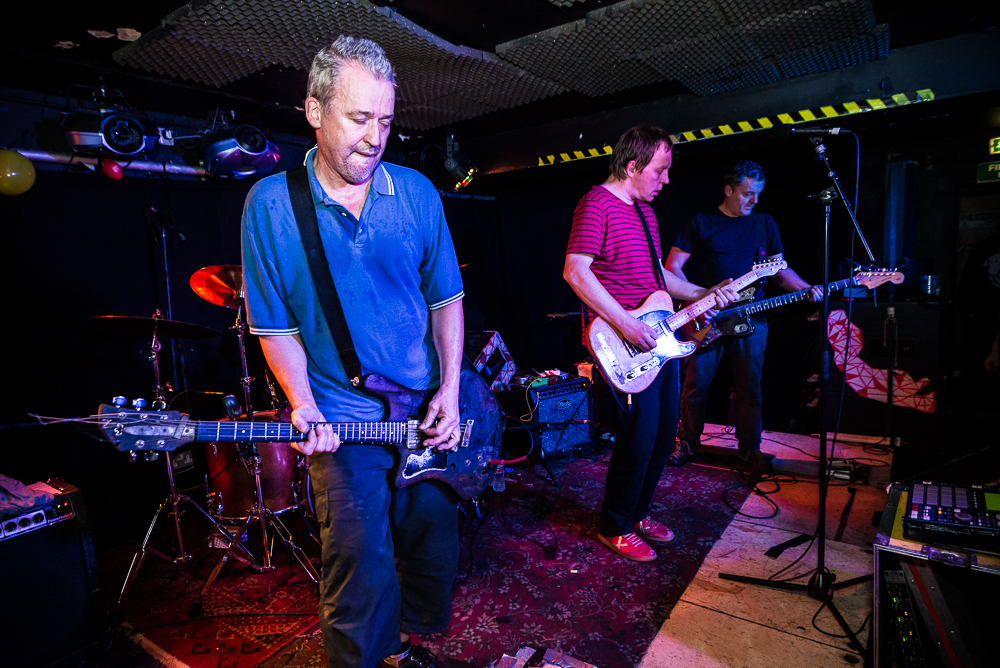 And then we get The Ex. Who are lovely. There are, of course, about 35 years of things to like about The Ex, but here's a couple: that thing the guitarists do like they're playing some arcane game involving getting feet but not headstocks into the other guitarist's territory; Arnold de Boer is alarmingly good looking; every time I watch the band I spend much of the set trying to figure out what
Katherina Bornefeld
gets right about drumming that others don't (I may have pinned it down to a ducking rather than a nodding motion with her head. More research to follow); baritone rather than bass guitar. Most important of all, in my world, is that they're a band you can dance to.
A bands that seems to have discovered the button marked "crowd enjoyment."
They do some songs that I know ("Double Order," "Eayu Leyu") and some songs I don't. For the encore we get an Amharic (I assume) number sung by Arnold and Afework, which (as well as being the highlight of the set for me), featured a moment where Afework's bow was getting perilously close to poking Arnold in the knackers. Which would've taken the clouting count four I think as our esteemed photographer Agata got prodded a few times with Terrie's guitar. He's a wriggly one, that one.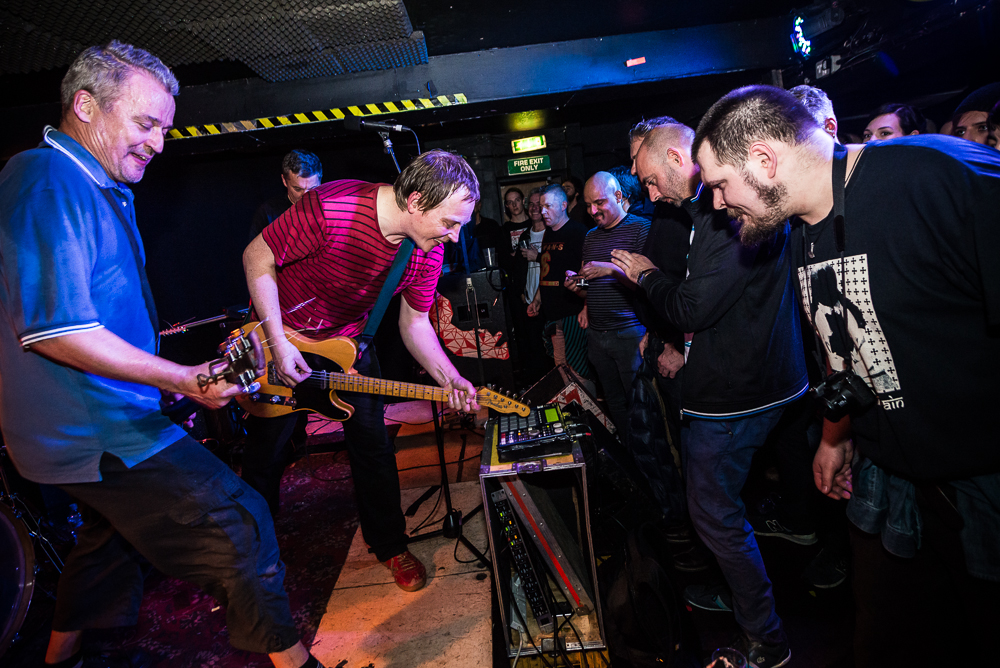 I'm just going to put it out there that The Ex are really one of those bands you should see if you get a chance. I'm not much of a one for those kind of superlatives (OK, I'm totally one for those kinds of superlatives) but they play some amazing music, bring some amazing bands, are on the good side of politics and throw in the idea that rock doesn't have to be English language rock, or even this part of Europe rock, but can be a bit more expansive without falling into vainglorious patronage. So yeah. Thanks, The Ex, for a wonderful night. I shall be seeing you next time you're in town.
-Words: Kev Nickells-
-Pictures: Agata Urbaniak-