The Green Child – The Green Child
by Freq | 2018-01-21T17:31:29+00:000000002931201801 17:31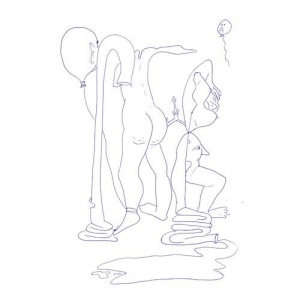 The fruits of a musical collaboration between Mikey Young and Raven Mahon, The Green Child début LP is a delightfully melodic beast with rounded percussives that shaves off the acuteness of life's right-angles. Lyrically inspired by the mysterious fusions of Herbert Read's only novel of the same name, its shifting helix of fantasy and reality adds to this album's gravitational pull with an elegantly economic sense of itself that candy-stores some really interesting scenics.
Coldwave key lines open the album up in an oriental tautness, salted in this gorgeous
femme fatale
-like vocal, a 
Miss Kitten 
/
Lizzy Descloux
-like stagger of syllables that rush off on the automatism of the chorus, the
music glittering in a paparazzi smoothness of descending transits
. The melodic lightness of "Her Majesty II" follows, breezes in with a
Stereolab
-like sensuality to a honeycomb of undulating undercurrents, its words falling, semi-opaque with meaning, to a scattering lead.
The alluring brightness of that voice is definitely the star of the show, but without that instrumental dynamic surrounding it, the whole wouldn't lustre with that sharp focus the duo has achieved here. The shell-like rattle of "Bertha" creeping your consciousness to glitchy wisps and metallic tastes, this breeze rising on a soft arterial thump and a latticework of keyed accents. The Green Child's subtle cinematics imaginatively hook you up, evocatively bewitch the space it occupies.
The fabric snipping in synthesized sweeps and eddies on "New Years Eve"'s preset pads and dancing guitar, a serenade that addictively glows in your head, 
Thomas Dinger
-like, the vocal umbilically rising and falling to the jangled judder. The feathering iridescence of "46 Timelines" is a compelling Berlinesque, Raven's softly spoken vox radiating from within its musical setting. Dimensional, antagonistic, separate, she intones to a pitch-bent pointillism, its nucleus flowing on a
Vangelis
stream of consciousness that glistens, pulls you to its eyeline. This is
just faultless, so warm and inviting, rhythmically ripped
. The chilled "Vienna"s of "Walking Distance" a plodding bass on a wavery line of shifting tractions and muted fireworks, a smidgen of sax miraging those arpeggio vistas, that buoyant sweetness of voice curling catlike amongst its bubbling continuums.
Every song seems to eke out its own microcosm, leaves you hankering for more. The band's cover of Keith Pearson's "Marie Elene" has softly stabbing accents and diamonding glows stretching into a sumptuous seduction. The playful pop of "The Destroyer" ends the album in zigguratting zithers and slinky keyboards, tinfoilling a Sixties space age as Raven zero-gravities the words that ephemerally fold on thermalling optimism, giving this gloomy January sky the what-for.
-Michael Rodham-Heaps-
Source URL: http://freq.org.uk/reviews/the-green-child/
---