The Lonely Life is a 27-minute film written and directed by Mike Aho and starring Will Oldham, the erstwhile acting persona of the musical genius also known as Bonnie "Prince" Billy. The film was crowdfunded using Kickstarter in 2012 and filmed just outside Austin, Texas.
Billed as "A low-fi sci-fi psychedelic journey of a man trying to understand his past," The Lonely Life contains animations by artists Travis Millard, Mel Kadel, Jeremy Fish, Michael Sieben and the Okay Mountain Collective and was made on a shoestring budget of $9,305.
It is a delightful visual spectacle from the outset, filmed on hand-held cameras and utilising the exceptional natural light of the region, creating a
dreamy delicacy that offers a pleasingly jarring contrast
against the themes of the story. The film is punctuated with animations both rich and strange, highlights being the ghost sculptures and a mesmerising underwater scene.
Will Oldham plays David Witworth, a man of uncertain age and identity residing in a hotel and subsisting on a cocktail of drugs, with only weekly visits from Sarah, the representative of New Light Laboratories, for company. The exact nature of David's situation unfolds over the course of the film and makes great use of the sweet and disturbing animations to tell the hallucinatory story of his experience.
Oldham's portrayal of David's confusion and growing unease is played beautifully, with lovely touches in his interactions with Sarah and the young boy from whom he obtains an orange bicycle, on which he rides around when not experiencing strange things in his motel room.
The Lonely Life is a thoroughly enjoyable, visually beautiful film and a sweet telling of a disturbing story. It features music from ((SOUNDER)), the musical arm of Mike Aho's talent octopus. The music is evocative and well-utilised to create atmosphere and engage, as well as derange, the senses.
((SOUNDER)) – The Howlingest Call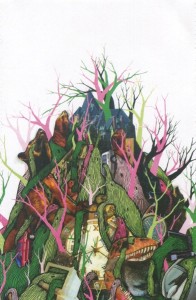 It's best to be clear from the outset, so I will start by coming right out and saying that I love this record, the third full-length release from Mike Aho's musical project. In this incarnation ((SOUNDER)) feature collaborative input from Will Oldham (AKA Bonnie "Prince" Billy), as well as Grandaddy's Jason Lytle and Jesse Lee, as well as Tom Hoff, formerly of Austin's own American Analog Set, among others.
Just the title is evocative enough to give me goosebumps at the sound of it. I'm in wolf territory, running with the pack over wide-open prairie and warm through the night, curled together in a pile. And that is before I even hear the music. I like to go to unknown places and imagine what it would be to live there. I've never been to the prairie, nor run with a wolf pack. But
The Howlingest Call
invokes that very clearly for me. I'm a big fan of whimsy and
this is a beautifully whimsical record
. I keep wanting to distil some sense of ((SOUNDER))'s sound into a place I can take you to, as they do so deftly. Country blues with a heavy dose of bass and distortion to rival some of the greats (
Swans
,
The Jesus and Mary Chain
) but don't even think you'll hear anything direct in those influences. Most accurately described as lo-fi psychedelia, the country lushness and the soft echo effects are what strike hardest, all of it infused with a DIY punk sensibility and catchy pop accessibility that is anything but off-putting. This record is full of tight little samples that fit just right,
inviting you to hear the sounds beyond the sounds
. Mike Aho's voice has something of a
Beach Boys
feel, and the harmonies are effortless and freeing.
The Howlingest Call leads you by the hand through desolate landscapes and sun-drenched parking lots, through moments of earth-shattering beauty and dark nights of the soul. Songs melt into one another with satisfying ease; this is a record built with love. I feel that love saturated in every broken-voiced crescendo on "Swallowed By the Mist", an achingly gorgeous ballad filled with a heavy dose of bittersweet end-of-relationship melancholy. Here Aho duets with Bonnie "Prince" Billy in contrasting staccato melodies that creep up on you slowly until you are sobbing quietly as the band plays out, the organ crescendo, heart-wrung guitar and driving percussion fading into blessed catharsis in the wind-down of echo and reverb.
The whole record hangs together so effortlessly it is clear how much craft has gone into it. Tracks bleed into one another and pieces like the drug-addled road trip bastard love child of the
Beta Band
and the Beach Boys "Downtime" make perfect sense in the context of its meandering distorted outro and brightly twinkling segue into "Interlude", which is itself a precursor to "The Lonely Life" — the theme from the film (and
look out, there are wolves here too…
).
But even after having said all of this, this record's true delight is in its rhythms. It's a blues, record right? Bass-thick, with lovely guitars and nice samples. But, as Aho sings on possibly the most poppy track on the album, "All The Rock And Roll Singers", "I feel the tempo like a pulse…" I'm constantly drawn in by the percussion. Drums (all kinds) round and fat and heavy and heart-beating. Tambourine, cymbals, handclaps, foot stomps, echoingly rhythmic piano — all providing sharp staccatos where those effortless melodies might turn to syrup; in these hands they become distinct counterpoints that elevate the whole thing to another level of beautiful.
Of course, ultimately and perhaps, the only thing that really matters is that this record
rocks
. Over and over again I find myself dancing, singing along, rocking out to the sheer breathless energy that it invokes. The reprise of the title track catches you off guard,
thick with soupy bass and a drum like a hammer on the side of your skull
, the guitar filthy with distortion, it winds along the path you can't stop from following. The relentlessness of it is so delicious I want to jump up and down.
If all that is not enough to convey how great this record is, I could write an entire review based on the closing track. "Take it Easy On Me" weaves itself into the deepest reaches of the subconscious with perfect strings and guitar, pared down simplicity and lyrical poetry, and that percussion that just won't quit. I find myself thinking that a song about the depths of depression shouldn't be this beautiful or alluring, but perhaps that is precisely the point. A perfect final song, it has the magical "follow that…" feeling when the record ends. Best just play the whole thing from the beginning again.
-Arwen Xaverine-