London
15 November 2013
After some mix up on the door where I had to admit to being me twice (not sure why anyone would want or even pretend to be me), I make my way down a crowded staircase into a packed Borderline. I'd not been here since the ill fated Deviants gig a few months earlier so it was good to see the place heaving with people. The audience were a cross between the new psychedelic 'hippies' and stoners dressed in their finery, looking at times in a disdainful manner at the older war horses who have been going to these type of gigs when there was maybe only 10 other people in watching the bands in the back room of a pub. But taste changes and at the moment London likes them loud and heavy and luckily enough they don't get much better than The Samsara Blues Experiment.
On record Samsara come across sometimes as being a massive sprawling, wonderful chunk of psychedelic blissed-out noise that swirls around the speakers and permeates through walls. Tonight we are given a tighter, and dare I say more traditional, heavy rock version of the band. With the cosmic wibble played on the Novation UltraNova, the band launch into their first track. This is
a lysergic blob of brain-pounding heaviness that hovers above the audience
before pummelling them into submission. If you want big power riffs from the nether regions of the universe, Samsara have got them; the tracks build in head-banging ferocity and then become introspective and thought-provoking.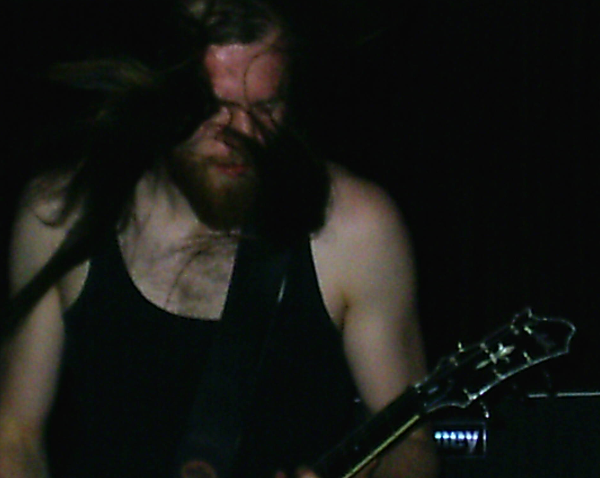 Singer and lead guitarist Christian Peters plays with such dexterity that his fingers are a blur across the fretboard, sometimes they seem to move and produce sounds so subtle you can hardly hear them. His rip-roaring leads are both passionate and at times complex. Thomas Vedder's drumming dances around his kit – at times its flashy, with paradiddles galore, and at others its straight-ahead, chest-punching heavy. Man mountain Hans Eiselt's guitar is pitched just perfectly between Tony Bourge whimsy and Tony Iomi riffage. Richard Behrens' bass notes tumble across this cosmic landscape, giving it its drive and solid bottom end. Tracks from the new album Waiting For the Flood battled with older favourites in a set that bristled with excitement.
At times they remind me of old British heavy rock bands like
Budgie
and even
Thin Lizzy
(they even do a cover version of an old
UFO
song). Then at other times there's the psychedelic rush of
Acid Mothers Temple
and
Hawkwind
. It's an odd amalgamation that works really well and gives the band a different kind of edge.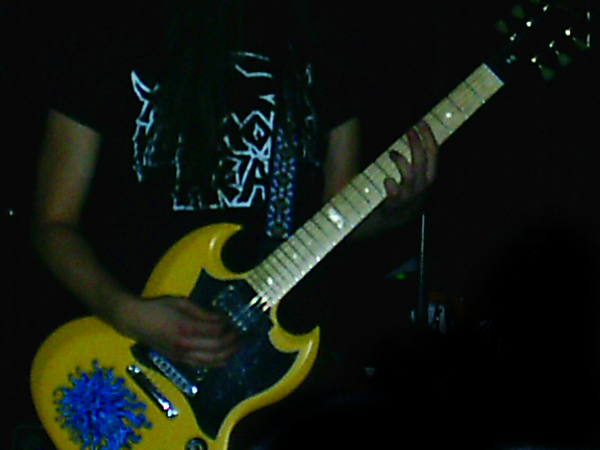 Even though they play for over 90 minutes, the set seems to short, and it's the kind of thing you could imagine going on until the witching hour and beyond. But the venue has to move us on out to prepare for a club night, so the crunching of plastic beer glasses takes over from the monstrous riffs. You want to hear more of their driving rhythms, soulful vocals and acid-drenched lead guitar. But alas the sweaty throng has to be moved on its way, "See you next year," Christian Peters shouts from the stage. You certainly will Christian, you certainly will…..
-Gary Parsons-