Bristol
23 November 2017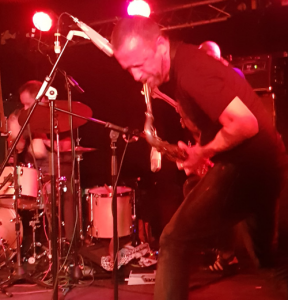 Drastically redefining notions of jazz, Bristol-based Calcine Quartet were a textural pleasure. Dominic Lash's double bass shovelling, Matthew Grigg's crumbled fret skutters sending the speakers into spasms. A gravelly diesel chug, breaking ranks in a ping of overspilling metal melded to the rusty hinged squeal from Rebecca Sneddon's sax.
Leaps of amputated colour abound, a strange intoxicated warmth spidering the scene, weird charms that wrestled with
Roger Telford
's percussive pepperings and clanging tugs of double bass. Each filling the space with reflective sparkle and wavery transits. The windows of opportunity itchy with banqueting banter. The drummer rubbing the
cymbals up the wrong way in metallic murmur as a lope-sided rhythm has you dancing
awkwardly along. A fab start that only got better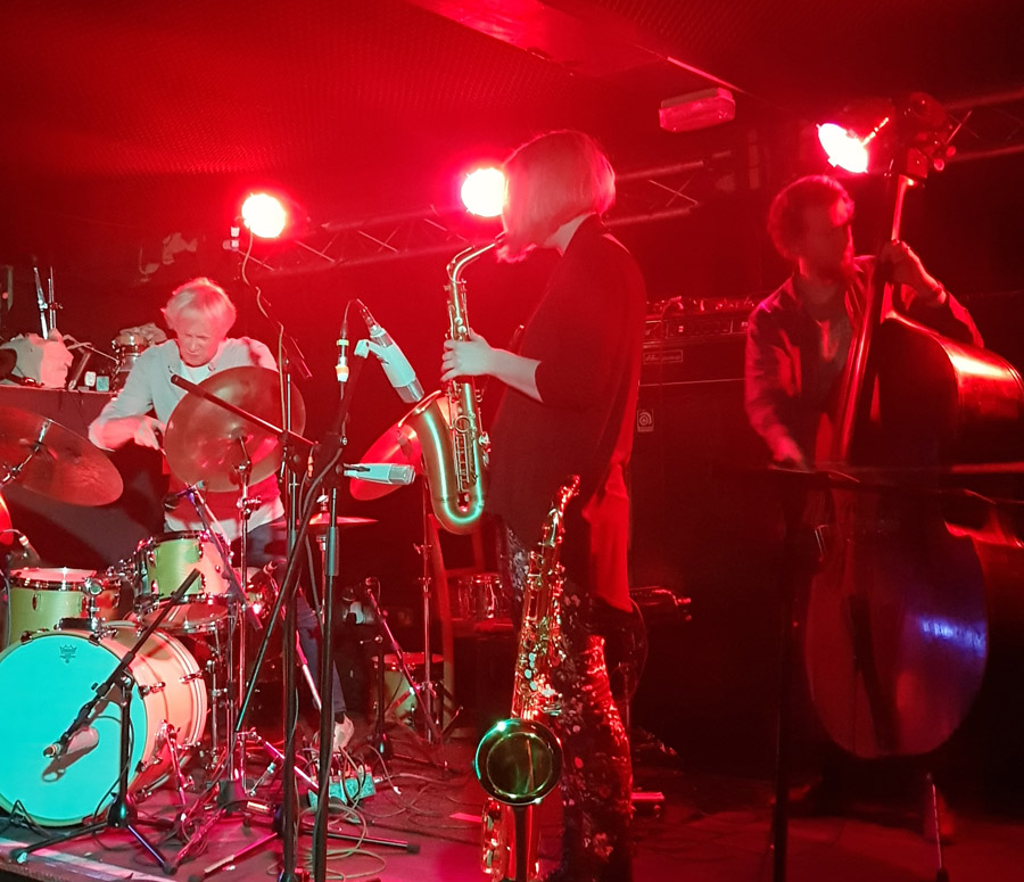 Full of swerving multiples, 
KonstruKt
were even better than when I saw this Istanbul band back in 2015. The multi-dexterous
Umut Çağlar
supplying a plenitude of rhythmics for the others to weavel through. A splatter of Mali-esque clover to
palm-pattered dusk exploding in colourful exchanges of saxophone and sporadic percussives
. All elegantly nosing into noisy convulsions, to be scooped back into a momentum-stealing Bosphorus of cobra circulars and free-form saltiness.
Oh my, this was so good, the angles all soft and rounded, sensory even, dispersing in cymbalist clamber and dislocating sporadics. Spy this woman up the front displaying the best jazz dancing I've seen in a long while, all ragdoll-wristed and trance-like sway, and it's not long until I'm locked-in to a fling-a-thon with that self-same action KonstruKt are plying.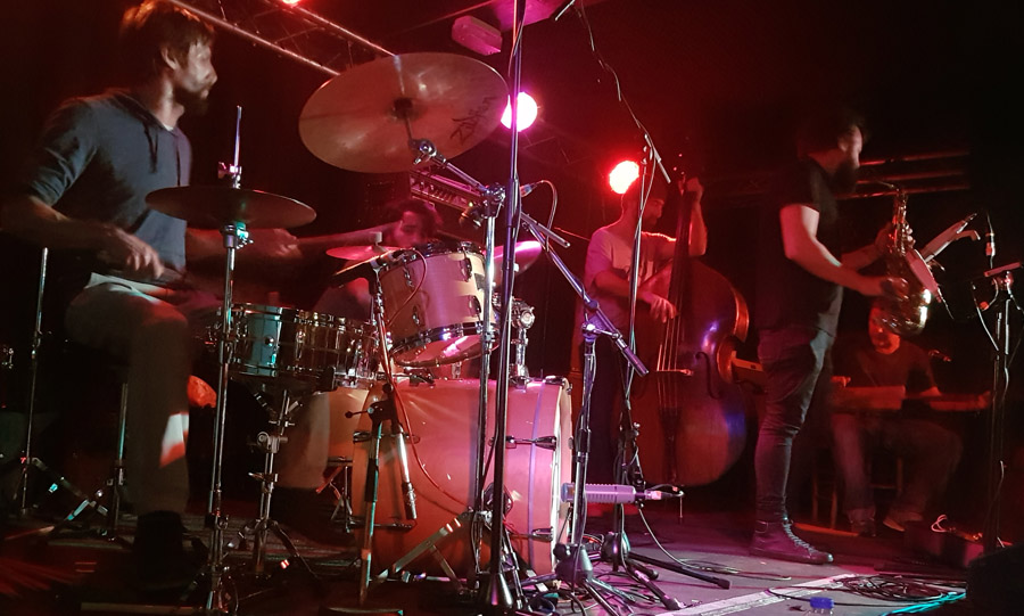 The electronics firing in a altercation of glassy abstraction, as the other band members fold round it, mimicking, furnished its sputtering synthetics with a driven melodic that was blinding. The lead making his saxophone sound like a forty-a-day asthmatic. Evilling twilights that hobo the senses before the strutting pigeons of rhythm arrow an eastern-flavoured sprawl of diagonals. Odd owlings and whistlings curve the set. A spontaneous off-the-cuff zeal that's very
Sunburned Hand Of The Man
in places, teetering in the mystical, to end on
a spacey tangle of reed instruments that serpents the architecture, left to linger in the imagination
like a sleazy mirage.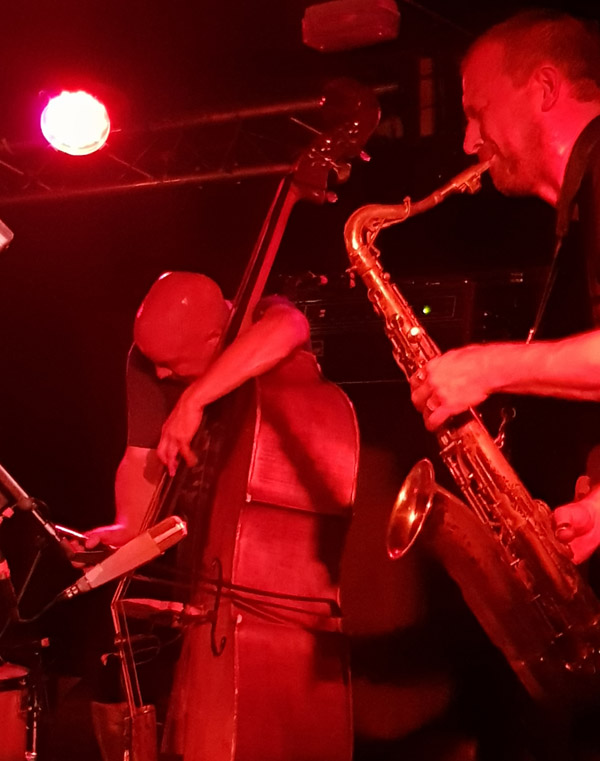 The Thing are a trio of Scandinavian heavyweights, and Ingebrigt Håker Flaten, Mats Gustafsson and Paal Nilssen-Love strong-arm you with a testosterone-filled display. Gustafsson's blistering ignitions hooking the hypnotic to fleshy angulars, the space between them a tangle of activity that mauls the odd melodic. Ingebrigt karating,fracture-fretting his double bass Jackson Pollock stylee, graffiting over all those instrument clichés like an obsessive compulsion a-flood with counter-attack, complimentaries. Paal's percussives feeding the fray in detonated free form, splatter-smearing that shrieeeeking chasm.
A hot hankering rage of oblique mathematics filling your head with a torrent of pleasing shapes and conspiring linears. Ingebrigt switching to meaty chunks of bass guitar, mutating things to a doomic sprawl, affixing the trio into some beautiful locked-in rhythmics and rumbling tribals. Later a sizzle of inventive solo cymbals steals the show in sibilant reverses, a dronic bliss that brings on the
Organum
shivers. Each gets to show off their solo prowess, subvert established notions of the genre before stealing back for a fast'n'furious encore of converging curves. An assault on the senses that brings with it a riotous applause.
-Michael Rodham-Heaps-