Marking four decades since Throbbing Gristle gave the world industrial music and a sharp shock to the system that made the punk rock scene exploding around them seem tame and backwards-looking by comparison, Mute are releasing anniversary editions of the band's key albums.
The Second Annual Report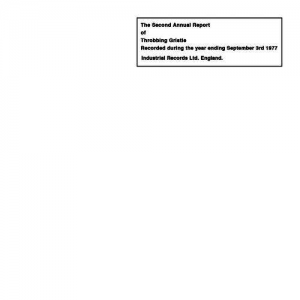 That splash of cover's corporate blandness gives you little idea of the dirty pearls actively seeking your disapproval inside. 1977 wasn't really ready for the lo-fi pleasures this had to offer – "Slugbait", "Maggot Death, "Cease To Exist" – this wasn't about peddling rosy futures, but seeding the capitalist utopia with unsettling truths.
Forty years on it still manages to get under your skin. The blank accelerations of the opener, that alienating tonal drag and whirring burr burrowing into your head as a family are tortured, Genesis P-Orridge shrieking in the derailments between cold, calculated dialogues that slap the floor like the contents of that sliced pregnant belly. The dull ache of garbled confessions, the electrocution of "Maggot Death" lashing around in stark futility. This was dark, dingy and rather unpleasant, with the twenty-minute "After Cease to Exist – The Original Soundtrack of the Coum Transmissions Film" poisoning the advertising man's dream a touch more.
A selection of live snippets follow from around the same period; they
blister with raw beauty and noisy eruption
, "Last Exit"'s blood, mud, sex and monarchy cocktail adding the odd comical dislocation to the mix. Such a pity "Very Friendly"' isn't there though, but I guess its fifteen-minute duration would limit the possible treats they could also cram in there. A flavoursome collection, all ending rather aptly on Throbbing Gristle's first crack at the 7-inch single, where the eerie androgyny of "United "and the (very un-PC, blacker than black) humour of "Zyklon B Zombie" give you a taste of the many deformities still to come.
20 Jazz Funk Greats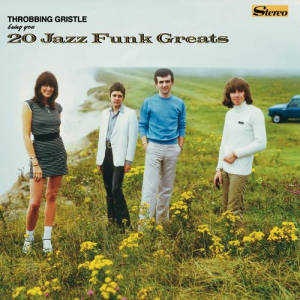 Jumping past the excellent D.o.A., we come to TG's 1979 release and arguably their most accessible musically, a parallel to that Beachy Head easy listening cover, the band in their Sunday best amongst the flowers. A wonderful slice of subversive humour that smarts that bit harder when you sample the contents. The chintzy haunt of the title track slipping down your ears like a single malt full of sordid trumpets and intoxicated fog, a vision of Gen twisting his nipples between each breathy exchange, Cosey Fanni Tutti's northern accent occasionally glinting.
There's lots of substance here and zero subsidence, there's lots to love, classics that have endured, aped plenty by future pilfering. This stuff puts you subtly on edge, the "Cease To Exist" phantoms of "Beachy Head", the strange headphonic flotsam and jarring colours of "Still Walking", a selection of other odd instrumentals that wander through the political stab of "Convincing People" and the main dishes of "Persuasion" and "What A Day" blasting like an ill wind. The pioneering red light sleaze of "Hot On The Heels Of Love" bursting with suggestiveness, hinting at the love affair that would end this band and spur on to become
Chris And Cosey
.
The dirge-like pulse of "Persuasion", an offalling oeuvre replete with erupting guitar, its screams and deadpan vocals delivering a perverted hoedown of sordid souvenirs and grubby manoeuvring. "I've got a little biscuit tin to keep your panties in / Soiled panties, white panties", goes Gen, pushing the taboo ever further, whilst the electronics of Peter Christopherson and Chris Carter etch an unnerving honesty to the portrait. The nail-gunned "What a Day" too – my all-time favourite go-to anthem for workday blues, its gnawing thump eating up the words with grim relentlessness. You can hear the ghost of these sounds in today's offerings, but back then I should imagine there was nothing like it.
More live recordings are included, giving you
a good idea of how brutally hypnotic the Throbbing Gristle experience was in the flesh
. Something that is best personified in the last two "Discipline" tracks that end this reissue, tunes which demand that you crank that dial into window-quaking territory – ecstasy and upset were TG's currency after all.
A Taste Of TG: A Beginner's Guide To The Music Of Throbbing Gristle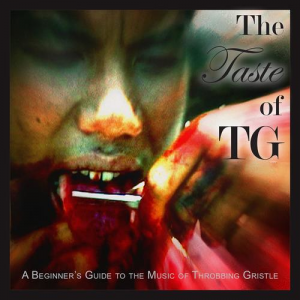 Now, 20 Jazz Funk Greats maybe a good place for the uninitiated to break ship from the norm and delve into the TG sound, but those Mute boys'n'girls produced a handy Taste Of album (originally released in 2004) to whet your curiosity further, a greatest hits that detonates the noisy / poppy enigma.
The brilliant simplicity of "Distant Dreams" giving over to a live slice of Stateside "Persuasion". The semen splash of "Something Came Over Me" and the tongue-in-cheek misogyny of "We Hate You Little Girls". Sounds that give you a good grounding and of course "United / Zyklon B Zombies" gets another airing, and so does "Hot On The Heels Of Love", while "Hamburger Lady"'s virile BBQ of burnt skin and queasy swirls (a personal favourite) is broken by greasy splashes of electronica, the machine edge of Gen's voice voyeuring the disjointed colours of the other three, a reversing atmospheric that is really hard to pull away from.
It's a great collection that takes in the historical whilst introducing a recent audio highpoint from their last reunion, before ending on a live track that leaves you greedy for more.
-Michael Rodham-Heaps-