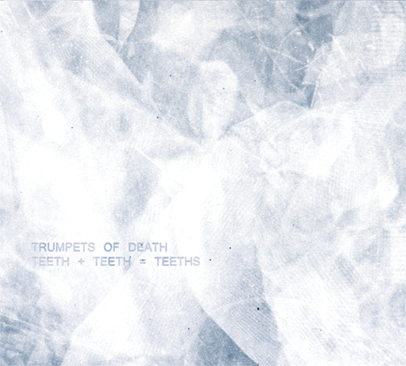 "The trumpet shall sound, and the dead shall be raised incorruptible, and we shall be changed."
In the summer of 1741, George Frideric Handel, broke and depressed, inserted this insanely great Biblical quotation from Corinthians into a  little number he managed to belt out in a mere 24 days. The fact that the end product of this feverish tumult of composition was The Messiah, one of the best known pieces in the Western classical cannon, just shows what you can do in your bedroom when the wolves are scratching at the door and the muse is leading you.
Trumpets of Death
, cloistered away in Leeds, have also been chasing the muse, painstakingly working away in the their home studio – and the city's higher end Hall Place Studios – in order to construct the distinctly queasy listening of
Teeth + Teeth = Teeths
. Assisted by
Richard Formby
(whose formidable CV boasts production chair stints for the
Jazz Butcher
,
Spacemen 3
and
Pale Saints
to name but a few), the band have crafted
an album that slips between the genres – one minute old English folk, the next rumbling Improv
– and then leaves your main field of vision, only to creep up behind you and kick you boldly up the rear end in a very surprising and delightful way.
The fun begins with "Press Gang," a traditional English folk song about the feared gangs that roamed both the cities and the countryside persuading – via the medium of booze and violence – poor unfortunates to spend plenty of time at sea aboard the King's battleships. The legendary Ewan MacColl once recorded the song, but in Trumpets of Death's hands the tune turns into a ghost ship sailing out of the fog – all hissing sound effects and clanking metal, with Ben Wethrill's voice trembling like a reed in the marsh wind and relating the old story of a London lad spirited away to sea, lashed and made to serve before the mast. As the story unfolds the music swells up behind him, then fades away as quickly, like the sea whipped up into a storm, then calming to leave a millpond surface.
An original composition, "The Paper Plough," follows, blending an edgy, unsettling structure that might have found a home with Comus, together with an urgent, propulsive beat, and horns that The Mothers of Invention would have approved of. It's an elegant and compelling mix, brilliantly subverted half way through the track when a burst of Klezmer energy erupts from nowhere, with Wethrill imploring listener to take their clothes off so we can dance around in their underwear. By the track's end one gets the impression of Sparks jamming in the studio with [post="a-hawk-and-a-hacksaw-cervantine" text="Jeremy Barnes and Heather Trost"]. With added Prog rock keyboards. And squealing free jazz saxophone. Just another day in Leeds.
"Jason" arrives like some pestilential apparition, Doom Metal without the Metal, a cold wind blowing past your ears whilst you're out walking on the Fens. What was that moving off past those trees? Probably nothing. Just keep walking. Wethrill's voice again provides a distinctly unsettling note,
threatening to, but never quite, breaking, the music swirling around him like a cloak – the guitar insistent but never too heavy, the drums nagging away at you from delicate cymbal to cracking snare
. It could be
Jason Donovan
, it could be
Jason Vorhees
. If the music weren't so gripping I'd be too scared to hang around to find out.
"Woodrows Lament" begins like the soundtrack to a Jorge Grau movie, before a gentle piano drifts through, hanging in the air like spider silk, whilst a nasty, buzzing drone ebbs and flows beneath. Voices, sounds and abstractions rise and falls behind the song, giving the whole piece a very dreamlike quality, an ECM album playing in the background as you try to escape your pursuer, running and running and running yet unable to move from the spot you're on. And that's before the demonic throat singing Doom even begins…Woodrow Wilson or Woodrow Wyatt? Again, I can't say, but this time I'm behind the sofa with my hands across my eyes like in Dr Who days of yore.
"Cruel Ships Captain" closes the (mini) album, an early 19th Century traditional folk ballad, yet this time begun like
Neubauten
in a hail of metal bashing. A cautionary tale of a captain from the days before the Equality Act 2010, the protagonist takes a young apprentice boy from a poor family off to sea, yet, irritated by him, kills him with a tarry piece of rope off the Greenland shore. Like
Britten
's "Peter Grimes," which covers much the same thematic territory,
it's a dark and sinister story, conveyed in this instance with a tapestry of musical tropes
from
Univers Zero
-style occult Prog to near
Magic Band
free rock. Ending in a twittering of flutes and white noise tone generation, it's both enervating and exhilarating.
Teeth + Teeth = Teeths is, quite literally, all over the place. With a huge mixture of styles, textures and tones, it would, in lesser hands, be a complete dog's dinner of a piece. Trumpets of Death, however, are far more accomplished than that, and their singular approach makes this a truly memorable experience. Like, say, These New Puritans, the band can take from many sources, yet never sound like copyists. It feels like seat-of-the-pants experimentation, like it might crash to ground at any moment, but it never does, and the thrill of the ride is something to be savoured. Too few modern records – and Jesus, there are enough of them – don't take these kind of risks, and by the same token, don't reap these kind of rewards.
Make sure you get this record. Just don't put out to sea.
-David Solomons-