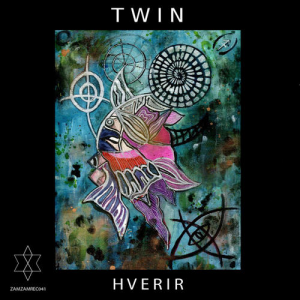 This is a truly haunting experience; think Mazzy Star with a whisper of Shelleyan Orphan or Alison Shaw from Cranes, but softer, swollen in the ambiguous. Its language a diffusion of hues, suggestions for your mind to play with, backed by switchblades of horizon that pull at the frame, inverting the scenery in cycling hooks of guitar, droning key-lines, tumbling percussives.
A strange inviting atmosphere that holds true for the EP's opener (and
Bumtapes
single) "Messiah". Eleven minutes that literally take your breath away on a sanctum of spiralling guitar and thermal weaves of vocal. A stream of consciousness that opens out in climbing secondaries and beating aortas, the pace suddenly cut back on a "Sugar Hiccup" of
Cocteau Twin
parallels and swooning multiples. This is powerful stuff into which "Viola Sororia" folds some darker hues. An
experimental verve whose shimmering heart solicits a siren call from beyond
, churning in tape forwards,
Fursaxa
-like vibes milking the fiery orche and vivid turquoise sinkholes of this EP's Icelandic namesake. Delicate vocals that float like diaphanous threads round the instrumentation, shimmer in unison with the eastern tapers of guitar on "Traum" and "Moving Light"'s slow transits dancing the divine in psychedelic washes and wind-caught chimes. The focus dragging you deeper into the folding expanse of "The Sheltering Sky", leading seamlessly to the entirely vocal-less closer "Astoria" with its
ascending glides of guitar sycamore scarred in a heavy riffage
and funnelling dualities. Stoking up a host of heady dramatics before leaving you like a lucid dream, slipping definition in the morning light and escaping across your skin in a trail of goose bumps.
A beautiful artefact indeed.
-Michael Rodham-Heaps-