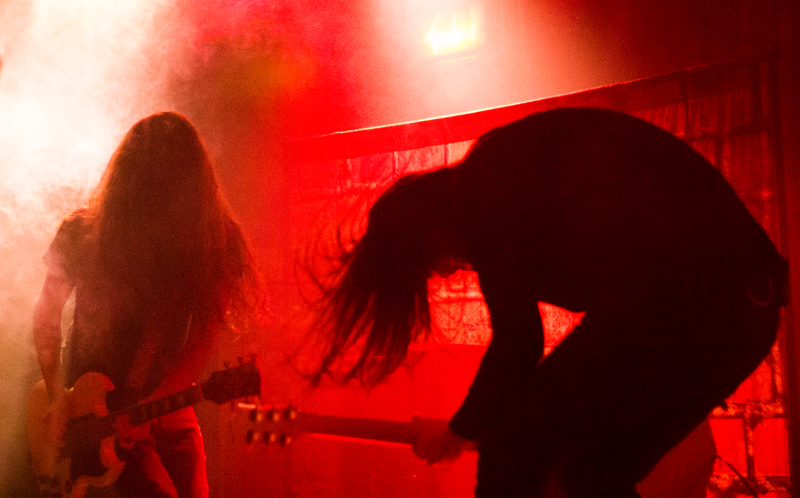 London
26 November 2015
This keeps on happening at the moment: two great gigs are on the same night. A couple of weeks back it was Graveyard versus Pentagram and tonight it's Uncle Acid versus Om. It says a lot about the exponential growth of the doom/stoner/occult rock scene in the last couple of years that these two shows could coexist with each other on the same night in fairly large venues and both of them be sold out. The tide seems to have turned somewhat in favour of these gigs and artists, that only a few years back I would be standing there with my mates Saul and Andy and about a hundred other people (half of which we knew) shaking our heads and booties to these bands at tiny venues. But tonight I am genuinely surprised at the size of the crowd, especially knowing there's a similar size one at Om.
The first time I saw
Spiders
was supporting
Blood Ceremony
at The Borderline
. I had bought their first album after hearing a few tunes online and was looking forward to seeing them support the mighty BC and they certainly didn't disappoint with a fantastic, fiery performance. Now with a second album (
Shake Electric
) and a new EP (
Why Don't You
) out it was
time once again to bathe in the glorious tunes that the band create
.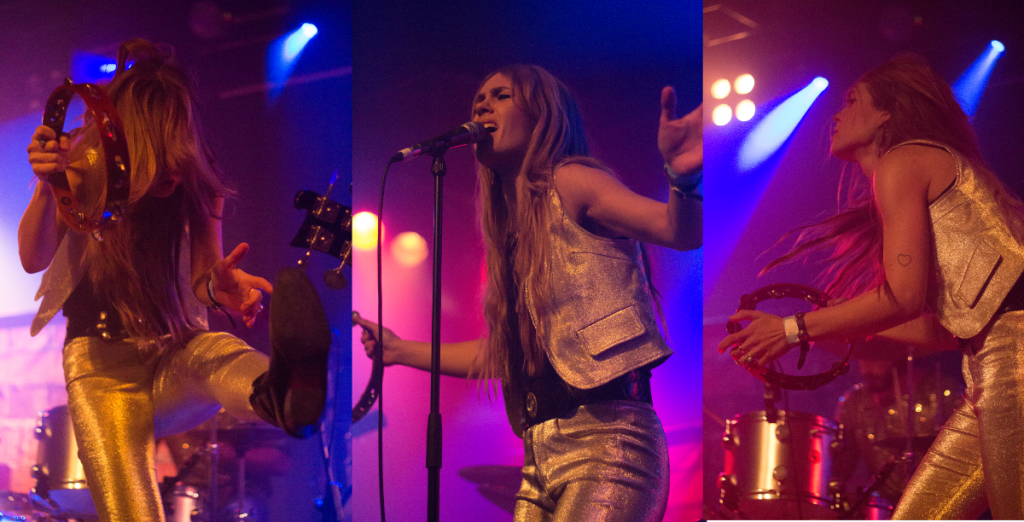 Spiders wear their '70s influences on their sleeves, but tonight there seems to be a slight shift away from biker hard rock to something with more of a glam feel (which made me very happy indeed).
Ann-Sophie Hoyles
is a fantastic singer and a vibrant and entertaining front person for the band; she gets the audience going and seems like she enjoys every second of performing live. As I watched her light up such Spiders classics as "Hard Times", the name of
Suzi Quatro
kept leaping into my head (as well as a touch of
Runaways
-era
Joan Jett
), even more so after she strapped on her guitar. Maybe it was the glam-style outfit or her pure joy in performing, but after the first couple of songs I noticed that there was more of
a touch of the glitter years
about the band.

John Hoyles
' beautiful melodic guitar seemed to have more than a touch of
Andy Scott
from
Sweet
about it, and
Matteo Gambacorta
's bass and
Richard Harryson
's drums hinted at early
Simmons
and
Criss
rhythm parts in
Kiss
. This to me was something quite wonderful and a joyous revelation to the way the Spiders sound has changed. OK, hints were there, especially the fact the band (except Ann- Sophie) were covered in glitter make-up and wearing the kind of
outfits that wouldn't have been out of place inside Jackie magazine in 1973
.
But it's the songs that mattered most and luckily Spiders have enough great tunes to choose from to make an astounding and powerful set. Tracks such as "Only Your Skin", "Shake Electric" and "Why Don't You" are blistering and exhilarating during tonight's show. Ann-Sophie gave her all during the performance and certainly seemed to have won over some new fans tonight (if the rush to the merch stall after their performance was anything to go by). They are a tremendous live band and I hope their next visit to the UK they will be headlining gigs so we can soak up more of their hot riffs.

James Bernard
's theme for
Hammer Horror
's
Dracula
starts up to herald the arrival onstage of Uncle Acid And The Deadbeats. By now the venue is packed to bursting point and standing among the audience is like being on a Japanese commuter train as I can barely move my arms. Dry ice wafts around and
shadowy figures appear among the fog
. The opening crash of "Waiting for Blood" gets the audience bouncing along as swaths of echoed vocals cascade around the venue and an impressive lightshow kicks into action.
The Uncle are here to mainly promote their new album Night Creeper, but there's plenty of room for classics from their first album to be performed, much to the delight of the crowd. Numbers such as "13 Candles", "I Cut You Down" and "Poison Apple" are pounded out in a relentless barrage of sound that sees the mysterious band stand like Manson Family killers at their guitars and drums raining Helter Skelter down upon the crowd.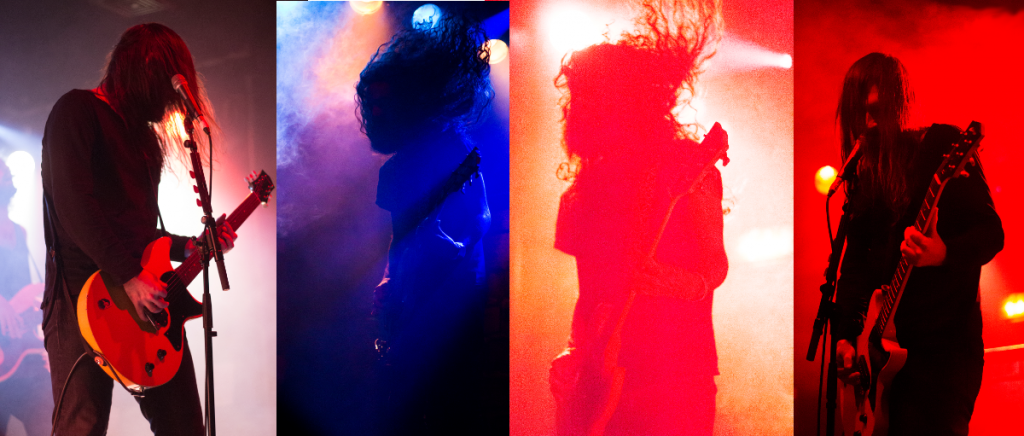 Their sound is part '70s horror mixed with weird biker trash psychedelia. It swirls about you like a mist and somehow creeps inside your skull and sits their waiting to attack. This is not trad boom music with the riffs of
Sabbath
regurgitated; it's
something deeper and somehow even more unholy
. "Mind Crawler" and "Murder Nights" attack you with a wall of sound that at points seems impenetrable. It's like an LSD vapour coming over your senses that leads you into the darker edges of a Process Church meeting in 1968. Uncle Acid are now firing on all cylinders and it's a blissful noise from the dark side of the age of Aquarius.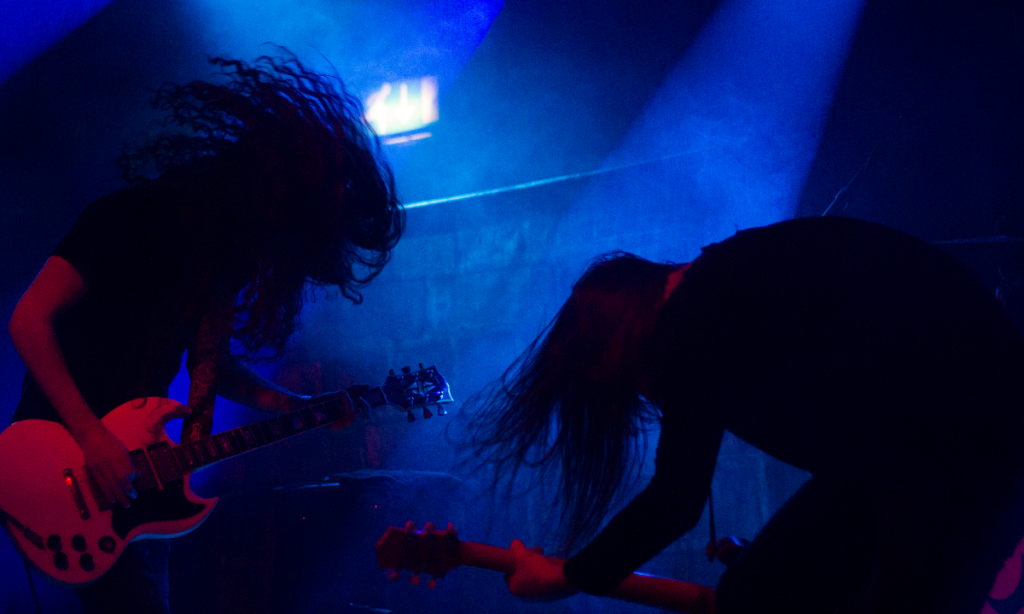 As the set nears its finish, I begin to push my way through the crowd to an area where I can get some air and not feel like a sardine for a few moments. I look out over the throng and a memory hits me of being in those tiny venues and being part of a small scene letting the noise of those bands hurt my ears and to feel close to those artists who created it. Now it has a new swathe of converts
worshipping the riff at its altar
, as the scene grows and new bands want to create the power of doom in all its glory. Doom what thou wilt and long may it blossom into a fantastic musical movement.
-Words: Gary Parsons-
-Pictures: Dave Pettit-