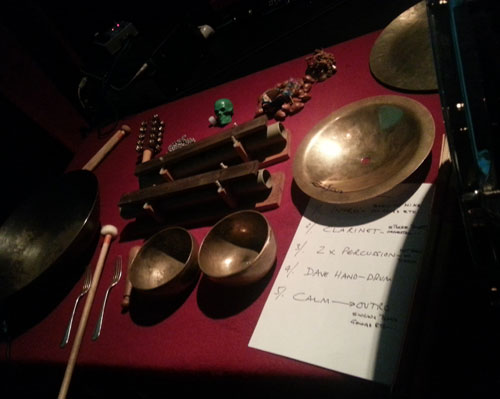 London
14 September 2013
Loving this place, that subterranean cellar-like vibe; cobbles, cast iron pillars, oozes a Dickensian charm that no doubt Messers. Thrower and Knight approve of. On arrival, their musical wares are already set up on three tables, a tidy synth and keyboard sandwich a percussive jumble filling, the screen flickers with the slo-mo refractions of underwater legs and creamy ceramics.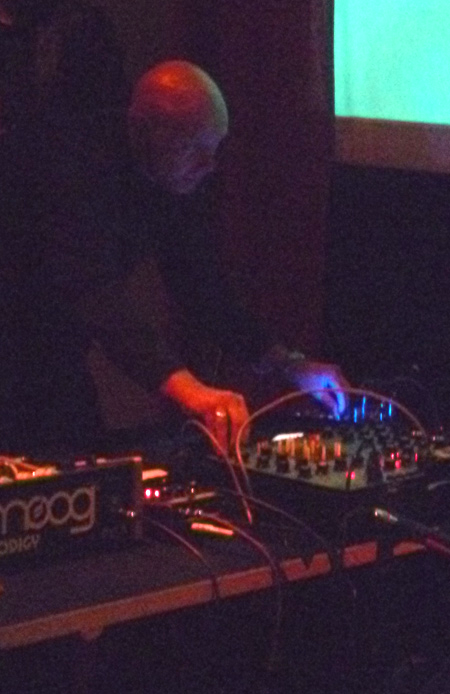 There's a long pre-show wait, having cut through London at a surprisingly swift pace. We amuse ourselves. Spurred on by spotting
Karl Blake
on the guestlist, the dizzy array of bearded spectators makes the search a bit of a challenge – then I spy a broad-shouldered figure sporting a long, long grey beard, coupled with razor like, no-mess eyes: had to be him; must have been?!! (Instantly wondered if he's still got the horse brass jacket?). I really wanted to shake his hand and exclaim the profound influence he's wielded on my listening habits –
Lemon Kittens
,
Shock Headed Peters;
his melancholic dissections and rich imagination, those brimstone guitar halos. But he's busy chatting with friends so I take a cheeky piccy instead – at which he throws me a piercing scowl of disapproval that left me timidly backing away, apologising in universal sign language… oh well.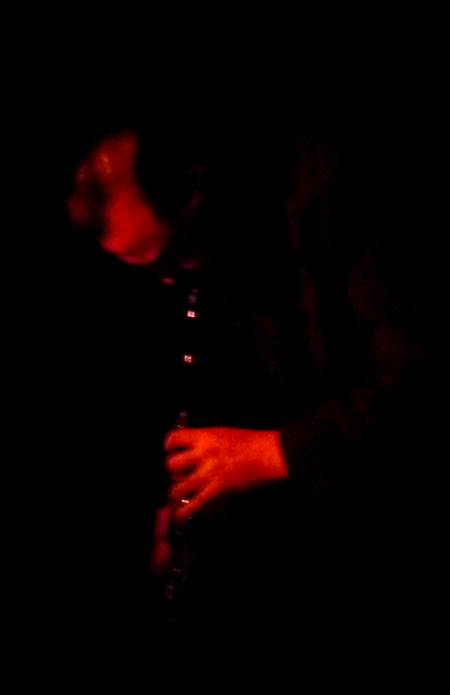 This was a short-lived disappointment though as Froese-like shadows started UnicaZürn's show. Special guest David J Smith of Guapo fame contouring the sustained interlocking synth serpents beautifully with a rich stream of broken percussions. His mic catching the singing bowl manatees then wielding more acoustical vocabs across the duo's textures, dropping chains across drum rims, clattering vibrations clinging like children to the skirting burrs of Stephen Thrower's clarinet spectres.
A rhythmic onslaught ensued, loose drumming shooting roots through the jigsawing ethers of Knight and Thrower, as swaying branches of discernible chords float through the percussion. The warm analogue sound working well with the visual syrup on screen and its flashes of diffused colour. The odd jazzy skewer sent on through, countered on palette-knifed drones, then cantering off into gloomier architectures, full of phantoms. This soup seemed more than its composite elements, a strange nectar catching you on its hypnotic burrs, delicately siphoning some significant other in swaying apparitions and short-lived portals.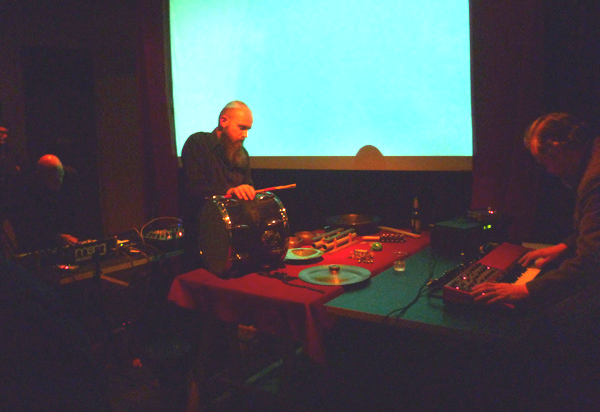 Plenty of effect spears and discordant stabs following, David Knight swapping Moog and valves for e-bow(ed) guitar. Stephen adding more sickly sirens from his clarinet, then finally everything vapourising into applause, the music still clinging curiously in the air.
-Michael Rodham-Heaps-