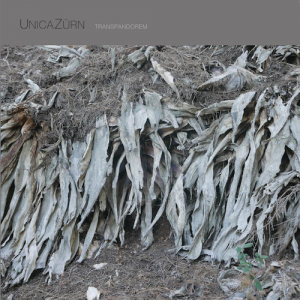 Sometimes, the press releases just absolutely nail it and I hate it when they do.  This latest release from the band that fell from the belly of The Amal Gamal Ensemble came with a description that's clearly trying to ruin my review before it's even got going. It has a little handwritten note from Dave Knight who, alongside Cyclobe's Stephen Thrower, makes up the ever-impressive UnicaZürn; Dave hopes that I like this album and I really do; it'll be in my lists of 2017, no question, but it does feel a little like drowning.
The press release steals a lot of the words I'd have used anyway. It does, it does; I'm not just being lazy (that "just" is as important as the one Genesis sings at the end of TG's "Six Six Sixties").  It's not my fault; they've stolen all the words: oceanic, coastal, uncertainty, dissolution, fluidity.
The record consists of two slow and tidal passages, which ebb and flow and pull you deeper into them. You can just listen casually, of course, but you probably should start paying attention because, in amongst the evolving synthesizer strains,
spreading out like bacteria on substrate, there are micro-patterns of detail and a gentle fuzzing
of the edges, which has the result of making objects around you feel as if it's they are slightly glowing.
Okay. I know what you're thinking. But I hadn't touched a vial. Not even a puff of Salvia Divinorum has touched this throat. I'm a professional; I'm all ears.
The night I
properly
listened to this, for the third time through, was cold and clear and there was a rare twenty-two degree halo around the moon; it's probably unrelated.
I was tired and maybe that could explain the gentle pulsing of life around the edges of this record
. Probably, probably. The thing with UnicaZürn is that they can make you believe.
Their
attention to detail transcends
yours
and even a hardened micro-cynic like me can get caught up in the haze.
So, about that drowning.
Transpandorem
feels like it would make a brilliant soundtrack to a reading of
Pincher Martin
,
William Golding's
spiritual, beautifully bonkers meditation on life and death and eternal watery struggle. If all death is in Golding's book then it is here too; slow, inexorable, beautiful. If that book deals with the slow decline of reality into unreality and the loss of sense
between
them, then so does this record. It's
a series of movements that can sometimes not feel like movement at all
; that sense of looking suddenly at how far you've drifted along the coast when you thought you were still.
-Loki-