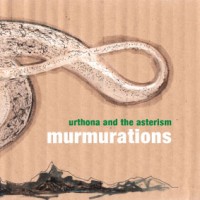 Murmurations sees guitar noise dronemeister Urthona teaming up with London-based electronic boffin The Asterism to create some wonderful alchemy on two long pieces inspired by the natural world in the West Country.
Although a CD release, Murmurations is conceived as a classic vinyl LP, with side one's 24 minute "River Severn Bore" incarnating the relentless natural power of the said tidal current, layers of distorted guitar and analogue electronic drones melting into a fluid and enveloping rush of sound as it mercilessly gains a fearsome momentum tumbling down the estuary. By the end of the piece, the grainy sonic surfaces become so visceral, you can literally scratch them with your nails, like a feral snotty nephew of John Cale's pre-Velvets drone experiments or perhaps Merzbow at his most 'rock'.
Metaphorically flipping over the album, we are faced, in true Ash Ra Tempel Kosmische style, with the side two chill-out of the 20 minute title track, a meditation on the autumnal sight of murmurations of starlings gathering together into flocks above West Country wetlands. What could easily have become merely decorative and inconsequential gains gravity from the dissonance and dark grain of the sonic textures as they build incrementally into a claustrophobically dense lattice that could be early Tangerine Dream had they favoured the horse-drawn cart to the space rocket.
-Alan Holmes-