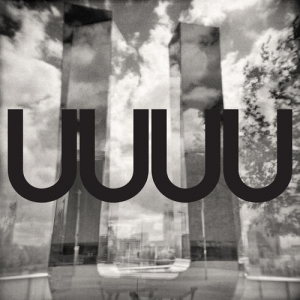 An exquisite corpse figuring the familiar Edvard Graham Lewis and Thighpaulsandra, UUUU make for a interesting fusion. Matthew Simms, guitarist and singer for the lo-fi curiosity It Hugs Back and drummer Valentina Magaletti, who once played with Bat For Lashes, but is best known for her dapplings with prepared percussion in Tomaga are the unknowns here (well, for me at least). The distinctive orbits of Wire and Thighpaulsandra blend into the mix, bending to the myriad of percussive treatments and sonic spanners the other two members are throwing through.
A scattering of percussive clatter and clanking cartilage from the offing , loose rythmics are hooked upon, eased over some nice recoils, a smidgen of bass hauling to a blackened page of spasmed cybernetics and spurting sine-worms. A tensile spread of violining ligaments and triangled urgencies to rusty gate sways. Moves into a cave-dwelling ambience as this accordion sentinel is covered in leaching digitals. A few rattly shuffles and curls of guitar, a brief spattering of drums, then to pastures fresh. Two tracks in, and the equilibrium seems to be too much ponder and not enough pounding, something the next track thankfully adjusts.
"Five Gates" hits a strong
Die Haut 
/
Dr Feelgood
swagger, swishing in the melodious. A gritty vibe with
percussive flecks flying, cooling down in animal grunts
and cul de sac(ing) colours, before swansonging on a frozen sheen. Ten minutes in, and it's bubbling away, this lovely guitar line playing on your mind in light
motorik
manoeuvres. Another two minutes, it tilts in the tribal, the percussion propels flavoured with a to the centre of the sun-type verve before blasting off into a overloaded
Guru Guru
interlock replete with lasering eyes. This is the album's swing point and from here on in it just eats into your approval. "Boots With Wings" has a great
Dome
/
Gilbert
and
Lewis
teethy avant dash about it, injecting a bit of much-needed lyrical verve to the proceedings, complemented by angular chisels and chewy chimes. A daggering sleaze that hauls itself into a steam-laddered terminus; it's the type of track that demands an instant replay.
Constantly on the move, the electrocuted textures of "It's Going All Over The Floor" become a dubby leopard of a riff, bending into a plankton-piped panorama of luminosity . "The Princess Anne Love Cassette" (surely a companion piece for Thighpaulsandra's "His Royal Highness The Prince Of Wales Breaches Reality"?) is a sinewave mirage that promotes a lovely John Carpenter-like tumble marred in stood-on toothpaste tubes of errant sythniness.
Picking up the slack, "Verlagerung, Verlagerung, Verlagerung" is another winner, like a
Bauhaus
intro before this
Peter Gabriel
-like breathiness bends in to a lush petroleum-like transaction, leaving your head wanting more. It's such a pity the next track is the finale, just as things feel they're getting started. But finish it must, beaming out
on a mutant discoball o'clock high as fiery guitar malforms into a skullflowering
of blossoming pitch, shot through with tasty synth-holes. A vibe that cuts back to this excitement of tight drummage pinioned to shivery sonics before slipping quietly away.
Really hope UUUU stick around for more of the same.
-Michael Rodham-Heaps-