It really makes a huge amount of sense for Mika Vainio and Franck Vigroux to have made Peau Froide, Lèger Soleil together, especially considering the latter's storming Centaure 12″ of a year or so ago. There, Vigroux mashed up the hardest of beats in a welter of analogue electronics that bore easy and justifiable comparison to Vainio's former outfit Pan Sonic; together they make a heavily textural collaboration which unfolds with a wheezing, shuffling sense of palpable heaviness and weighty atmospherics.
Replete with all manner of weighty analogue oscillator drones and the crunchiest of crunchy rhythms, the album unfolds in a gathering swarm of delayed hissing snippets, sliding bass tones, cinematic dynamics and an ever-present sense of unease and immanent activity about to burst out of the speakers. And come it does, in waves of shivery electronics that shimmer and writhe with all the frazzled dynamics that Vainio and Vigroux can wrestle from their instruments and devices. This occurs perhaps most explosively via the
transcendent uncurling floods and pulses
found in the ecstatic release of "Parabole" or the terminal funked-down grooves of "Le Crâne Tambour", which also happens to be the moment when they get most with active with the dancefloor motivations.
Jack-plug scatter or beeping trills alike are meshed tightly into place throughout, the album reverberating with a sense of purpose and dealt out with a measured delivery that comes from years of experience. Turbulent and calming, mechanistic and humanised, Peau Froide, Lèger Soleil throbs with energy held constrained in boxes of blackened steel and brushed aluminium before being unleashed with a steely determination to get the body moving while the brain takes in the duo's transmissions from the electrical beyond — or below, in the case of the suitably chthonic "Le Souterrain", with its intriguing plucked and gently strummed desert guitar interjections.
When a gnomic, garbled vocoded voice (Vigroux's?) emerges from the latter, arises resplendent among the
crystalline structures and mountainous shudders
of "Souffles" or the shifting tectonics and dripping ambiences of "Man", the effect is doubly electric, at once horripilatory and verging on the beatific — and incidentally shifts the album well away from sounding like a continuation of Pan Sonic by other means.
Magnificent.
Radioland: Radio-Activity Revisited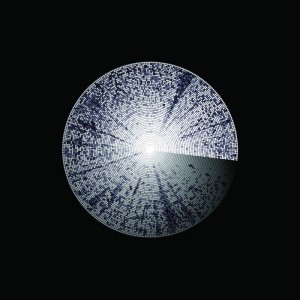 With an album like Kraftwerk's Radio-Activity already meeting the criteria required to be regarded as an all-time classic and certainly in the running for the best albums of all time (ever) list, anyone taking on the task of covering it in its entirety — let alone taking that show on tour — has to be verging on the reckless or supremely self-confident.
Thankfully, Matthew Bourne and Franck Vigroux have done an excellent job of making Radioland: Radio-Activity Revisited work as both a tribute and a re-imagining. Forty years on, and the original album still seems as vibrant and relevant as it did in 1975, with Kraftwerk inserting Fukushima into the list of nuclear disasters recited during the title track at recent live performances.
Bourne and Vigroux take a weighty approach to their renditions here, and from the opening blips of "Geiger Counter" onwards it's apparent that they are
paying homage at once humbly and without overly undue reverence
. This is not to say that every moment isn't imbued with a sense of beautiful recognition of Kraftwerk's own sublime fashioning of emotional music from what were still regarded as machines of unloving grace forty years ago. Far from it — there is a sense of honouring the source while playfully perking it up, extending the sonic palette and reinvigorating an album – which, while it might not be in any urgent need of sprucing up , doesn't come out of the process in any way tarnished or diminished.
The fricative sprawl of "Radioactivity" itself that they offer up here bursts with
a vibrancy which reflects that double-edged bounty of atomic power
while revelling in the joys that the artistic application of electricity and amplification can bring to the ears — as the robo-voice later states explicitly through the vocoder on "The Voice of Energy", though here in English rather than the original German. Interestingly, Bourne and Vigroux play "Radioactivity" as an instrumental, leaving out the aforementioned litany of nuclear shame in favour of ramping up the atmospherics, for better or worse.
Listened to in conjunction with the 1975 album, it's obvious that these are two very different variations on the theme – times have changed and so have the political and cultural landscapes. The other subtext of the album is of course the theme of radio transmission, Kraftwerk often choosing to bring a playful, punning element to their titles and music (something also forgotten quite often among the nationalistic stereotypes of humourless Teutonic robots that have plagued their existence, at least in the Anglophone world, for the whole of their career — but then they play with that stereotype themselves often enough too).
So "Airwaves" leapfrogs into a splutter of dial-tuning noises, while "Intermission/News" brings a babel of newscasters bouncing across the stereo spectrum as the bleeps ping and the keyboards ripple, but it's via "Antenna" — a joyful, uplifting song as Kraftwerk played it — that the approach shifts in Vigroux and Bourne's hands. That haunted electronic melody is pedalled back, the vocoded voice holds a markedly more threatening aspect and the slower tempo bristles with a popping,
spasmodic menace that snarls into beat-throbbing life
as they ramp up the high tension in ways that Krafwerk sadly seem to have abandoned long ago. Likewise "Radio Stars" booms and bursts with rippling grains of slow-burn tones floating on a low-down thud that holds a heartbeat close to its mechanised, wandering heart; and if anything, "Uranium" is still more unnerving as rendered in cycling, buzzing form as the robovoice whisperers just as disconcertingly into the boiling void of that static hum.
Radioland
is well subtitled;
this is a genuine revisitation
, a return of the disquiet that the end of the Cold War (allegedly) repressed and was perhaps only really woken up to again in the Nineties. That sense of melancholy among the utopianism was always there the first time round (especially on the second side of the LP), but today's re-imagineers seem to have latched on and developed both sets of artists' mixed feelings for technological progress. This remains somewhat present in the relatively buoyant take on the ever-chirpy "Transistor", but the album comes full circle (as it inevitable must) to the droning paean of "Ohm Sweet Ohm", now rendered in crisply modern-sounding thrusts and swirls that retain more than a little of the optimism that was promised for the bright electronic future four decades ago.
-Antron S Meister-