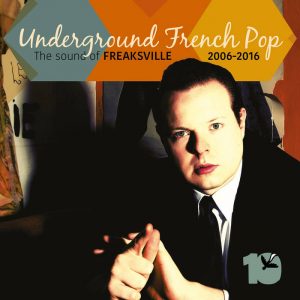 This comes from a world that feels very familiar to being a teenager listening to indie radio, but also not. There was a lot of this kind of stuff around — retro-ish fetishists for ersatz '70s string arrangements and Rhodes pianos, Francis Lai (Double Francoise's "Les French Chanteuses" here particularly)/ bossa… and sometimes it was in French, but unfortunately my list of comparisons extends not much further than Stereolab. Who were always a great deal closer to extending/ distorting/ full-on jazzing songform than anything on this collection. There's the odd sprinkle of retro-futurist electronic sparkle, but fundamentally this collection is all sitting comfortable in the elegant indie pop side of things rather than anything particularly vanguard-y.
There's a bit of a problem I have in that my supermarket French really isn't quite up to scratch and a lot of these songs are apparently fairly lyrical — I can get that
Alex Rossi and Frederic Lo
's "La chanson la plus triste du monde" translates to "The Saddest Song In The World", but the more nuanced reasons as to why it's the saddest song in the world are entirely lost on me.
There's plenty of "ba ba ba" and "do do do" to keep the non-Francophone happy
, but there's that classic sense that a lot of this is lyrical. Given that it's in the realm of indie, it may also be the case that it's appalling lyrically, so perhaps it's a blessing. I'd be surprised if
Benjamin Schoos
's "Plutonium Baby" wasn't that sort of ersatz space-y, mildly misogynist tosh that certain corners of indie don't revel in though. It being pop, you can get the odd "I miss you/ We can't be together/ This is real love" from the choruses.

Benjamin Schoos and Laetitia Sadier – "Je ne vois que vous"
Very Sadier in its way. That's one of those fancy keyboards, some choppy guitar and strings.
Mademoiselle Nineteen – "Juillet Brillait"
Close harmonies and horn section and a bit of an ersatz, overloaded arrangement.
Double Francoise – "L'automobile"
Possibly a Rhodes there and a narrative about something or other which I'd probably know if my French was better. Disappears into something spacey. And is long.
April March and Aquaserge – "Des tics etc des tocs"
That's some very high-pitched vocals and a flangey-vocalled chorus. And it's missing something from the mix somewhere in a mildly uncomfortable way.
Jean-Jacques Perrey & David Chazam – "What's Up Duck?"
This seems to be built around shit keyboard sounds instrumental? This is fucking rubbish.
Benjamin Schoos – "The Dragonfly Man"
This is a bit '80s science TV show with a narrative.
Mademoisells Nineteen and Marc Desse – "Je marche sur des petales de rose"
This has some nice modulation between keys, but altogether too much wah guitar for my tastes.

The Loved Drones featuring Emmanuelle Perrenin – "Cosmic Memories"

Suitably do do do-y.
Drifty and quite nice. Would buy album. Odd shift into double time towards the end.
April March and Aquaserge – "Black Bars"
Very ba ba ba. Is everything a bit Stereolabby? Except this is also a bit like a lot of indie stuff. There's a spacey kind of solo towards the end.
Benjamin Schoos and April March – "J'ai essaye de t'aimer"
Collabo-tastic. Horns. Slightly limp string section.
Double Francoise – "Les French Chanteuses"
Very Francis Lai.
Mademoiselle Nineteen – "Quelle Importance"
This is lovely. And very kind of suave French pop.
Modern Tanz Music – "Fin de transmission"
Nice use of German in the band name there. This is also very kitschy and … well, ultimately a bit cack. What's going on with that guitar tone.

Alex Rossi and Frederic Lo – "La chanson la plus triste du monde"

Another one of those incantation things that'd work a lot better if I spoke French a level above supermarket French. "
The saddest song in the world
".
Benjamin Schoos and Laetitia Sadier – "Une derniere danse"
She is so Stereolab.
Double Francoise – "Tourner la tête"
It's probably just that I'm writing this at Christmas but it's very Christmassy. Ah, it's got the same keyboards as that bloody Wings song.
Phantom featuring Lio – "Je ne suis pas encore prête"
More do do do-y stuff.
-Kev Nickells-