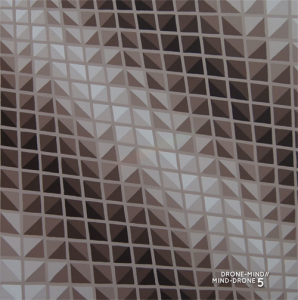 The fifth volume in Drone Records' signature series of Drone-Mind // Mind-Drone compilation LPs continues the label's commitment to releasing the best in long-form sonority and — of course — drones from around the world.
This edition (released on swirly silvery vinyl) contains, suitably enough, five tracks from four artists, once again featuring stunning op-art cover paintings from
Peter Greening
. New Zealander 
Gydja
 brings her cloud-busting ripples and thrums forward with barely a fade-in, swelling straight for the overloaded overtones and piercing wafts among the clicks and drops of what sounds like machinery operating on a glacial scale. This blending of apparently
organic pulsations and mountain-sized breathing
makes all the more sense when considering the bridge from Norse mythology that gives "Gjallarbru" its title was the main entrance into the underworld of Hel. The brooding synth flows of
Clade
's "Furnace" are filled with even heavier moments of dread anticipation, its somnolent bass tones and circling meditative drones giving the track a sluggish weight that nevertheless retains its dynamic purpose throughout. Their second piece, "The Last Summer", is equally hypnotic, riding instead on
crests and troughs of brightly-sparked feedback that weave a particularly spellbinding blanket of sound
that suffuses the entire room when played at its proper elevated volume.
Continuing this theme on the flipside, the echoed virtual palaces of Monocube's "Vibramina Renatus" accrete in layers of delay and reverberant clangs, building and enveloping as they do in crisply-delineated shards of spiked winds. These howl louder and louder, until they too seize all the available breathing space and hold time in abeyance for the duration, at times seeming as if the heavens themselves have pulled the worlds above and below into inverse alignment. Lastly, Yrsel bring matters to a satisfyingly deep conclusion with the yet more somnolent descent and eventual refulgent resurgence of "Krstnhmnbrtncrt" holding sway. Theirs is perhaps the most musical of the five pieces, with what might be acoustic instruments and definitely identifiable cymbal hits and brushes flickering and meandering across the soundscape of a reverb-heavy mix that provides a suitably immense coda to what has come before.
It's this careful thematic arrangement that makes the Drone-Mind // Mind-Drone series of LPs so successful; long and far out may it continue.
-Linus Tossio-