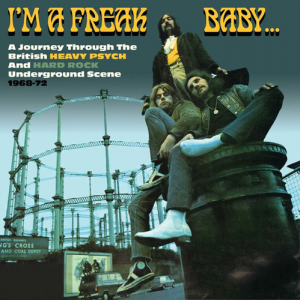 Early on in Give the Anarchist a Cigarette, Mick Farren's majestic – and comic – memoir (its early years set against the growing pains of British youth culture), he relates an incident that took place whilst visiting his friends Paul and Beryl in Brighton one grey bank holiday weekend in the mid-Sixties.
Sitting on a wall outside the Metropole Hotel, amidst the hand-to-hand combat and full-on deckchairs, chains and bottles carnage of mods versus rockers apocalypse, the trio were approached all day by roving bands of bloodied and beleaguered participants from both factions, quizzing them suspiciously as to which they were. Being neither (merely "beatniks like Bob Die-lan"), they remained miraculously unmolested, each opposing group understanding that the three oddballs had no place in the binary opposition of their tribal conflict. Farren reflects: "Oddly, it was only when writing this account that it occurred to me how those mods and rockers back in Brighton seemed instinctively to recognise Paul, Beryl and me as this third tribe even before we knew it ourselves."
Several years later, once flower power had broken big in 1967 and its psychedelic tide washed irresistibly out eastwards, Farren's "third tribe" would eventually find a global media profile as "the hippies". Ask anyone who was there at the time, though, and, moreover, anyone who was actually a participant in the underground rather than a middle-aged media observer trying to quantify and package the phenomenon for easy consumption by the straights in the Sunday supplements, and they will tell you that
no self-respecting non-conformist used the term "hippie" – the name they used to refer to themselves was "freaks"
.
The remains of this delicious term can still be glimpsed occasionally in the fossil record: in Gilbert Shelton's beloved Fabulous Furry Freak Brothers; in the lyrics to "Kid Charlemagne", Steely Dan's lament for San Francisco's legendary acid king Owsley Stanley ("All those dayglo freaks who used to paint their face, they've joined the human race, some things will never change"); in John Lennon's controversial "I Found Out" from his 1970 début solo album, "the freaks on the phone won't leave me alone".1 Even now, half a century on, Stuart Maconie's magnificent Sunday evening alt.music show on BBC 6Music bears the out-and-proud title, The Freak Zone.
By the turn of the decade, though, as the progressive ideals of the "hippie" movement began their long, slow evaporation, a swirling kaleidoscope of social, economic and musical forces took things in a distinctly darker and heavier direction for the freaks of old Albion. Whilst Laurel Canyon was trying to insulate itself from the aftershocks of the
Manson Family
's nocturnal creepy-crawling, in
Ted Heath
's increasingly riven and desperate Britain the siren was sounding for a state of emergency. Early Seventies Britain may have demonstrably been a ship taking on water ("In terms of comfort, we shall have a harder Christmas than we have known since the war" as Teddy Teeth put it in a broadcast to the nation in November 1973), but so too did it witness the kingdom of the freak. Mixing equal parts
JRR Tolkien
, army surplus clothing and a hefty dose of post-
Morning of the Magicians
 spirituality, the freaks were
glimpsed in their grey-coated masses, hirsute and patchouli-drenched
— and hanging out at enormous industrial gasholders — their soundtrack a grunge mulch of increasingly heavy and far-out blues rock.
And it is this grunge mulch which has been so lovingly collated on the truly epic three-disc Cherry Red compilation, I'm A Freak, Baby. Having listened to it in toto several times over in preparation for this review, I came to feel like some kind of musical foie gras goose, my entire being swollen by three days of gavage with heavy fuzz, rumbling bass and ominous lyrics about swirling vortices and women who live in caves.
The participants are as wild and varied a bunch as one could hope for: from those whose careers lead onwards to global fame, to those who had to settle for cult (and much less lucrative) status, to the ranks of the heavy rock
Terry Malloy
s, those on the waterfront who blazed brightly, but who stumbled and fell, and were then swept away by the Year Zero tide (real or over-hyped) in 1976, ending up with nothing but a one-way ticket to Palookaville. For the first group, this mighty compilation provides a reminder why they reached the dizzy heights they did; for the second, ample evidence that
despite the vicissitudes of public opinion, they really were just as good
; and for the third, well, after every scorching track they can just lean back in the taxi and give a pained mumble, "You don't understand. I coulda had class. I coulda been a contender. I coulda been somebody, instead of a bum, which is what I am, let's face it."
Deep Purple are here, represented by the lung-busting "Fireball" (which a young Lars Ulrich purchased within twelve hours of being taken by his father to a Deep Purple concert in Copenhagen); really nice to see The Move here too, their lumbering glam-metal masterpiece "Brontosaurus" showcasing once more why Roy Wood is undoubtedly one of the unheralded geniuses of British music; and also – the darkness to Roy Wood's light – Peter Green is here too, in perhaps his finest moment, Fleetwood Mac's spine-chilling "Green Manalishi" (written by Green in the aftermath of his notorious lysergic misadventures in Munich, and highlighting in the most naked and painful way the spiritual torture that the temptations of fame and money brought him).
The Yardbirds
wig out in their proto-
Zeppelin
incarnation with 1967's "Think About It",
Jimmy Page
(now the sole guitarist) going ballistic on the fretboard and already audibly laying down the template for how he would conquer the globe in the decade to come.
Uriah Heep
give us 1970's blistering "Gypsy", its filthy riffing raising the hairs on the back of the neck.
The (mighty) Groundhogs (which such compilation could ever be complete without them..?) snuffle around at the end of the first disc with the classic falsetto heaviosity of "Cherry Red", whilst Mick Farren himself (God rest his be-afro-ed soul) muscles in on the action with The Deviants' proto-punk "I'm Coming Home", The Pink Fairies following up swiftly with the forward-looking2 "Do It" – "It's rock and roll, and the message is… do it!" Chicken Shack's dirty "Going Down", quite simply, rocks like a muthafucker, one of those magical tracks that gets better with every extra marginal decibel you give it.
Even
Crushed Butler
put in an appearance,
Jesse Hector
rampaging through "My Son's Alive" like a man possessed. He may never have received his proper dues from history, but make no mistake, punk would never have happened as it did without him. Such a righteous player richly deserves his place in rock and roll Valhalla. As do pre-
Clash
London proto-punks
Third World War
, whose "Ascension Day"
perfectly encapsulates the grey, decaying Seventies London of the Angry Brigade
and the Tolmers Square squats.
My heart leapt upon seeing that The Open Mind are here too. Their appearance on the legendary Eighties Bam Caruso compilation The Psychedelic Snarl kicked off their presence on every psyche-related playlist for the next three decades (not to mention seeing their name proudly scrawled across the covers of my school exercise books).3 A young Lemmy (then known as Ian Willis) makes a pre-Hawkwind cameo, penning and fronting the heavy psyche rock of Sam Gopal's "Escalator". The Hawks themselves clock in as their early Hawkwind Zoo iteration, belting out the sax-driven "Sweet Mistress of Pain".
Yet there are plenty of absolute and less-heralded gems too:
Cycle
's "Father of Time";
The Iron Maiden
(no, not that one) with "Falling";
Barnabus
' apocalyptic…er… "Apocalypse";
Iron Claw
's "Skullcrusher" (who could possibly resist a little like that?) with its brutal quasi-
Sabbath
assault on the senses; the dark psyche of
The Velvet Frog
's "Jehovah" (which once prompted
Record Collector
to imagine a strange parallel Sixties in which they played
The Roundhouse
with their own version of the
Exploding Plastic Inevitable
!);
The Phoenix
's overview of the prostitution industry, "Street Walking Woman", complete with sensitive rhyming couplets such as "Black boots, bright red hair, baby roll the train, struck up a conversation, she was on the game." Possibly the pick of the bunch, though, are East London's
Egor
, whose phenomenally aggressive "Street", from 1971, begins with an air raid siren and then comes on
like The MC5 playing The Plough on Leytonstone High Street on a wet Tuesday evening
. Guitarist
Eric Taylor
was only 16 when the band recorded the track.
4
*
Everyone loves the forever-young images of the Swinging Sixties, from the rows of military jackets hanging on the rails of
I Was Lord Kitchener's Valet
to
The Kinks
squeezing every ounce of youthful city energy into the grooves of their seminal recordings. Everyone loves punk rock too,
The Pistols
gobbing on the cracked and broken pavements and the snarling, safety-pinned youth of industrial decay being exhorted to smash it up. Yet the almost-decade between the two is often equally as fascinating, a precarious, uncertain time,
in which politics and economics spiralled dangerously out of control, and where musically styles and influences collided
, and – despite what the Year Zero propaganda would later say – plenty of interesting music was being made.
The radical musical disjunctures of the Year Zero narrative are demonstrably questionable too: the influence of psyche persisted years after its heyday proper; punk appeared all over the place in shadowy pre-cursors well before any gigs at The 100 Club or the Free Trade Hall; not everyone was wearing capes and playing vast auditoria as "rock aristocracy". Historical, and musical, periods don't end neatly on 31 December of any given year; they bleed into one another, cross-fertilise, and proceed by trial and error, frequently throwing up oddities and mutations which only become comprehensible (and sometimes even celebrated) much later.
Despite much modern interest in social and historical aspects of the period –
Andy Beckett
's superb
When The Lights Went Out
 is just one example of the contemporary literary excavation of the era – this part of its musical legacy has often remained well out of the spotlight. Having seen both The Groundhogs and Chicken Shack play to thin audiences at
The Amersham Arms
in New Cross during the late Nineties, a revival of interest has been some time coming. Perhaps, though, this expansive compilation is both the necessary corrective and 
the start of a more positive revisionist perspective on the early Seventies freak scene
.
As Wicked Lady would say, I'm a freak again, baby.
-David Solomons-
1 In January 1971, Lennon explained the lyric to Rolling Stone, commenting that he was "sick of all these aggressive hippies or whatever they are, the 'Now Generation', being very up-tight with me. Either on the street or anywhere, or on the phone, demanding my attention, as if I owed them something."
2 Larry Wallis would release the era-classic "Police Car" on Stiff Records in 1977. What price the Year Zero..?
3 Check out their truly magisterial "Magic Potion".
4 Drummer Nick Diss commented that "Eric vanished without trace, all efforts to track him down over the years have been in vain (he was very fond of LSD so I assume he became another acid victim and probably died young.)" Sigh.