Magnetband: Experimenteller Elektronik-Underground DDR 1984-1989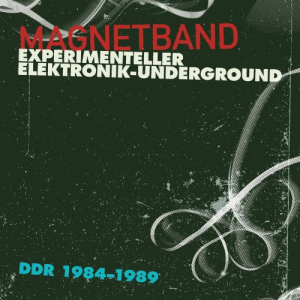 Like Play Loud!'s excellent Ende Vom Lied, this collection from those bastions of Germanic goodness Bureau B gives you another whistle-stop tour of the DDR's vibrant underground tape culture. Magnetband is a fourteen-track compilation from the mid- to late Eighties salvaged from a load of brave documenters on labels like Heimat, Iron Hatchet and KlangFarBe, many of which deserve a release or two in their own right. Audio harbours that here supply a fleeting glance of a scene feral with ideas and Casio misuse, affixed to the amber blush of the Emax sampler.
The pointed thump of the typewriter from AF Moebius's "Erika" makes for a hyperactive start, ekes a whacked-out percussive display that melts into a re-writing of The Tornados' "Telstar" for the Atari age. A catfight of lasering pixelations from prime mover / production house Frank Bretschneider (of AG. Geige fame), who has peppered this comp with an another AF Moebius goody, "Böser Traum", plus two more diverse dabblings. His Heinz & Franz offering (a duo with Heinz Havemeister) being the most oddly lounge-esque. A pillow-panthered parody of schläger kitsch that sounds like Booker T & the MG's "Green Onions"]taken into the great beyond with the sensual slap of industry and jazzy gazelles.
"Nien" (from
Choo Choo Flame
) is another classy cut,
an all too-brief flourish of weirdness, with its sonar sonorities shivering
"no na-na-na no"s to a eerily valving of dying batteries and smarting wisp. "Fly, Fliege, Fly" hits wholesome also with its skate of echo-chambered dub-ness and
Hannah Hoch
-like tinkering that comes across like a glitchy
Specials
 full of slippery siphons and clanky cutlery. Much here falls under the clever / arty end of the spectrum, until the shouty "Die Kuh" from
Der Demokratische Konsum
eclipses in a raw thrust of fuck you, slants a dynamic slice of defiance. A contrasty shot that mischievously skips to the weird vertigo of "Böser Traum", quickly flowing into "Urtramp", a live-to-cassette wonder full of riotous colours and satisfying complexities. An energy that in turn taints the acid-haus swagger of "Jab Gab Hej"'s
spandex processing and computer game sampling
. A nostalgic flood of wavering glow-sticks that are terminated on the hypnotic
Pan Sonic
-like drone bankruptcy of
Robert Linke
. An eight-minute edit from a theatrical live score whose delicate magic slivers your soul, slips rather majestically into silence, leaving you wishing for more.
Sammlung: Elektronische Kassettenmusik Düsseldorf 1982-1989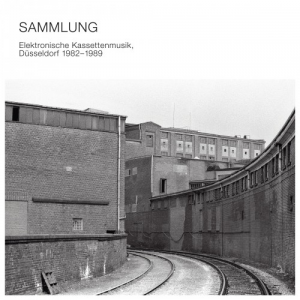 Then another instalment from the Bureau B team slides into focus, hits your ears from an altogether Western perspective. A percussively varied collection mined from the '80s Düsseldorf cassette scene that attempts to capture that burgeoning dance direction electronica was inevitably shifting towards.
There's plenty to enjoy here and
Deux Baleines Blanches
are a real pleasure head of satisfying unisons. A Congolese-like
mbira
tied to a chugging synth interjected by brief guitar accents and a lovely zither from a band that are still bending our noggins as
Kreidler
.
Mentocome
too, whose weird miscellany belays a beautiful Pythagorean of
muted processing and daggered bluntness skull-lit in little owling nocturnes
. Electronics had come a long way from the modulated austerity of the WDR it would seem, we're now in the mood to party and the paper thin fireworks of
Ettlinger
's contribution or
Frigorex
's jigsaw of
Aphex
-like chromatics certainly vibe that intention. An inclination that bleeds out and over into a cool and
calculated plenitude of toe-tapped vignettes and euphoric atmospheres
that are at odds with the stark concretes of the cover, ones that catch you swaying sympathetically along.
Then the sobering timbres of Birgit Gasser's "Dino Oon" submarine in a host of darker joys to which the more industrialised concentrates of Maria Zerfall steal away this compilation's glow in vocal Teutonics and hard edged nihilisms — a Düsseldorf export that's sure to be next in line for a little Bureau B attention (fingers crossed).
-Michael Rodham-Heaps-