WaqWaq Kingdom – Shinsekai
by Freq | 2017-04-13T17:14:30+00:000000003030201704 17:14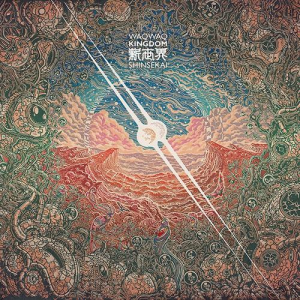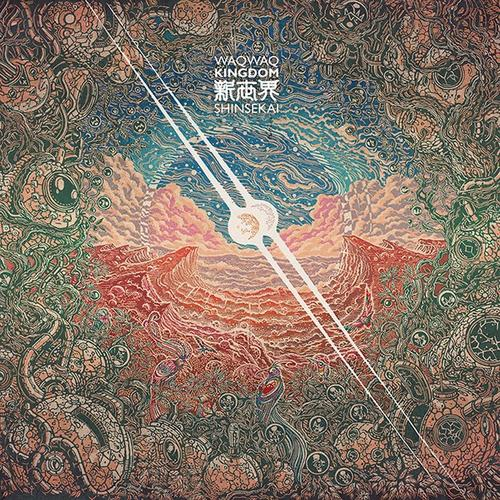 Shinsekai comes on fresh and fast, as if WaqWaq Kingdom are in a hurry to cut to the chase, to speed through the dubs and rev up themselves and their listeners into a frenzy of echoed FX and sturdy rhythms. Andrea Belfi's trimba (a percussion instrument of Moondog's devising) propels itself through the scalding mix of Shigeru Ishihara (DJ Scotch Egg, Seefeel), topped off by the ecstatic, charged vocals of Kiki Hitomi (King Midas Sound and Black Chow).
The album title refers to an ironic nickname ("New World") for the run-down Nishinari-ku district of Osaka, and it might as well apply to what comes across as a somewhat utopian take on dub-inflected music. Simon Fowler's incredible LP sleeve, created using the traditional Japanese shin-hanga woodcut technique, sets the scene, bursting with psychedelic detail and an evocative sense of sublime wonder.
Belfi's trimba veers from
apparently effortless percussive rolls into a complex polyrhythmic space travel machine
, flipping and frolicking as Ishihara sets the dub magic into frenetic action involving arpeggiated Gameboy trills (a favoured instrument of both DJ Scotch Egg and occasional guest dubber
Disrupt
) and deeply buzzing, bass-heavy rhythms. Hitomi's vocals drift over it all, distant and otherworldly, cut up and fragmented or earnestly declaiming in multiple languages as she speaks of strange love and kisses from the future. The tone is somewhere between the embodiment of
William Gibson
's Chiba City and the pan-global mashup culture that has seized control of some of the more interesting byways of electronic music production. Would parts of this album sometimes work as telco advertising material? Perhaps, but more likely this is the kind of soundtrack that might be encountered as the fleeting tonalities that emerge and recede during
a long dive into a hacked augmented reality
.
It's almost possible to hear the flip and shift of overlaid position-based imagery scrolling in four dimensions, evolving and shimmering in and out of view while listening to Shinsekai. The sense of being propelled (disem)bodily into a cyberpunk future is vivid, amped up and shoved willy-nilly into an accelerating whirl that WaqWaq Kingdom spread in every shake and delay trail.
-Linus Tossio-
Source URL: http://freq.org.uk/reviews/waqwaq-kingdom-shinsekai/
---