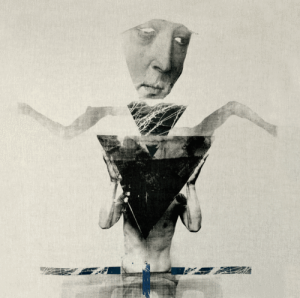 White was the pairing of percussionist Shenggy Shen and guitarist and singer Zhang Shouwang, and this, their first album, was originally released in 2007. Now Adadaat have given White its first outing on vinyl, and it not only sounds but looks good ten years later, the striking cover image by Marcin Cybulski adding a Dada feel to the album.
So much for the packaging. With their background in China's punk scene and the so-called No Beijing musical movement, it's interesting for those with no knowledge of the country's underground to listen to a record which neither panders to notions of what might be considered old-fashioned cultural heritage, nor attempts to westernise itself into identikit copying of established forms. With Blixa Bargeld at the production controls and a support slot on Einstürzende Neubauten's 2008 tour, there's a certain amount of White that slots neatly alongside their mentor's way of doing things, but very much with their own identity intact.
Recording the sound of a bottle of "Beijing Beer" being opened and savoured has a touch of Bargeld's reading of the power tool catalogue in "Hornbach" for the retailer of the same name, and elements of both "Falling Down" and "Roswitha Strunk" call "Vanadium I Ching" to mind in its second half as tumblingly bright percussion strikes mark the frenetic passage of time. "Conch Crunch" is where
the repetitive beating of metal on metal and the sound of a motor
provide the essentials of the track, and there's definite parallels to be drawn here too, though White are assuredly their own band too. Shards of mangled guitar, tumbling scrap and the unrelenting title shouted out at various moment certainly bear the strong imprint of Berlin's finest noisemongers, but the weaving keyboard buzz give the piece its own individual charm. And who can resist whacking the ironworks with vim and vigour anyway?
The determinedly atonal moments that scatter themselves among the more obviously structured pieces can burst into bravura extemporisations and baffling, and perhaps sometimes archly so, miniatures on the subject of English schools. There's allusions to Chinese history on "47 Rockets", from the Great Wall to space travel, and the bouncy keyboards bring the track to swirling hypnotic life with the metal percussion once again providing a counterpointing tension that works rather neatly.
Earnest to calls to "Build A Link" burst with charming energy: "black key, white key, left hand, right hand", they sing as infectious layer upon layer of
sound sources combine into a hypnotic instruction set for making optimism a way of life
. The onomatopoeic "Train Song" chugs and clangs far more in way that
Steve Reich
's
Different Trains
represented rail travel than
Johnny Cash
's guitar-strum chug, though its lo-fi feel puts it way out on a different plain altogether, wavering and warbling its way like a rickety relic of China's long-departed days of steam trains connecting a vast nation. But the best perhaps is saved for the final multi-tracked vocal workout of "Bai", where Shenggy Shen's vocalisations tumble and flow into an almost breathlessly invigorating welter of sound poetry that leaves the LP almost bereft at its conclusion.
-Linus Tossio-