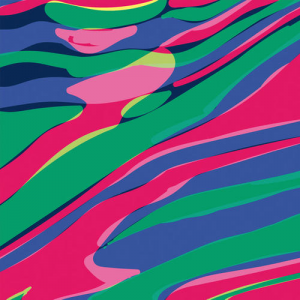 Presented in a double-disc package containing both CD and DVD versions, the former holding the music in standalone album format, while the latter combines it with the visuals, which are not merely an addendum, but integral to WIDT's work.
Taking the DVD version as the definitive edition of
WIDT
,
Bogumila Piotrowska
deploys analogue A/V equipment to create a hypnotic wash and weave of shifting, elusive textures that flicker and flow to the music of her sister 
Antonina Nowacka
in a glorious combination of stuck VHS lines,
smeared videotape glitches and intense forms of video feedback
. Which is not to suggest that the music doesn't work on its own as an album — it most certainly does — but together, the sound and vision make for a highly engrossing trip down a retro-filtered rabbit hole.
The combination of voice, electronic music and visuals on WIDT's seven tracks unwind in a welter of abstraction and detailed close-ups, analogue synthesis ripples and the recursive echoes and effects applied to Nowacka's voice. She ululates and croons wordlessly into the spiralling cathode-ray feedback, the music shifting from evocative multi-tracked swoons to the guttural drones and sprawling tape-looped weft and weave of avant-garde raster shapes drafted into the service of wordless eloquence that accompany the tumbling lysergic virtual snow-patterns on screen. This is delivered with a particular fragility on "Sole Thithu", the electronic scuttlings, layered vocals and ever-evolving screen-shifts combining into a hypnagogic whole that is at once enthralling and sometime more than slightly unnerving as it enters into the visual cortex.
This dreamlike quality persists through the pounding rhythms of "Bardo", where the heartbeat thud pulsates beneath the wavering imagery, before and beyond the liminal state of Buddhist practice that the title refers to, suitably meditative and (hopefully) propelling the viewer into ever-higher states of entranced consciousness. Nowacka is in particularly full-throated voice here, at times achieving an intensity worthy of
Diamanda Galás
 as she multi-tracks herself into
time-stretched ecstasies of expression
.
While Piotrowska's techniques occasionally call to mind the highly abstracted use of video by the likes of Cabaret Voltaire or numerous other artists who delved into the possibility that analogue video offered from the 1960s onwards, hers is a particular and deftly-rendered and individual style that finds the right balance between overwhelming use of saturated colour and liquid effects in continuous motion. This is particularly evident on tracks like "Joleusa" and the concluding "Aijala" where  diamond and triangle motifs are subjected to increasingly powerful tensions as Nowacka sways and twitches the audio component from soft and beguiling right up to the soaringly sublime.
-Linus Tossio-