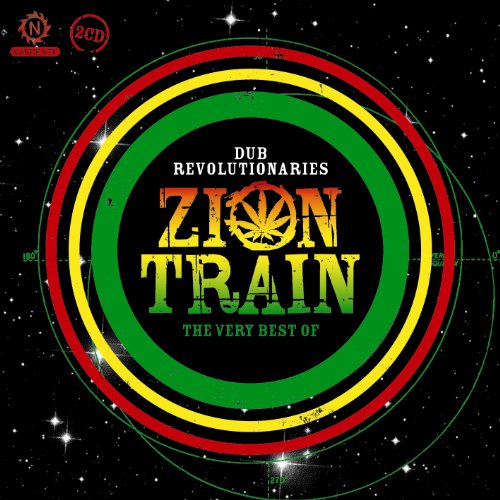 Zion Train began around 1988 and was one of the late John Peel's favourite live bands. Their music was an essential soundtrack to the free festivals and (new age) traveller scene of the early 90s, their heavy dub sound influencing bands like Back to the Planet to add dub flavours into their songs and inventing a whole new sub-genre of ambient dance music. These guys are important, so an overview of their work is long overdue and this as a fine introduction to the band as your ever going to get.
The set pretty much stays in chronological order with the opening salvo being the band's first single "Dub Power." It's hard to review this classic of the genre after all these years, the whoosh of the synthesizers, the big slow dub bass and the wonderful vocals by
Sis K
let you slip into the mood of this album; there is a marvellous space between the instruments that hangs in the air and makes you realise you're in blissful company. "Ross Ice Shelf" blends Celtic modal forms with heavy bass and water style sounds in a song dedicated to 'the beauty of our planet.' It is here where you see the influence on bands such as
The Orb
a couple of years later. "Fox" is a more straight forward reggae tune that was originally part of a double 12" set and explores the more cosmic elements of the band's sound.
"Cuttlefish" is an odd amalgamation of sounds, like if The Residents started to play dub
. "Through The Legs/Scottish Warrior" is a dance beat oriented Peel Session track that starts with a rant about the Criminal Justice Bill (something that is still law in Britain lest we forget), that moves on to some fine horn work that lifts the piece along. "Follow Like Wolves" is dub house hybrid that now feels like a million other bands copied and is still immensely danceable. "The Healing of the Nation" is a protest song powered along by solid rhythms and great vocals that reminds me of early 80's
Black Uhuru
records such as "Red." CD 2 kicks in with "Procession," a harder sounding track than those that were on the previous disc. Angry synths give way to martial drums for what could pass as a dub soundtrack to a Roman epic. The sound here is bigger and there is less space for the music to drift in. "Speaker Shaker" is a brighter, lighter dub with a great horn sound and what appears to be larger production values. One of my personal favourites "War In Babylon" is a wild rocker that moves at quite a pace and flits
more with a techno groove rather than its heavier dub elements and can still shake your bass end speakers after all these years
. "Fly" has a largely psychedelic feel to it as the track drifts higher and higher to make it truly uplifting. "King of the Sound and Blues" has an old school reggae vibe with its horn section sounding like it comes from an early 70's style dub album and rooted within that overall vibe. "Terror Talk" is from their Grammy-winning
Live as One
album, which is a statement on a post 9/11 world. This preaches its message over a strong groove and a great sing-a-long vocal, a strong track not just because of its musicality but also because of its message. "Give Me Good Sensi" is a brilliant and beautiful laid back old style reggae number with its dub style more muted to let the song take over and the vocals of
Earl 16
raise to the firmament in this 'eulogy to the weed of wisdom.'
This album is an excellent appraisal of Zion Train's work so far. It deals with the many different styles the band have incorporated into their dub music over the years. It is well worth picking up, especially if  you have no other recordings by them, but equally too if you are missing important elements to your collection of their music. As an overview (which any best-of is) I cannot recommend it highly enough. Put it on, blast it out and enjoy the summer.
-Gary Parsons-