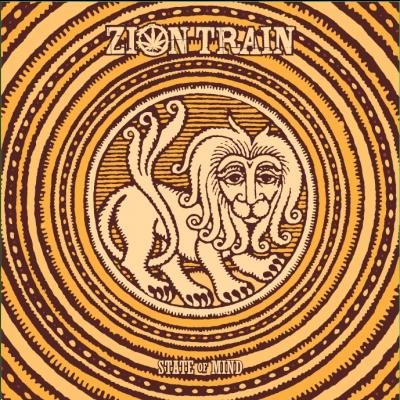 I originally received a copy of this album a few days after the end of England's summer riots. The town where I grew up had been one of the worst hit; I watched a business that had been there for over a hundred years burn to the ground as I frantically tried to contact family and friends who still lived there. An element of fear still hung in the air even as the perpetrators were being rounded up, and listening to any kind of 'new' music was far from my mind as other deadlines loomed. But then I spun this album and wished that I had listened to it at the end of that week. Zion Train's bubble of positive vibes hit the air and made recent events evaporate in my mind.
The opening horns of "Great Leap Forward" herald in one of the most uplifting pieces of music to start an album I've heard in a while, its groove bringing a smile to my face. "Rainbow Children," with its mellow flute opening sounding like it wouldn't have been out of place on a 70s prog album, sears into a powerful reggae number that features
Aswad
's
Brinsley Forde
(in fact this is cover version of an Aswad song) and manages to be very psychedelic – and dare I say it poppy – all at the same time. It' a song that straddles '67 and '91 in its overall feeling of joyous summer music. "Matrameru" starts with a swirl of synth sounds that have a space rock vibe before the echoed horns kick in and a laid back dub rhythm sends things almost stratospheric
there is so much space here you feel you could fall between the gaps in it
.
"State of Mind" with its vibrant echo seems like a rallying call for people to discover their own Zion, its massive melodic horns holding up a warming comforting element under the vocals calling for change. "Semper Augustus" sounds old time with Hammond organ playing the main element of the tune giving it a sense of a track stuck in the early 70s; this in my opinion helps elevate the song. "Orgone Accumulation" pulls on vibrant energy charge that propels the piece along at a fast pace and I could see filling dance floors with its spacey synth and big organ chords. Dramatic organ introduces "Share the Flame" and swiftly moves into a large expansive dub with vocals sung by dub poetess Jazzmin Tutum. The track also has a quite wonderful melancholic violin fugue that wouldn't have sounded out of place on a Fairport Convention album. "The Divine Proportion" is more bass-heavy dub that makes its horn section sound light as air over gurgling synth sounds.
An almost trance rhythm fuels "The Black River Incident" as violin and horns juxtapose each other the track's main themes. It moves along at quite a pace with organ stabs underscoring its overall sound. "Ital Stew" has brooding horns resound over a laidback dub and some wonderful wah-wah guitar. Here, again, the bass and drums take a more central stage as the rhythm carries the track. The opening "Tribute To Shura" has a similar feel to "Perpetual Dawn" by
The Orb
and transported me back to the heady days of the early 90s Brixton
Fridge
. Its main keyboard line sounds similar to the
Stones
"Paint it Black," but just adds the infectiousness of the tune. "Ari Hanta" starts with disquieting keyboard sounds over a staccato bass drum beat and when the rest of the instruments kick in you could have almost late 70s
Pink Floyd
and
Tangerine Dream
battling it out in a studio. Then the violin comes in and plays a beautiful melody that sends the track heavenward in a spiral of bliss.
Thank you Mr. Perch, for blowing the dark clouds away and making some of the most inspiring music that has the feel of an endless summer of positive vibes.
-Gary Parsons-