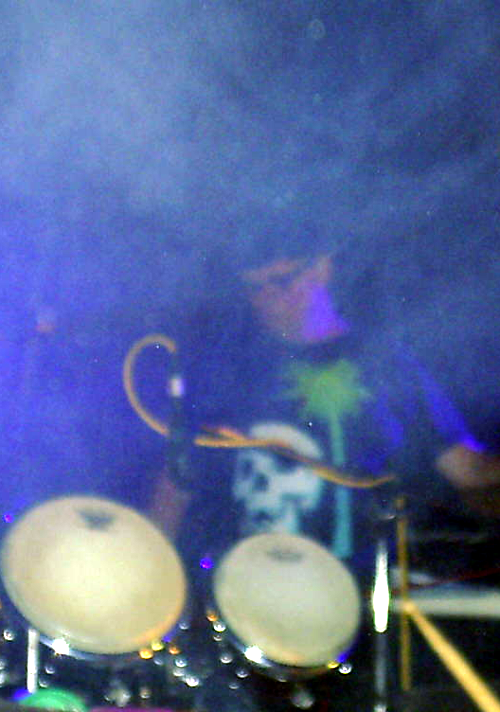 Electrowerkz, London
25 September 2014
I had not been to see anything at Electrowerkz for a very long time; in fact so long, I initially forgot where it was, and so was surprised that the place had changed very little over the years. One thing that has improved though was the sound in the venue, and both acts tonight have a wonderful clear sound that penetrates deep into the audience.
By the time I arrive,
Charles Hayward
is just taking to the stage. He sits sentinel behind his drum kit and begins to play a series of complex rhythms over a backing tape. Sometimes his drumming is subtle and reminds me of
Bill Bruford
with its light, almost jazz touch; at other points he clatters around the kit like a manic
Christian Vander
. At the same time he sings, and his vocals occasionally remind me of
Robert Wyatt
's. His execution of his music is
flawless and captivating
. The only point for me would be that it would be nice to see a band backing him rather than a tape, as that could lead to possible improvisation — which I  imagine would be very interesting, rather than have the rhythms tied into a backing tape. But that's only a minor quibble for what was an excellent set of otherworldly music. It's two drum kit time again for
Zombie Zombie
, with
Cosmic Neman
sitting stage right, and this double-headed barrage adds a punishing rhythm that gives a sense of urgency and danceability to the entire set. The two kits are set up at the very front of the stage,
Etienne Jaumet
pushed to the back of the stage, behind a cluster of synthesizers stabbing out sequenced riffs and unearthly symphonic chords. The set relies heavily on the album
Rituels d'un Nouveau Monde
, with tracks like "The Wisdom of Stones" being all present and correct. Seeing as I only picked up their new soundtrack album
Loubia Hamra
that night, I have no idea if any tracks were taken from that album (but listening to it today I can highly recommend it). Their music takes you away into some strange places, part horror movie soundtrack,
part late night Parisian café and part outer space travel music
.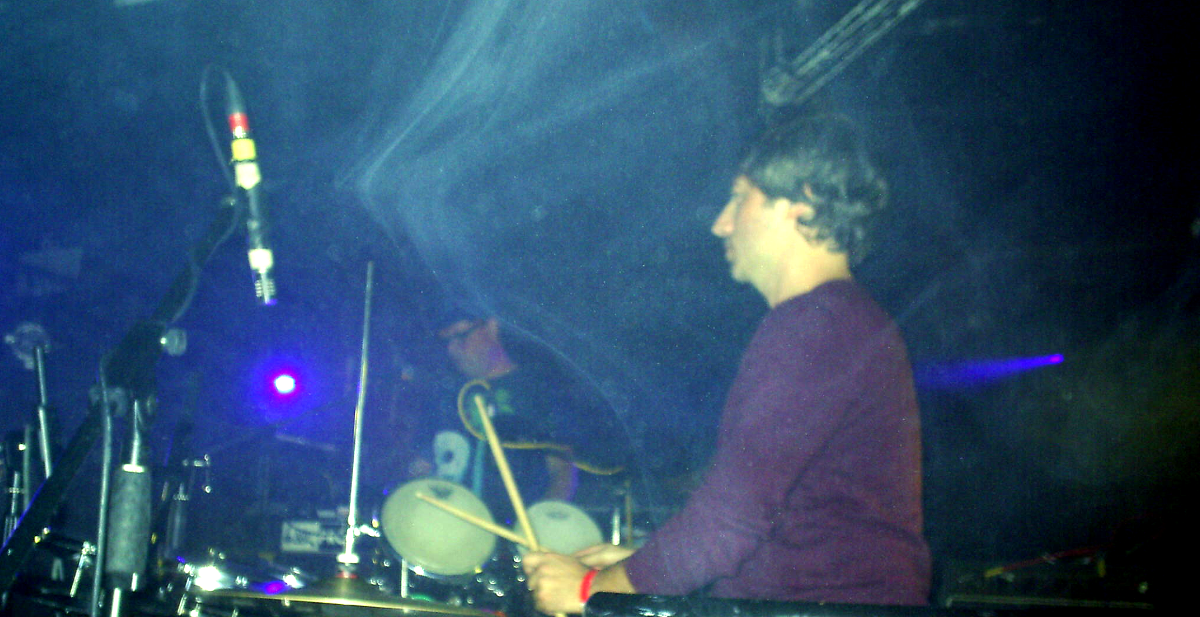 One of the highlights of the show is their mammoth cover version of
Sun Ra
's "Rocket Number 9," where the band give an elongated improvisation over a basic bottom end bass synth riff. This gives time for Etienne to step from behind his arsenal of keyboards and head towards the front of the stage and play some amazing saxophone. His style of playing is so captivating that it doesn't seem to last long enough and garners a big round of applause from the audience. Throughout their set, your foot taps along to their funky beats and at times the alien sounds created by Cosmic Neman's array of pedals. The sound is
relentless, powerful and wonderful
.
As it's the start of autumn, Zombie Zombie's music always seems to chime well with the build up to Hallowe'en; there is something about their electronic score that reminds me of John Carpenter, Goblin and Fritzi all rolled into one. They are one of the best electronic live bands around and well worth going to see. It would be great if they got added to next year's Roadburn, as they would certainly fit very well on the bill there too.
-Gary Parsons-