Zombie Zombie – Livity
by Freq | 2017-12-15T00:20:06+00:000000000631201712 00:20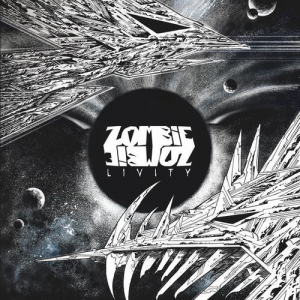 Zombie Zombie's fifth long player celebrates their tenth anniversary of recording for the Versatile label. Although the last album proper was 2012's Rituels D'un Nouveau Monde, they have spent the intervening years scoring two movies and a contemporary circus show. I think that these extra-curricular activities have fed nicely into the sound world that has been created on Livity, (a Rastafarian spiritual concept based on the energy existing and flowing through all living beings).
Spread over six tracks plus a hidden little something at the end, the band takes the listener on a journey of delights from the jungles of Laos to deep space via the dance-floors of Berlin and the open-air cinemas of France, constantly keeping them guessing as it changes direction and sensation at will.
Opener "Livity" immediately transports us to the jungle, where rainforest sounds and birdcalls pre-empt a simple but repetitive beat that is augmented by what sounds like live drumming, the beats big and open sounding, the drums echoing and reverberating around the seductive and slightly hypnotic keyboard bass. The wild drum fills and bird noises really add to the sense of drama and the great length of the track means we are drawn into the heat and humidity as the single-minded and insistent keyboards urge us onward, machete in hand. When the track eventually fades, it is
a feeling of having the scenery whipped away from us, a rude return to reality
. The tempos change all through the album and the kind of slow rather mysterious
Stranger Things
 sort of vibe of "Ils Existent…" clashes with the Hardbody kind of feel of "Hippocampe", with its live drums and non-standard rhythm. In fact they manage to evoke a completely different atmosphere on each track with the mystery of the former replaced by the harshness of the latter. Both of these tracks are dedicated to French film-makers and on the whole, there is an otherworldly sort of element to the album,
a touch of sci-fi here and then a turn for the darker there
; whether that is a result of the myriad of electronics employed or just the band's current fascination with the scoring of films and the way in which they have to reinvent themselves to a certain extent, only they can tell.
There is a fantastic change of energy on track four "Looose"; it is as if they have picked up James Chance in a German café somewhere after having immersed himself in that culture for the last twenty years. There are blasts of wild free sax and crazy trumpet chasing one another around a smoky club as detached, deadpan vocals appear and disappear at whim, drifting in and out of the mix. If anything, this track brings us temporarily down to an earth we know and understand. The jungles and outer-space hyper cities are on the back-burner just for one slice of New York/Paris hybrid cool, awesome and pummelling drums duelling with the sax as we sit back in our seats and watch it all unfold.
What could be more different than a post-bop saxophone? Maybe an Arp synthesizer or something like it. Things change again with a beatless intro and gradually drift into
motorik
road song, bringing to mind
Camera
a little bit, but in a more mellow, gentler kind of mood. The Arp (or whatever it is) adds a glassy 1970s kind of vibe to the overall feel. You really feel that they are telling a story, but as it finally begins to hit its stride and you are convinced by the way it is unfolding, all of a sudden it is over and once again we are bereft. The sense of storytelling extends to the final track "Heavy Meditation", which has the late-night neon sterility of
Fly
or late period
Felt
, but is interspersed at points by what can only be described as
the soundtrack to a spaceship losing all power and being left adrift in the vast expanse of space
. It is an extraordinary use of sound to convey something as devastating as that and it works really well, even considering the simplicity of the ingredients. As mentioned, there is a bonus track right at the end but I won't give that way. You need to buy
Livity
to find out, but it is worth it to see how alive and in the moment these guys can make you feel, just from listening to music.
-Mr Olivetti-
Source URL: http://freq.org.uk/reviews/zombie-zombie-livity/
---