The Union Chapel, London 21st January 2001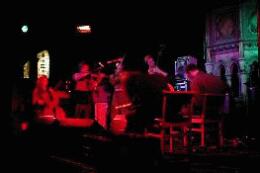 Back at the Union Chapel for another of its most appropriate events, A Silver Mt. Zion playing their coolly Classical and most definitely Goth set from the album "He Has Left Us Alone But Shafts of Light Sometimes Grace the Corner of Our Rooms". Union Chapel being as it is the most gothic of venues sans the cobwebs and Halloween decoration set designs gave a perfect ambiance to the darkly macabre but without the make-up sounds of Silver Mt. Zion. This is Shelley-style gothick, romantic Frankenstein beauty hidden in monster sort, asexual and tragic to the last.
A big stand-up contrabass, two violins, one cello, a daunting piano and distorted guitar make the sounds that woo. In long dramatic pieces with arrangements recalling antique Baroque, the ensemble move consciously through gorgeous songs piqued with heart-pulling nuances.
Continue reading A Silver Mt. Zion (live) […]