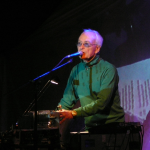 Freq talks to Simeon Coxe of Silver Apples
Eastern Bloc Records, Manchester, 1988.
Quietly, amidst the bursting green shoots of the newly emergent dance music culture, Suicide have just released the magnificent A Way of Life, their first new album in eight years. It may as well have been 80 years, so long ago does 1980 now seem. A callow 20-year old, I am queuing in Eastern Bloc Records – at that time teetering on the cusp of its time as arguably the hippest record ship in the UK – clutching a fresh vinyl copy in one hand, and some specially-withdrawn bank notes in the other.
The shop's owner Martin Price, a prime mover behind local heroes 808 State, was justifiably famed for the often scathing judgements he would pass on buyer's purchases when serving them at the counter. Many an embarrassed punter slunk out of the shop, emasculated and
Continue reading An interview with Silver Apples […]