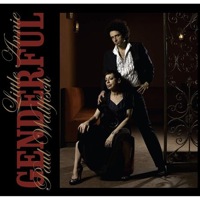 From early avant-garde releases on the legendary Crass records as Annie Anxiety, to guest slots with artists as varied (and awesome) as Coil, Nurse With Wound, On-U-Sound and Collapsed Lung, to her current incarnation as Little Annie, Annie Bandez has been nothing if not prolific, apart from eclectic. Now she and long-term collaborator Paul Wallfisch (Botanics, as well as the criminally-underrated unofficial contender for Best Band In The World Ever — according to me — Firewater) have released a new album, Genderful. From the title one could almost be forgiven for expecting some kind of dour post-feminist tract, but that would be to ignore the "wonderful" part of the compound. Indeed, the personal is political, but by the same token the political can be personal, with all the pain and beauty that often entails.
The opener, "Tomorrow Will Be" is, quite simply, stunning. Balanced perfectly between cynicism and Utopianism, it's a wonderfully optimistic track underscored by a sense of sadness – what remains unspoken among all the "tomorrow the national anthem will be written by James Brown… tomorrow our T-cells will shoot through the roof" promises is the fact that the world we live in is as yet woefully inadequate, although "tomorrow will be, just wait and see, milk and believe me honey." It's really quite beautiful, and one could (again) ALMOST be forgiven for not getting past it and just listening to that track over and over again. I say almost, because I find wilful stupidity quite unforgivable, and it would be wilfully stupid not to listen on.
And the rest's a gorgeous collection of torch songs, bitter yet empowering odes to lost loves, the healing power of booze and God, and just plain good-old-fashioned satire. "Suitcase Full Of Secrets could almost be a jazzier Bad Seeds without the Y chromosome, all strings, piano and regrets for those nights when a bottle of vodka and a carton of cigarettes are your best friends in the world.
The album's centrepiece is the, for want of a less crass piece of lazy journalism, AIDS epic "Billy Martin's Requiem." Beginning as a meditation on the death of Billy Martin, the New York Yankees manager who died in a drunk-driving accident in 1989 (did that bit sound like I knew what I was talking about, or like I just Googled it? Because the raw truthfulness of this album has inspired me to be honest here, so I'll confess it's actually the latter), it quickly shifts, via a wig-and-feathers-clad trip to a Pride (or local equivalent) march by the Hudson, into an elegy for all those killed by AIDS, beginning with Sylvester, whose "high-pitched call to glamour" Little Annie makes a decent stab of impersonating. As with all good elegies, it's as much celebration of life as it is sadness in death, and all the more beautiful for it. One of the best songs of the year, I reckon.
"Carried Away" brings back the (favourable) Bad Seeds comparisons, and "The God Song, despite its title's intimations of dour reflection, is another celebration, this time taking God to the carnival to thank Him for everything in person. And it sounds like He's having an awesome time at Mardi Gras. But as the rest of the album has taught us, things aren't all unconfined joy… in a stark juxtaposition to the opener, Genderful closes with "Adrianna," the duetted story of "Adrianna the homeless tranny," who has "let her hair go gray," in a powerful symbol of indomitable hope and defiance crushed by the cruel realities of the world.
This all sounds, and is, very deep and complex, but that's not to say that this isn't an accessible album. I could probably put this on in any group of people and most of them would like it; probably love it. That may just say something awesome about my circle of friends, but I'm inclined to think it's actually got more to do with the fact that it is, quite simply, a fucking great record.
-Deuteronemu 90210 in a torn and soiled ballgown-