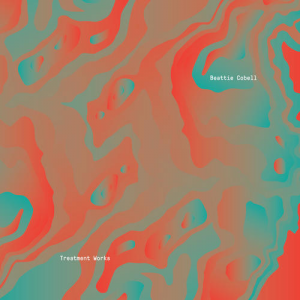 A nice splash of exploratory electronics on this first LP from Beattie Cobell. A meld of surgical coldness with dirty analogues that comes across like a modern-day Throbbing Gristle eagerly eating into its rhythmic nihilism. Filling dimensionally light algorithmics with Reichian slips, euphoric juxt-a-posies and flirting undercurrents. Kinetic investigations creeping with interest.
Treatment Works
starts quite modestly with of the taut bounce'n'purrings of "Ball Game" doused in odd trumpet-like rasp and back-pedalling undertows. Then "Catford Dogs" takes your fancy, falling like an "AB/7A" cambelt of tinny loveliness, synchronization-slipping dualities in a scoopy percussive paste. Stitchy
track lines that continually unlock, push themselves out of their sequenced straitjackets
into tempo-boppin' infinities. A taste for the unorthodox that the enveloping couriers and trillings of "Lee" reach further towards. A psychedelic witchy synthesis, replete with a nice oriental osci-twang,  loose-changing the codex, notching along to liberal sprinklings of asymmetrical staples. "Smiths Harassment" is more concentrated, an alarm call mathematically at loggerheads with itself, hardcore(ing) 
Cluster
-like custards marching to a hypno-tranced ratchet underwritten in dubby whirls. It's very addictive, and after the short vibro-embryo of "Glo-Day" comes the best track of the album.  A cheeky slap'n'tickle of grit-covered industry going by the name of "Blackheath Standard", defo something you could imagine
Mr P-Orridge
having a wail of a time over, as it flays its skin to reveal something
quite breathtakingly overwrought and poetically apocalyptic
.
"Gate Clock" is another heady number, pawed over in delinquent processing, an attack/decay/sustain/release miscellany that sways plenty of warped dissonants and fly-papered horizons. Leaving "No Ball Games" to sign off in a cognitive ticker tape redux of the opener.
More, please, gentlemen.
-Michael Rodham-Heaps-