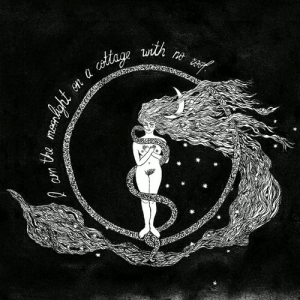 This is a sparse beauty. Eudaimon explores the magic and mysticism of Kathleen Raine's poetry in multi-tracked voice and unadorned piano. Delphine Dora's borrowed words melt in a melancholic sweetness, floating out on a mandolin of needled ivory.
The Nico comparisons are hard to avoid, but Dora's muse is less frost-damaged, eking a warm and inviting glow, like Finland's Lau Nau or kuupu. A voice imbued with a magic that fireflies, flutters with forgotten faces, burns with an untutored uniqueness.
In the lullaby quality of "Honesty" or the hypnotising vivisection of "Who Are We", the weave is a simplistic one, honest. Notes seem
to trickle like light-caught brooks, crystal clear, the perfume of camomile furnishing the mind
as "Lament"'s waltzing fingers meander through that ohhh(ing) voile. A gentle lilt that conjures quite a spell, finds passage in the duet of "On A Deserted Shore", for example, its multiple personalities falling into
an unembellished bleed of lonely harmonics that spirals you intimately in
, magnetically affixes. The folklore embering of "Fire", "The Invisible Kingdom"'s gothic folds, the tattered Teutonics of "No-Where" caged in a minimalistic tonal patter of repetition (the comforting crease of repetition that milks the vast expanse); yeah, there's plenty to love here.
Every song has its own hue, tonally paints, plucks at Raine's symbolism; the blossoming, the decay, the austere mirage that is "The Unloved", a bat-like swoop of overlaid words to diminutive stabs of note. One of those wild-wooden-cabins of a record, a campfire to keep the wolves at bay.
-Michael Rodham-Heaps-