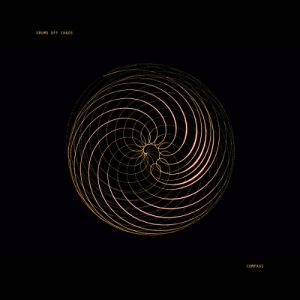 When it comes to drumming, the late Jaki Liebezeit is up there with the likes of Stomu Yamashta and Charles Hayward. So when I heard his cult-like percussive collective Drums Off Chaos was finally releasing two sweet EPs' worth of tracks upon the world, I was more than stoked. Drums and nothing but drums could be a stark prospect, but the creatively here definitely makes up the absence of any other textural interplay and melodic filler.
The first morsel from the collective, the 
Compass EP
, opens all spittle-spurred, a Salvador-slithering of bejangled somersaults. A hint of Javanese teasing the tight recoils, triggering a overlap of rutting shopping trollies and frosty metallics and leaves on a dronic purr. The teacup cermanics of "Antidote", the more African palms of "Clockwise Instinct" and "Nine Out Of Nine" is
an intriguing dance of kicked dust and double dares
, the odd splash of cymbal licking its whippy vortex. The last track dipping to more dronic territory on a colloidal purring of recurred hush, growing into a sleet of rolling tactiles.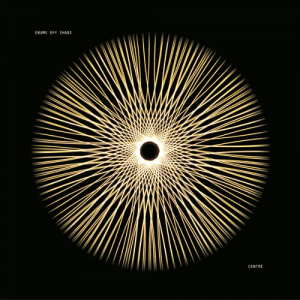 Newest is the Centre EP, a six-track drum workshop that kilters like a Moondog monologue, scissoring a succession of trembling bells. The opening track "Say Hello To The Heat" sets the tone for the templed imprints that follow it.
Alternating jivers of pitter-panned skin that "Inner Circles" throws swishy metallics into the mix, that swing of beats punctuated in clashy accents, the odd shimmering gong periphery creeping. There's a lingering sweetness that feeds the scatter-clad incendiaries of "All Elevens", the skipping-roped chop a conversation of whirls and plated pyrotechnics.
There's snare snook and skittering reshapes, the miraging dominos and vaporised cymbal of "Dripstone Shift" shooting painterly light through the betweens. Then it eats into this lovely eastern vibe, sets you up for the gamelan peculation of "Fringe Science" that more than satisfies in a
Harry Partch
-like limber of
loose reverberations round a metronomed measure
, with the odd whiff of a heat-hazed Angkor Wat lingering its latitude.
Two releases that more than rise to the challenge.
-Michael Rodham-Heaps-