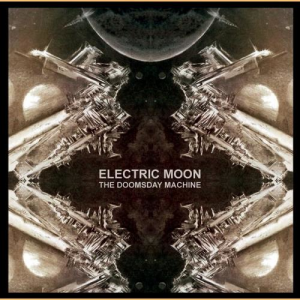 OK, are you ready for take off? A big heavy stoner riff, swirling noise and a cosmic chant vocal from Komet Lulu — it can only be the title track from the reissue of Electric Moon's classic The Doomsday Machine.
This is one of the most intense pieces of music that Electric Moon have ever created, its
fuzz-drenched guitar sounding like an aural version of a Philippe Druillet book
. Like crash-landing on another world, the sounds build into an intensity not found in most psychedelic music. It screams at you through the speakers, assaulting your ears as your engines burn out and leave you hurtling through the upper atmosphere. The bass rumbles around while
Sula Bassana
's guitar tears torturously through the fabric of your reality. Yeah, you're in space baby, but this isn't
Star Trek
— it's a collision with a supernova.
"Kleiner Knaller" takes down the mood slightly, with some beautiful echoed guitar and rolling drums played by Pablo Carneval that give the track a very early Hawkwind feel as it blisters along. "Spaceman" starts with what sounds like pulsating synths that then get fed into a big riff that gets your head shaking in true wig-out mode. This is hyperdrive travel to the nether regions of the universe that sees you rush past planets at speed as you hurtle towards the edge of the galaxy. The sound crackles around you as the music seems to have a slight Doppler effect.
"Stardust Service" starts with screaming feedback, and it's then that the drums make their clattering entrance. This is pure psychedelic music, burning with an intense fire that makes you feel you have a Saturn 5 rocket exploding behind you. During its slower passages, Lulu's voice adds an eerie melody from the edge of our subconscious mind. A slow, haunting guitar melody introduces "Feigenmonolog", the longest track on the album.
The guitar chimes along over a steady rhythm and sometimes its lead howls to the solar wind
. Here, your body is transformed in to part of the cosmos as a whole, your soul shines with starlight as it feels at one with the infinite. The music picks up its intensity as you finally fall free from any constraints of being bound to the Earth.
If you are an Electric Moon fan, then this release is a must-have. The booklet comes with some truly amazing space artwork created by Lulu's father Ulla Papel in the 1970s and certainly sums up the atmosphere created by the music. This has to be one of Electric Moon's finest releases, one to send you off into the outer reaches of forever.
-Gary Parsons-