Bristol
28 April 2017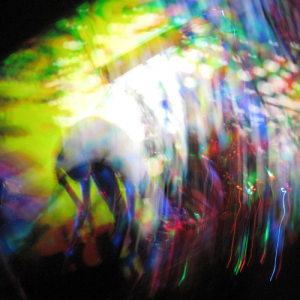 Stereocilia's haunted ambience has been hooking me in for some time now, the cinematic scope of his recent LP was blinding, but tonight's show just blew me clean away.
The gentle loopage of the past eaten by e-bowed spectres, rising out on this wah-winged intensity that literally filled The Cube up with unholy drone and distorted corona. Subtle chords peekaboo(ing) in chiming multiples, as these Klaus Schulze-like phantoms were thrown harmonically into the a overblown blizzard that corrosively leaked a ley-lined collapse.
A humming oasis to which
Guy Metcalfe
(of
Thought Forms
fame) joined the fray, adding a light shimmer of metallics to
John Scott
's raga-fringed plumbs. Up to this moment, Stereocilia had been a purely solo venture, but the addition of drums gave John's growing circulars and gathering momentums this massive energy burst, opened things up with a new dynamic that hit in
cavernous salvoes, made that majestic vastness more epic
. An epicentre whose charred heart was like a woeful captive, chorus-caged in spiking feedback and scuddering skin. Honestly, if this is anything to go by, the next album is going to be an absolute corker.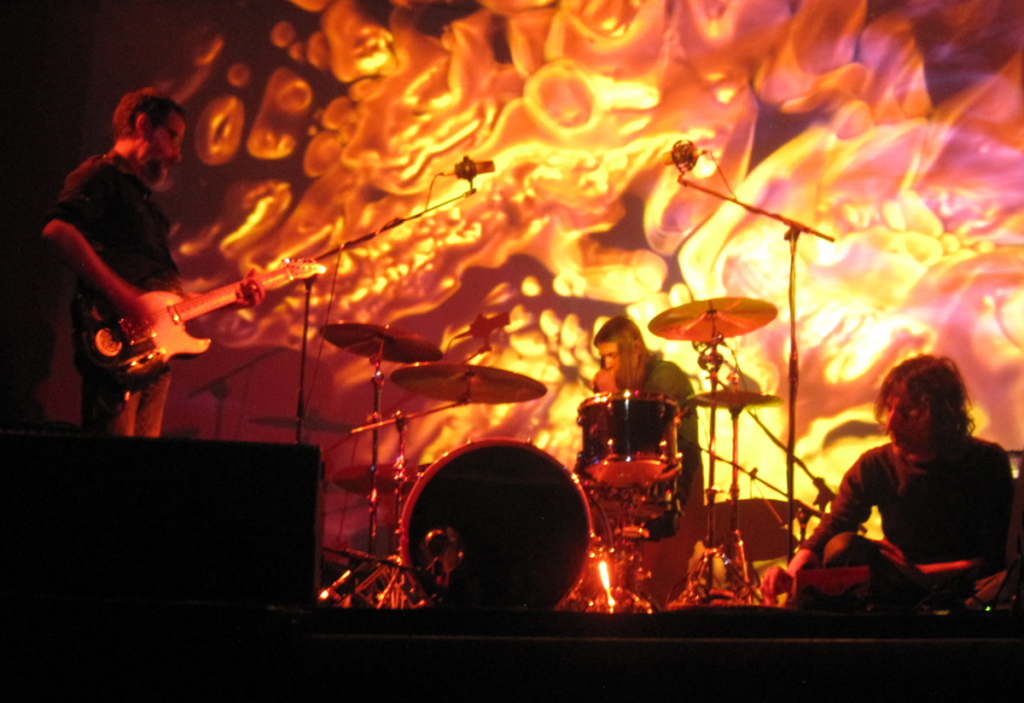 A little left in the shadow of Stereocilia's set, the meadowing purr of
Saddar Bazaar
was a slow-burning delight – all
swirling harmonica sway held to the flame of the guitarist's repeated refrain
. The odd twang of sitar shimmering in the sunset, catching the downward curves, pinching the zithering trails. A mellow introduction to which a sudden growl of fret sent things into an altogether more impassioned direction that was percussively kicked and scarred in a rosary of glowing Orientals.
The oily on-screen colours interlocking with the Amon Düül(ic) zest dribbling out of the threesome, the flickering mirages caught on some pleasing Neu!-like heights. The drummer's silhouette was haloed in expanding yellow spans, fringed in green and imperial purple as they clambered into the peppered tribals of "Garden of Essence" that were then Theremin(ed) and tempo-flung into finality.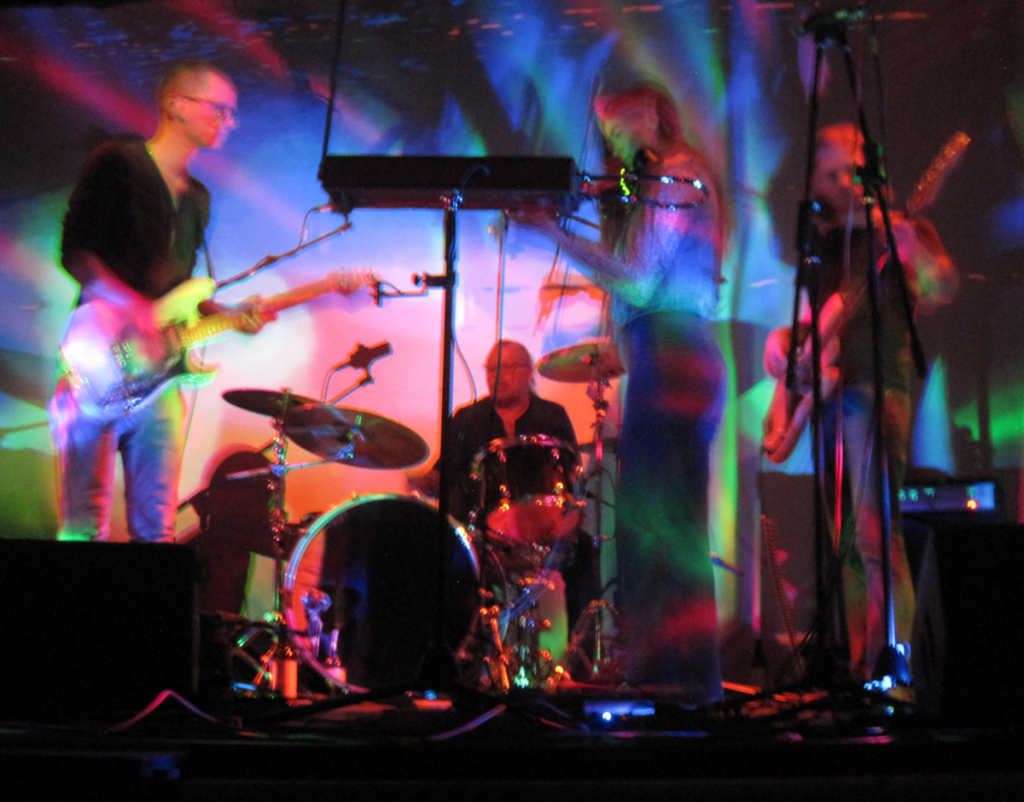 What a racket; and the headliners, the Swedish group 
Flowers Must Die
, were just incredible. Signing off the evening with a perverse treat of '70s disco-delics, a malestormed joy akin to those Finnish rockers
Circle
, full of
hungry basslines, moshy directives and retracted bites
that were definitely more wayward than their
recent (stunning) studio offering
suggests. An overloaded hand with echoic oh(ings) of vocals from
Lisa Ekelund
flung through its soulful soupiness, the odd whir of Theremin or rub of violin adding to the delirium.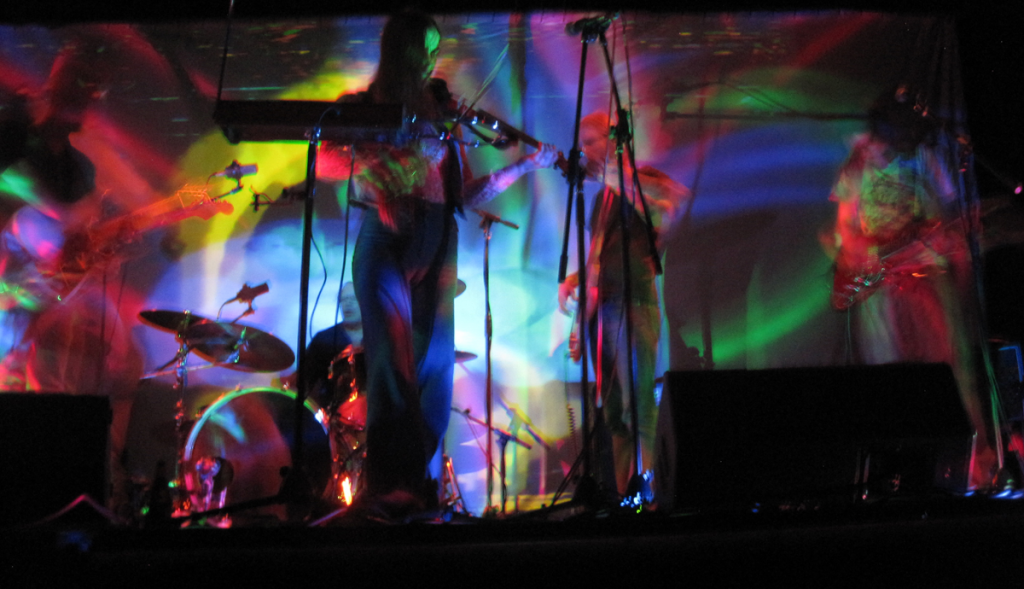 The backdrop screen filled the place with vivid flashes of colour, every song topsy-turving a never-ending parade of sonic treats, hijacking all objectivity on speculative scissors and ransomed trajectories, errant eurovisions purring a surprise of
Miko
-esque vocals that skipped faunishly through. The sound was instinctively everywhere, burning up on funky eruptions and cobras of Egyptian flute, the lead guitarist treating his frets to beer-bottled abstractions between
doodling in these super-hot riffs that literally exploded in your head
.
An intense experience, into which a newly announced song arrived, splattered in a Pollock-esqe verve of squally spurred delight. A flame of distortion to majestic eagles filling the screen as Icarus-like double vocals plunged on through the flanging keys, the vocalist pleading "centipedes on your knees"… "oh please"… "oh pleaseeeeeee!"
Flowers Must Die were a joy-inlaid juggernaut that left your inner child literally ragged.
-Michael Rodham-Heaps-