The South Bank Centre, London
2 July 2013
"Bonjour messieurs."
        "Bonjour David."
"Est-ce un rêve ?"
        "Non, vous êtes vraiment voir cela. Et aussi l'entendre."
"Oh, c'est bon. Pendant un moment j'ai pensé que j'étais d'imagerie un groupe de fou Quebecoise, jouer de la musique de Tom Waits. Je suis heureux qu'il n'est pas une illusion."
        "Oui, il peut être un peu désorientant. On l'aime comme ça."
"Puis nous commençons."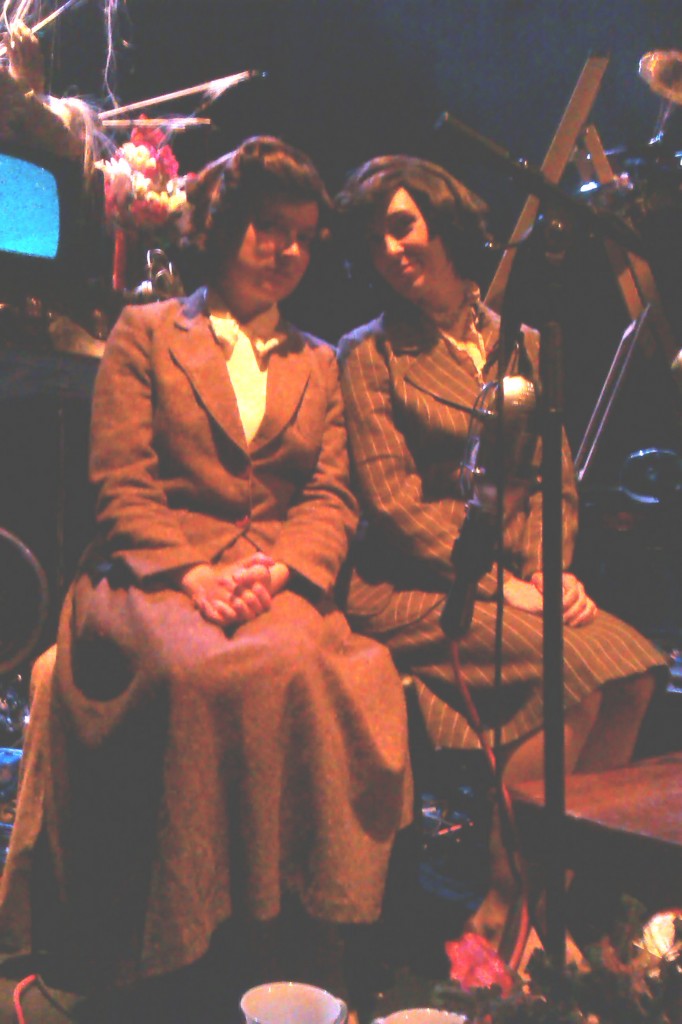 Set Dressing for the Evening
Boots,
Banjos;
Fruit;
Flowers;
Prams;
Whiskey bottles;
Stepladders;
Old television sets;
Gramophones;
Dolls;
Crash helmets;
Cups and saucers;
Cones;
Barrels;
Suitcases;
Euphoniums;
Accordions;
Washing line.
My ticket says 'E20', but I seem to be sitting inside Jeunet and Caro's Delicatessen. I'm looking around for Dominique Pinon, but instead, sitting opposite me are Les New Cackle Sisters. They have a lovely collective voice and are also incredibly good at yodelling. They drink tea – and Scotch – in a very refined and elegant manner, and are a dab hand at percussion too.
Percussion for the Evening
Boxing gloves beating on a plank braced against a washtub;
Bellows;
Angel dust;
The leg of a human manikin;
Lipstick kissing on a television screen;
Flicks of a cigarette lighter;
The inside of a small pram;
The sniping of garden sheers;
Corks in a bottle;
A hotel reception bell;
A golf club directed against a frying pan.
Alors, je have been around the musical track more than a few times. I've seen
Sun Ra
waving a little stick at his faithful following in Liverpool; I've seen
AMM
battling to be heard above a covers band belting out "Nights in White Satin" downstairs; I've seen
Whitehouse
make an audience cower near the doorway in Great Portland Street. Hell, I even saw
Howard Jones
at High Wycombe Town Hall. I threw off my mental chains. But I confess,
I've never seen a man play such a beautiful solo on a turkey baster before
. And then drink the contents.
And I don't recollect anyone playing the saw since Mercury Rev.
Or playing a broomstick bass since Lonny Donegan.
Putain de merde, c'est fantastique !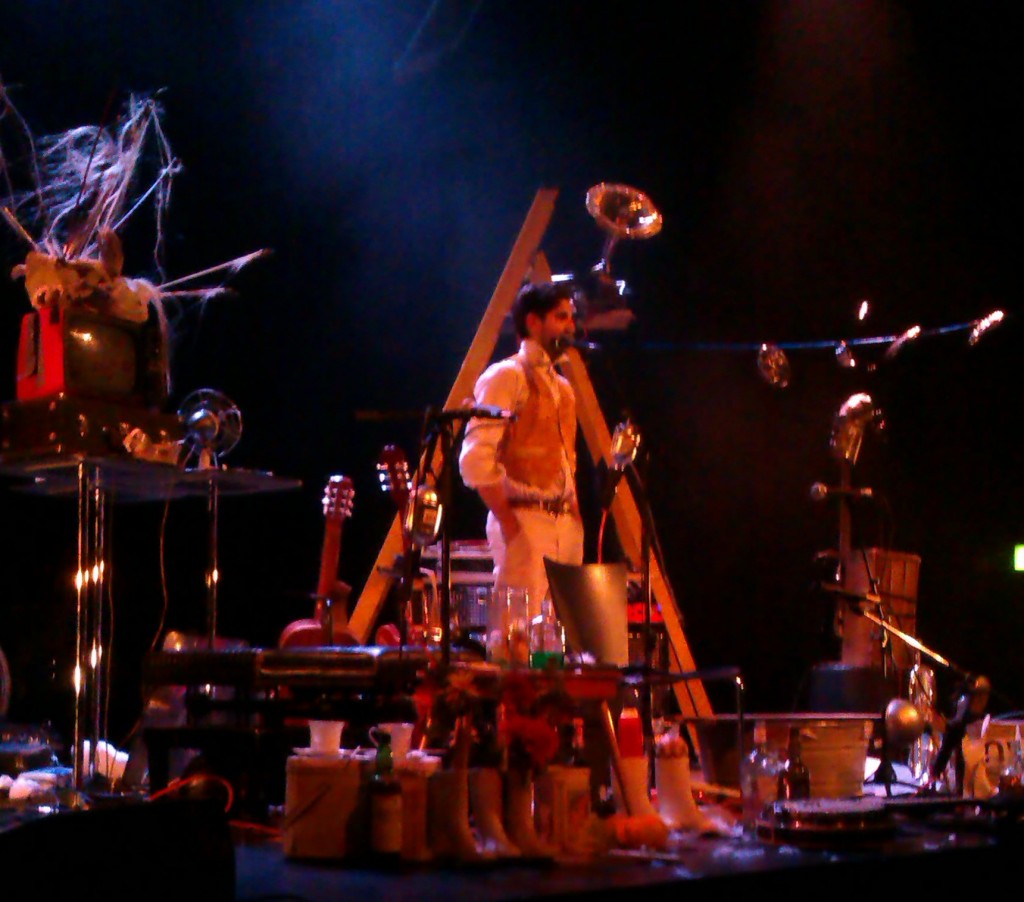 Excess Calorific Intake for the Evening
During "Chocolate Jesus," one of the sisters eats her way through an entire chocolate bar. It seems rather gag-some, but she manages to remain composed, demure and attractive all the way through the undertaking;
Bruno Bouchard, our main singer and compère for the evening, is less fortunate. During his solo performance of "I Don't Wanna Grow Up," ("This is the first song I ever wrote. Except I didn't write it.") chocolate sauce is smeared all over his face.
Cigarettes are smoked! Indoors!
Surely this can't be right? We can expect the imminent arrival of some killjoy from the local authority in order to close down the proceedings and stamp all over the sense of wonder and enjoyment being created here tonight. No-one appears. Why not? Are there exemptions? What are the regulations around this I wonder? Well, The Health Act 2006 introduced provisions for the creation of a
ban on smoking
in enclosed public places. This ban focuses on smoking:
Since the statutory instrument here seems to be the head of a doll beaten against a plank by a man wearing boxing gloves, I guess we're OK to carry on!
God's away on biznis. BIZNIS!
Drifting away into a reverie I return to seeing
a face singing into an old-fashioned Bakelite telephone
, whilst an enormous and distorting piece of Perspex is moved slowly back and forth across it. In other circumstances this might seem worrying, but right now it feels entirely natural. As natural as a drink with that nice
Frank Booth
. He drinks Pabst Blue Ribbon, as I remember. I have it on good authority that in
Goethe
's
Faust
, Mephistopheles is, in fact, summoned by the protagonist's opening of a can of Pabst. It might happen here at any moment.
There's no prayer like desire
There's amnesia in her kiss
She's a swan and a pistol
And she will follow you like this
In Moberly, Missouri at the Iroquois Hotel
She checked in with the President
And she ran up quite a bill
She's my black market baby
She's my black market baby
She's a diamond that
Wants to stay coal
Wants to stay coal.
Hey, who is this Tom Waits character anyway? L'homme est une fraude. Il s'agit de la vérité. Has he ever set off mousetraps with a plastic hand? I thought not. After a standing ovation comes a truly heart-rending rendition of "I Do Like To Be Beside the Seaside," (cluck cluck yodel), and LODHO wave us off with that same plastic hand.
I hope it's not goodbye, merely au revoir…
-David Solomons-