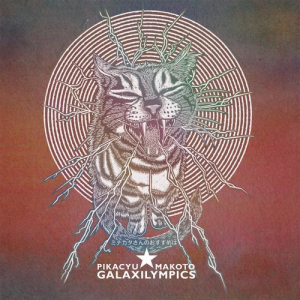 After being seriously impressed with a fantastically rhythmic and propulsive live set by the dynamic duo courtesy of the very lovely people at Upset The Rhythm (see Mic's delirious review on these good pages), I was slightly unsure as to how well the sheer mania and joy of their live incarnation would translate onto record. The LP itself does look delicious, the electrified wild cat on the cover, the strange hybrid Pika/Makoto deity luring us in on the reverse, photographs of the two of them gurning and goofing around on the gatefold inner; it all looked very promising.
What an incredibly pleasant surprise it was to finally put stylus to vinyl and to discover that although that fun-packed chaos is there in parts, the album does cover a really wide range of textures, tempos and feelings. The sheer vitality of the live show is one thing, but it is a spontaneous fusion of their eccentric personalities, slipping and sliding around one another, both working off the other's thoughts and feelings in a shower of immediacy and joy. The album can't hope to capture the thrill of the live show, because that is impossible, but the nine tracks contained within are an absolute delight and show their interlocking abilities off in the best possible way.
The show's mania and sheer exuberance, and the beauty of their unlikely relationship is captured on the opening track "Space Sumo", an immediate wig-out with random drum spatter and Makoto's guitar frizzling and frazzling in some afterglow of delight. There is rhythm within, but chaos is strewn across it like an entire toy cupboard all over the floor. The joyful childlike vibe continues with what sounds like a theme for an insane Japanese kids' TV show, Pika's vocals super-cute and
smothered in echo as the relatively simple guitar line tries to fool you into thinking that normality reigns here
. We should all know that we are far from normality as shrieks and wails emanate from Pika's tiny frame and the frantic tempo finally descends into a a crazy free-for-all. I am pleased to say that the dynamism that is so apparent at the live gigs does translate here, but what is interesting is the subtlety that Pika can insert into her drumming. Live, she is a wild thing, seemingly out of control, but with no rimshot wasted. The only other comparable drummer that I can think of is
Chris Corsano
, who has that same ability to conjure magic from the seemingly arhythmic ether. On "I'll forgive", the tempo is slow and turgid like the sound of a washing machine slowly turning as cats meow in harmony with Pika's sing-song delivery — and drums barely register at all on the delightfully drifting "Pika Mako Hall" which sees out side one. This kind of ambience is not what I was expecting and arrives as an extremely pleasant and interesting counterpoint to what has come before. The vocals are whispered and chattering electronics sigh in the background; the soft touch of a cymbal,
vocals swirling in a mist as Makoto's gauzy guitars ring like wind chimes, a loving harmony to Pika's disembodied voice
.
You can really feel the strength of their friendship through these tracks, their separate ingredients, seemingly disparate, taste so sweet when mixed together. I know he is about the busiest workaholic making music today, but this collaboration must rank as one of his most satisfying and Makoto seems happy to leave his contribution in the background as never once do the guitars attempt to overwhelm the sound.
The crystalline vocals and syncopated drums of the ethereal, almost 4AD like "Asking Love" opens the second side. It drifts and eddies around in a woozy manner, half-drunk with love and unravels at points like that beautiful inebriation we all feel at times. It is soothing and gentle, and its length allows a real sense of flotation, a mist of dream and delight. The
Fripp
-like guitar effects of "Castle Of Sand" continue the dreamlike vibe and allow us to ascend to the title track, perhaps the most structured of the whole album. The breathy vocals sound like a love letter as guitars spread across an open vista and a
motorik
rhythm holding everything in place. There is an air of
Stereolab
about it, but without the cold purity and as the song progresses, so the
increasingly frantic effects sprawl over the track like a meteor shower or electrified drops of oil in a roiling sea
.
By the time the drifting, phased guitars and gentle drums of closer "SayoNowNara" splash our toes like waves on a sandy beach at sunset, this album has become your favourite thing in the whole world. Although the distant squall of guitars starts to cloud this otherwise tranquil soundscape and menace descends from above, you realise that the pairing of Pika and Makoto is one of magical intensity and never-ending capabilities as they push one another onward. I look forward to the next instalment.
-Mr Olivetti-