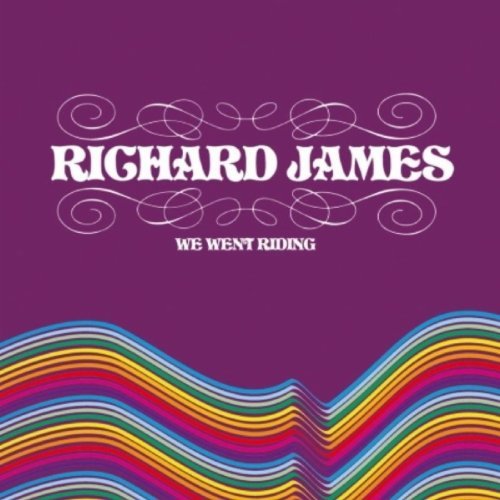 The "quiet one" from Gorky's Zygotic Mynci has been somewhat, well… quiet of late. In the five years since his former group officially called it a day we have been treated to no fewer than five releases from his ex-bandmate Euros Childs and yet We Went Riding is only Richard's second solo offering, following on from 2006's superb Seven Sleepers Den. As with his Beatles counterpart George, Richard always had a tendency to contribute a mere one or two songs per Gorkys album, but they were always among the highlights – gems such as "Stood on Gold", "Eating Salt Is Easy" and "Sometimes the Father Is the Son" must count as some of the group's finest work.
While Seven Sleepers Den was, with the exception of the searing diatribe "Wanna See You Die", a low key acoustic affair, We Went Riding is a far more expansive record. Although the songs themselves are undeniably all first rate, part of the success of the album also lies with the sympathetic group of musicians Richard has assembled for the record. Special mention should go to Siôn Glyn (of ace surf combo Y Niwl), whose exceptional contribution to Cate Le Bon's fantastic "Me Oh My" last year is mirrored here. Cate herself also crops up on backing vocals and even sings the lead on the achingly beautiful album closer "From Morning Sunshine". Fellow ex-Gorky Euros Childs also contributes vocals, blending seamlessly with Richard in that way that only childhood friends or brothers can.
Recorded with producer Iwan Morgan in James' Cardiff home, a relaxed and informal air is evident on the recordings, with snatches of studio chat and count-ins left in the mix. The impression is of a bunch of friends coming together to play music together, although the 'natural live' aesthetic is not fetishised to the extent to exclude heavily chorused vocals on the lovely "When the Letter Arrives"… and could those be backward guitars I hear pushing through the Electric Prunes organ on psych-garage rocker "Faces"?
More than one reviewer compared the previous album to The Velvet Underground, and a certain similarity is also evident here, but if Seven Sleepers Den was Richard's take on the VU's third album, then We Went Riding is his Loaded, with its eclectic mix of songs and styles, effortlessly unified by his uniquely identifiable warmth and natural flair for a memorable melody. Perhaps a more suitable comparison though might be fellow Carmarthenshire native John Cale's beautiful early solo albums Vintage Violence and Paris 1919. Like Cale before him, James has absorbed a rich vein of American (and English) music and reinterpreted it through a distinctly Welsh perspective. The spirit of Gene Clark and Brian Wilson is certainly apparent throughout the album, but the music fan in James has assimilated his influences so thoroughly that at no point does he come over as in any way affected.
Following on from the album's luscious country tinged opener "Aveline," the album's first single "When You See Me in the Pouring Rain" rides along on that effortless driving groove beloved of The Feelies circa The Good Earth and much missed since Luna split up. The title track  seeps with a regret worthy of Neil Young's "On the Beach," driven by Rhodri Viney's heart-wrenching pedal steel, and "Yes, Her Smile's Like a Rose" manages to not be rubbish despite the presence of a banjo. "Waiting Road" has to be one of the many highlights, with Cate's backing vocal and Rhodri's pedal steel blending into a sensual celestial bed for Richard's honest and understated voice, and the multi-layered vocals crashing like ten foot breakers onto a southern Californian shore on "Said I'd Leave" could surely send chills down the spine of even the most ossified statue.
We Went Riding is a warm and irresistible trove of delights that I will continue to listen to over and over for sheer pleasure – and so should you.
-Alan Holmes-