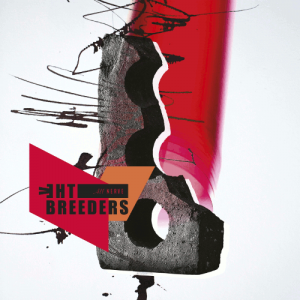 I'm feeling wooozy; Kim and Kelly Deal's deadpan is killing me again, that no-nonsense nudge hyena(ing) my inner diva. When it comes to The Breeders, it's almost impossible not to mention their previous track record. The inherent naughtiness of Pod and its conceptual follow up Last Splash still burn a plenty more than twentyish years later. The years went by and Title TK and Mountain Battles continued teasing the tenderness, smarting that cool oblique, that diverting grunginess of the (short-lived) Amps milking the betweens.
Oh oh oh, and now a there's fresh thirty-four minutes to savour. Divinely more smash and grab than pondering, they were never a band to exploit those proggy excesses. The majority of the tracks here skate in at a radio-friendly two or three(ish) minutes, with only one track breaking blissfully past the four-minute mark. Don't let that put you off though, for this foursome pack plenty of pulsating passion into that precious duration.
The opener "Nervous Mary" (after its resplendently hushed expectation) is a feisty roll of limber-lunged goodness. The pulp paragraphing, cut in slanty guitar and propelled on an adrenaline rush of percussive prowess kicking out some weird western-esque from its heels. Now, I'm sure you've all heard the single "Wait In The Car" since it dropped late last year, and I've got to say this punchy star of a track still charioteers through with gnarly integrity. A return to form that bullet-holes you in polemic poetics, stapled in runaway riffery and fluid drummage, 
Josephine Wiggs
's bass cutting the varied tempo. Sensations that sizzle like quickly penned snapshots racing to the exit. Some tracks are scantily clad, Kim and Kelley's loose lyrical weave playfully teasing. Instagram(ed) bites that sparkle or question that guitar and clippy skim. The kiltering graze of guitar that glows in the inquisition of the headlights on "Walking With The Killer" as Kim leaves too much unsaid. Musically, it all gels well with
Chris Bigg
's graphical vision, the collaging emotives (like the arts) leaving
a jigsaw for your head to re-assemble
, as "All Nerve"'s affectations quickly turn homicidal. "MetaGoth" (based on a found poem written by Josephine's mother) is a brilliant stand-out that majestically mauls. The eeling elasticity to Miss Wiggs's vocal dispassion, oozing inky with "Malaria"-like comparisons, its edginess greedily dreaming in
Angela Cart
(
er
)wheels. A vibe that more than makes up for there being no canon-balling bazazz.
Dispatching the mellow, "Spacewoman"'s zero gravities are yummy. A skim of fireworking texturals edging that jangle raw, Jim MacPherson's kicky salvos accenting the words perfectly. The sun-kissed sparkle of "Dawn Making An Effort" eats the mellow too, Kim's vocals sinking the swell, magnetically drawn on lilting latitudes and blossoming secondaries. It's a gloriously shot conception that the skitter-paned "Skinhead 2" scatters in distracting abstraction.
The cover of "Archangel's Thunderbird" is just lovvvvellly! Full of
thistly shivers that would give any Amon Düül II devotee a lusty glow
. The catchiness of the past perfectly encapsulated in "Howl At The Summit", a 
Ginsberg
-chewed pleasure, surfing out on a
Courtney Barnett
backing, the spiralling frets dripping in eddying vignettes that brings to mind
Title TK
's "Off You" brilliance. The holiday memento that is "Blues At The Acropolis" ends the affray with its junkies draped across the monuments; "Don't take a piss where heroes once bled out", advises Kim. The album comes to an end, and you are left to juggle a
Hockney
assemblage of blurry polaroids.
-Michael Rodham-Heaps-