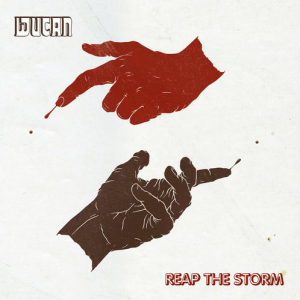 This is Wucan's second full-length album release and comes hot on the heels of their amazing performance at Desertfest this year. After the Vikarama EP and the album Sow The Wind, this time Wucan present us with a double LP in which they explore their sound, and start taking it in other directions.
Opener "Wie Die Welt Sich Dreht" has plenty of rolling drum rhythm patterns and big power chords, reminding of the Groundhogs at points. Francis Tobolsky's vocals are up front and in your face, putting me in mind of Amon Düül II's Renate Knaup — in fact, the whole track at points leans on some of Amon Düül's work, which is no bad thing, and a catchy vocal hook holds the whole thing together.
"Ebb And Flute / The Eternal Groove" hints more towards a progressive rock vibe, with Francis's flute giving the track a
Jethro Tull
vibe.
Tim George
's guitar playing here is nothing short of astounding and reminds me of
Martin Barre
's work with Tull, which is no mean feat.
Patrik Droge
's bass almost hits
Chris Squire
-like heaviness. "Out Of Sight, Out Of Mind" is a straight-ahead rocker with a great catchy chorus that reminded me of some of the early '80s New Wave Of British Heavy Metal bands. "I'm Gonna Leave You" is a blues rocker where Francis's vocals take full flight and
Phillip Knofel
's drums hold the track together with some steady beats, and it has the kind of production sound not heard since 1973. "The Rat Catcher'" again taps slightly in to a prog vein where crunching chords play under playful flute and vocals. It's here where the band sound at their most confident, giving us their own songs from the wood. "Falkenlied" is all pastoral acoustic guitars and a ghostly vocal line from Francis filled with passion, and it's a song that works so well
you are transported to the haunted edges of forests during late summer's evenings
.
The album is actually an album of two halves; the first is the shorter tracks and the second half is where we stumble into two twenty minute epics which really feel like the heart of the LP in some way. Here, Wucan give us their "Supper's Ready". "Aging Ten Years In Two Seconds" starts with a beautiful acoustic guitar and flute refrain with Francis's vocals stretching her full range. When the drums kick in you can almost feel yourself swaying to music, like you are caught up in the revery of Pan's pipes. The track then slips into more of a rocker as electric guitars chug a steady rhythm and some subtle lead is played over the top. The band slowly move through sections, trying to change the emotional feel at each given moment, to show the breadth of their musical approach. This keeps everything very much in a progressive vein without them touching upon psychedelia at all. Where this works best is when the band hit in early Genesis and King Crimson mode on sections like "Melinda".
"Cosmic Guilt" is where
the band shift into full-on psychedelic mode with drones and sitars
, and a voiceover that wouldn't sound out of place on a
Hawkwind
album from 1972. Here, the band use a mixture between eastern motifs and mix them with an early
Pink Floyd
electric vibe, similar at points to other recent bands like
Electric Moon
or
Lamp Of The Universe
. Slowly, a steady riff builds and here we touch upon
Ash Ra Tempel
territory. Almost half way in and the band kick into space rock territory as the drums become more steadier — and then all of a sudden we are in blues mode in an LSD-soaked version of
The Grateful Dead
. It's with these longer pieces where the band really hit their stride, as it gives them enough room to explore different ideas and the way they connect.
Overall, Reap The Storm shows a growth in what Wucan are willing to commit to vinyl; it also shows that they are a band willing to take a few risks along the way as long as it helps with their musical development. For me, I think the long tracks to the band better service than some of the shorter, punchier ones, so it will be interesting to see which direction they will take on their next album and also how some of these songs translate live.
-Gary Parsons-