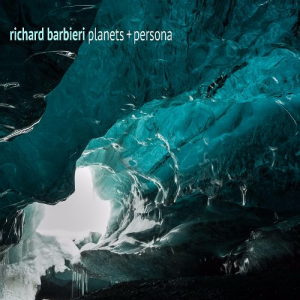 OK, I'm going to have to admit this from the very start that Richard Barbieri is one of my musical heroes. I first saw Japan live when I was sixteen, they were the soundtrack to my teenage years, and Richard's wonderful synthesizer work was a massive part of that soundtrack. After Japan dissolved in late 198,2 Richard has been in bands such as The Dolphin Brothers, JBK, No Man and most recently Porcupine Tree, casting his magic over various different musical styles. So I was looking forward to hearing this, his third solo album.
"Solar Sea" starts off with an almost jazz shuffle that skitters over droning synths. A beat hits in and atmospheric keyboards swell underneath a slight vocal. Already Barbieri is setting out his stall with a mixture of Eno avant-garde electronics mixed with rolling percussion. His off-kilter stabs of sound prove that he is still one of the masters of keyboard programming. The piece glides through sheets of icy sounds that both give a sense of urgency and yet create a welcome environment. "New Found Land" has lush keyboards that undulate beneath a solitary and lonely trumpet. This gives the track a hauntingly beautiful feel, when the percussion hits in and builds, it gives you one of those heart in your mouth moments. A melody that drifts in hints at Richard's progressive rock roots as it takes over final half of the track before the trumpet returns again to mournfully play us out.
"Night Of The Hunter" is a track with three sections to it and I'm assuming hints at the
Charles Laughton
film of the same name. Part one, "Summer", has notes that float around busily like summer insects. When the lilting melody hits in you can almost smell the long grass and flowers of a lazy August afternoon as you stretch out beneath and old tree at the edge of a field. Part two, "Shake Hands With Danger", has an eerie piano motif that hovers above deep bass notes, and is bolstered by a strong rhythm and sampled voices to give an overall sense of menace. Part three is "Innocence Lost", where funky bass floats over the powerful rhythm and trumpet takes up the main melody. "Interstellar Medium" utilizes those percussive synth stabs and unusual noises that Barbieri is rightly famous for. The track has a similar feel to
Jon Hassell
and Brian Eno's
Possible Musics
, but somehow manages to drift effortlessly into something that would be wonderful on a film soundtrack. Glorious female vocals hint at Eastern travels as the track changes its shape and becomes less angular. Sombre piano introduces "Unholy" and again a female vocal takes over giving the track an unearthly quality to it. Here
the music is designed for a mood that gives you a sense of the unnerving, but is also beatific
. A slight section reminded me of
Bobby Beausoleil
's work on
Kenneth Anger
's
Lucifer Rising
soundtrack, then big analogue synth notes hit in and take the track in a different direction, this time augmented by clarinet.
"Shafts Of Light" starts with glistening chords and the same kind of feel of a sense of spirituality behind it that tracks on Yes's Going For the One has. The track has a strange, lush atmosphere to it, although one tinged with an odd feeling of melancholia. The final track on the album is "Solar Storm", which starts with rolling bass and a perky keyboard melody, undulating underneath is a mixture of brittle synth sounds and odd percussion. The drums hit in and we are treated to a wonderful lead line that is joined by a soaring sax solo. Soon a mercurial bass line seems to hint at his old friend Mick Karn in its execution, which is quite wondrous to hear.
Planets + Persona
does something rather special: it not only takes Richard Barbieri on new musical voyages, but also hints at his past as well. There is much that is familiar in his analogue synth programming and the way he arranges tracks, but at the same time he breaks new ground. Barbieri's melodies hint at times at jazz music while also relishing a, dare I say it, a pop sensibility at points as well. He seems
to straddle art rock and progressive rock with ease without either of them jarring
with the other. Hopefully Barbieri the composer will start to be more widely recognised as the musical innovator he is and has been for over thirty years.
-Gary Parsons-