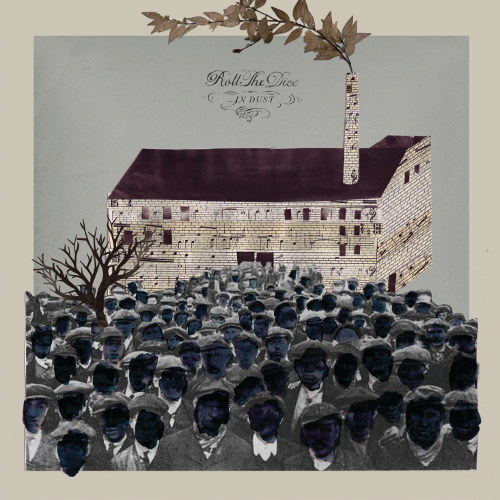 I didn't hear
Roll The Dice's
first album
Live In Gothenberg
but a quick bum around the blogs finds mentions of
Tangerine Dream
,
Cluster
, Kosmische slop in general (I've already written at least four reviews on this site where I reference
Klaus Schulze
, so this time I won't). You can imagine. People either do this stuff well (
Emeralds
) or they don't (insert unfave here).
In Dust,
their second album, doesn't really sound cosmic; it's a murkier proposition entirely. Space to Earth. Astral to ashes. The sleeve sets the tone, visually echoing slaveships and factory drones. The band's name in baroque writing but with the colours drained out and washed away. If it's been tea-stained by broken-kneed sweatshop children, I wouldn't be surprised (it hasn't). This time, the synths are still rolling but left to grumble and gently seethe and, to be honest, when I first listened to it in the comfort of the sun-filled listening room of Loki towers, I was a little underwhelmed. It kinda washed over me, reminded me vaguely of some of
Max Richter
's recent offerings but cleaner, with less crackle and less symphonic grace. But then, listening to it again on the way to work, with the sun down and the rain slicing horizontal planes and
industrial buildings looming up through the half-smoked bracken (the kids all smoke bracken down here; cheaper than dope and twice as carcinogenic)
, it found its place. The rain was particularly important, because underneath the soundtracking piano stabs, the production reminded me a bit of the sounds
behind
Rihanna
's "Umbrella"; that thick haze of showerhumming sound that relentlessly carries the melody. Other bits sound like car alarms and rubber bass lines have got together under the kind of skies
Suede
used to sing about or tickle their way through a vaguely
Twin Peaks
terrain or even some of
In The Nursery's
attempts at 'imaginary soundtracks' (a term that makes no sense;
all
soundtracks are imaginary).
Scene and setting then. Approach with care, and this will make you walk faster, but with an increased awareness of how ugly beautiful the world can be. I can think of stronger recommendations, but some of this kind of grimly analogue music doesn't work anywhere.
-Loki-