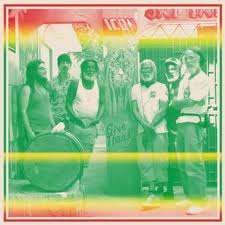 This seems both unlikely and likely. The kind of thing you look at initially and sort of 'Huh?' but then creeps up at you as you stop thinking about it and suddenly seems like an obvious decision (cf. the Julianna Barwick, Ikue Mori release). Sun Araw can (almost) do no wrong in these parts but previously in collaborations I've always felt that the message is over-diluted. Sun Araw's is a washed out sound, is woozy and indefinite and yet utterly singular and immersive  – add others to the mix and the same sounds lose something, perhaps even seem a little forced. Sun Araw seems like it needs just the one centre, everything else needs to be fixed, like a beetle crawling in circles because it's tied to a nail.
For this reason, I was apprehensive when
Frkwys
announced this was going to be their
Volume 9
. The Frkwys releases have been some of my favourites over the past year or so, in fact theirs are some of the only perhaps a handful of 12" records I've actually bought over the last year (my remaining wall-space can cope with albums, just about, but EPs and singles? Not for years). Each Frkwys release has been different but they've shared a core of frazzle and bliss that out-psychedelicizes (you know what I mean) almost anything else.
But this could have been a weak-point. This could have been an unlikely-likely collaboration too far. This could easily have been one of those good-intentioned, try hard attempts, a disaster which only The Congos would have walked away from with any degree of self-respect (and that's just because The Congos seem like they could walk away from anything with their self-respect intact; they'd float away…)
It isn't. It works. You can separate the pieces but they do fit together. It's an alchemical adjustment. The Congos' voices hovering above and (miraculously) within Sun Araw's fuzzy angles (not sure
which
bits are
M. Geddes Gangras
). There's not a great deal of variation within the tracks here but the tracks blend beautifully together. It's hard to express how well this works; it's felt, can't really be conceptualised.
It's what I imagined dub reggae might sound like before I'd actually heard any. Sometimes the whole is weirder than the parts.
-Loki-