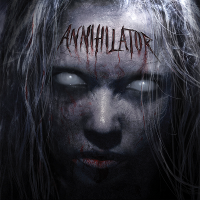 Canadian speed merchants Annihilator have really gone back to their roots for this outing, and it is going back a fair bit. Annihilator is their thirteenth studio album since 1989's début Alice in Hell. They've undergone numerous line up changes over the years with guitarist, and these days also vocalist, Jeff Waters remaining the sole original member of the band.
For all the years and changing line up, Annihilator still sound fresh and angry. Annihilator has that mix of speed shred and Anthrax mosh out on steroids (or at least amphetamines). The vocals are pure power metal: loud, clear, and hitting those high notes with ear-piercing power.You see, that's it. Back in the heydays of power metal metalheads didn't need to go to body piercing shops to get holes in their ears. They just listened to power metal.
Bruce Dickinson would be proud – Jeff Waters performs 66 guitar solos on the ten tracks of Annihilator. Things like that really make me warm to an album. The odd thing is, the shreddy speedy clean vocal sound of Annihilator seems to be having a renaissance of sorts. Bands like [post=cauldron-chained-nite text="Cauldron"], [post=white-wizzard-white-wizzard text="White Wizzard"] and Wolf have taken up the studded leather gauntlet. Admittedly, they take up the 80s hair metal sound more than Annihilator, who have stayed loyal to their roots: Anthrax, Testament, Exodus, to name but a few US speed metal bands. But speed metal, with its emphasis on clean vocals and precision shred riffing, was very much a product of 80s metal. As if proof was needed, Annihilator throw in a cover of Van Halen's "Romeo Delight." Its been a while since I've heard Annihilator, and they sound pretty much the same as I remember way back when. Of course, if it ain't broke – don't fix it.
-Alaric-