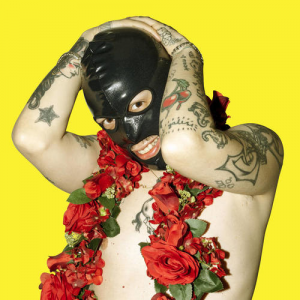 It has been about twenty years since I last listened to Turkish pop music. A trip to Istanbul for a wedding saw us return with CDs by Sertab Erener and Tarkan, amongst others. The mysterious and impenetrable Turkish language made even the most basic pop sound exotic and mildly exciting. Jakuzi are one of a new wave of underground pop acts singing in Turkish, bringing modern concerns and sensibilities to the format.
City Slang have wisely taken a punt and Jakuzi, with their Eighties-inflected song structures, leftfield take on our familiar pop tropes and as mentioned the baritone exoticism of Kutay Soyocak's vocal delivery may well appeal to those people who are looking for something a little different.
There are eleven tracks on the album and opener "Geriye Dönemiyor" really starts things off with a spacey
motorik
swing. The deep, resonant synth bass and dark keyboard sounds lend a night sky, open-air feel. It is the soundtrack to being driven around Istanbul late at night by a cab-driver and then finding yourself on the banks of a moonlit Bosporus, that gateway from east to west. This is perhaps a nice analogy between the synthetic sounds of the album allied to the vocals,
where western synth-pop meets the mysteries of the east
. The following track, "Her An Ölecek Gibi" is more of a romantic number; the
smoochy synth bass injects a sexy swagger to the track
, its chiming seductiveness an invitation to a late-night drinking den and proves that they can change mood. It is interesting that the press release mentions
Depeche Mode
as a few of the tracks could easily have been issued through
Mute
. The questing vocal of "Üstüme Gelme" tied to the simple staccato synth rhythm brings to mind
Yazoo
, as does the slow-moving drama of "Lubunya".
Elsewhere, echoes of Bryan Ferry abound through "Bir Düşmanım Var". There is a touch of the wedding song about this track and the passionate resonant vocals go someway to complimenting the plodding slow dance feel. There is even a weepy saxophone solo towards the end adding to the romantic air. Motorik sounds combine with Europop synth on "Aptal Bir Anat" and the finale of "Yine Ayni Şeyi Yaptım" brings an unexpectedly wild and vibrant conclusion, with Bowie-esque vocal delivery joining a slightly discordant melange of sounds to give an interesting payoff to what is, on the whole, a well-measured and assured first album, full of eastern promise but with plenty of western influence.
-Mr Olivetti-