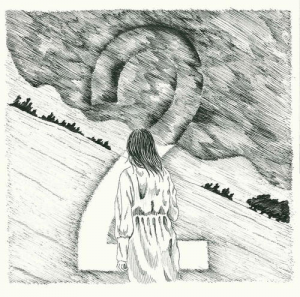 Musically, Olga Szymula's début LP is like a toothpaste tube of psilocybin rainbows and juttering dislocations. A sizzle of torn circuitries and bright petroleum blisters that spill haunt-o- delically from its instrumental start into the mysteriously entitled 'Ø'.
A tasty derangement on the subject (from what I can tell ) of good Samaritan turned psychotic carer, a tale that flashes at you in unnerving spasms of sonic perversity taunted by Olga's somewhat scary vocal posturings. A chilling (slightly
Hanayo
-esque) chanteuse that plunders some super cute / bunny-boiler depths as
she romps around like a devil in a Laura Ashley dress
. She rips into your ears with insane cackles and cross-eyed thickets whilst a caged
something
can be heard within, knocking itself senseless against its containment. A gloriously unhinged and claustrophobic joy that abruptly leaves you wounded with wonder. Honestly, haven't listened to a track this authentically disturbing in years and the industrialised gurn of the next ("Piece Of Cake") doesn't help to dispel this wow. Again, Olga is on a weird introspective trip, about gluing things together this time, accompanied by a parade of fetished apertures and raw nerve endings. As with the previous track, the music is astoundingly original, grabs at you from everywhere, refuses to be pinned down, as if it were
a suffocating fish to her poetic washing-line of verbal disquiet
. Some seriously bonkers hysterics furnished in heavy ebony plunges and twangy fists. "I glue it… That's how I do it… Piece by piece…" she goes, as I fail to shake off a vision of greedy hands reaching into a bin-bag for more chopped-up body parts. The last track sounds like Olga has switched to her native Polish. Dropping "Gry i Zabawy" quickly into a translation engine gets me "Fun And Games", and she's certainly having plenty of that here. A superbly crafted nine-minute psychodrama starting in lilting beauty, upended in detuned piano and weird asphyxiated whimpers before slipping into a sweet'n'sour of noisy ecstasy, its hammering midriff
a thing of startling lucidity dragged into riotous colour
.
This is a damaged and transgressive pleasure that has my "album of the year" stamp of approval.
-Michael Rodham-Heaps-