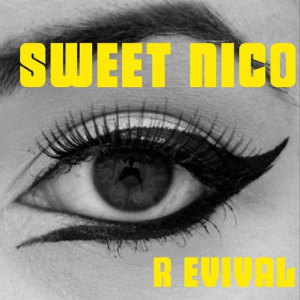 Sweet Nico are an ethereal and dreamlike duo from Portugal who have been together for a couple of years and concoct a sad, intimate and at times delerious style of aching dreampop. Made up of Marisa on vocals and David on instruments and production, the cover shows them to be stylistically harking back to the sixties, but musically they are definitely much closer to the current day.
The album contains ten songs which seem to sway out of the speakers with a kind of tragic air, with Marisa's vocals a lower and slightly less confident companion to Hope Sandoval's. There is mention made in the press release of comparisons to Mazzy Star, but the Portuguese duo have a less organic and slightly more turbulent sound.
There is an interesting texture to some of the tracks, as although the general tempo is elegiac, the disparate parts sometimes sit at odds. The keyboards and drum machine run at different speeds, the
dipsomaniac guitar burning like heartbreak here or crying on your shoulder there
. As the album develops, Marisa's vocals become more assured and they waft like a breeze through the atmosphere. Track one starts with the kind of mournful guitar that swirls around your head like a cloud, writhing and echoing as her vocals, low and mournful, join in the procession. The rhythm is described by a drum machine and this gives the track a jittery, unsettled feel as Marisa's keyboards come in at times and throw wild zigzag shapes across the song. These reduce in speed and dissipate like ripples in a pond. Where the tracks are not texturally based around the guitar, the sound drifts in a
Lana del Rey
sort of direction. The keyboards then take a greater part of the foreground and at one point
they sparkle like drops in a water garden seen through mist as the vocals hover, gauzey and obscure
.
This album is an interesting mix of characteristics as the unsettling keyboards can sit at odds with the languid guitar and the hyperactive rhythm tracks can jostle the sleepy-eyed vocals and it is those juxtapositions that help the album to stand out. The Mazzy Star cover at the end of the album is nice but unnecessary, and I think another original would have been better. However, the vibe and atmosphere of the album is worth investigating.
-Mr Olivetti-