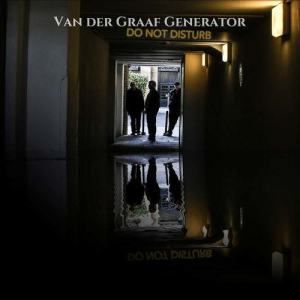 It's always a daunting prospect to spin a new Van der Graaf Generator album for the first time: will it live up to expectations? Can the group still be vital and challenging thirteen albums and forty-eight years into their "career"? The answers are inevitably a disappointing "no"; and a second and third spin do very little to change that perception. By the fifth, a few more of its charms are uncovered and by the tenth play — VdGG fans are by necessity a tenacious bunch — ah yes, it is clearly a masterwork on par with their previous masterworks. "Hook-laden for instant gratification" and "market penetration potential" are phrases yet to enter the group's otherwise extensive vocabulary. Do not Disturb continues to follow the same aesthetic trajectory.
Never a group to fall back on formulated studio habits, Do Not Disturb bins the produced sheen of A Grounding in Numbers in favour of a grittier live sound. This time round, the group intensively rehearsed each piece before committing a note to "tape" and then spent a week recording all the backing tracks live, just like in the old days. Indeed, the sound of Do not Disturb is closer to the group's classic sound than anything since the departure of David Jackson, while at the same time containing echoes of Peter Hammill's '80s K-Group.
Sprawling epics and two-minute songs are both conspicuously absent here, the majority of pieces clocking in at around the seven minute mark, although the two minutes, twenty-nine second instrumental "Shikata Ga Nai" makes the CD version more attractive than the vinyl (on which it doesn't appear). I can't say that I listen to
ALT
 or disc two of
Present
with much regularity, but "Shikata Ga Nai" is one of the group's best wordless pieces, sounding like a
Messaian
organ work played by a Japanese ensemble. It provides
a calm respite at halfway stage before the convoluted sledgehammering
of "(Oh no I Must Have Said) Yes" kicks in.
Unfortunately this latter song is also home to the album's low point — two and a half minutes in, the group go into one of their notoriously ill-advised jokey pastiche sequences. After four minutes of eminently editable lounge swing noodling, the riff hits back in, but too late to salvage the song. I like to think that the tradition of Turkish carpet makers deliberately including flaws into their work because only Allah is capable of perfection lives on in VdGG: "The Sleepwalkers"' tango section, "Meurglys III"'s reggae section, the entire concept of "Nutter Alert" and now this throwaway pseudo-jazz nonsense. It's reassuring in a way, but happily is the only low point of an otherwise pretty remarkable album.
The record kicks off with one of several atmospheric pre-recordings leading into the low key and brooding intro for "Aloft", the restraint soon thrown to the winds in favour of classic VdGG convolution. "Alfa Berlina" follows in similar manner (at least on the CD — the vinyl running order being totally different), emerging deceptively calmly from another atmospheric ambience before going through
endless changes of mood, tempo and time signature.
The substance of much contemporary VdGG material is understandably not a huge distance from Hammill's recent solo work, but the contribution of Hugh Banton and Guy Evans cannot be underestimated, and even in a song like "Room 1210", which would sit happily on any of PH's recent solo albums, the "other two" take it to places that Hammill seems almost scared to visit these days. "Forever Falling" is another CD only track that starts off in teasingly '80s AOR style, (an out-take from The Noise?) before veering off into far more interesting territory, while remaining the catchiest tune on the album (unless you buy the vinyl of course).
Following the two previously mentioned mid-album tracks, we get to "Brought to Book" — second track on the vinyl running order and a rather lovely VdGG ballad, Hammill on piano and Banton on bass for much of the song, but with the inevitable sporadic rhythmic upheavals. Every song on this album seems to be written by a dyslexic abacus (a good thing). "Almost the Words" actually manages to maintain subdued ballad mode for a full three and a half minutes (I was just asked if I was listening to
Nick Cave
) before abruptly fracturing into the
Mahavishnu Orchestra
jamming with
The Residents
. More sonic ethereality leads us into final track "Go" —
a stately rhythmless piece that for once doesn't erupt into 13/8 atonal riffing
and brings the journey to a satisfying and calm end.
Peter Hammill is quoted on the press release as saying "Some of this music is as technically demanding as anything VdGG have ever played. Other passages rely on the feel and empathy which has been built up over the years." For once, I fully believe the hype. If you are willing to put a fraction of the effort into listening to this music as these remarkable sexagenarians did in creating it, you will be in for a treat — oh, and four minutes of rubbish cod swing — exactly the time needed to make a nice cup of tea; how considerate of them!
-Alan Holmes-