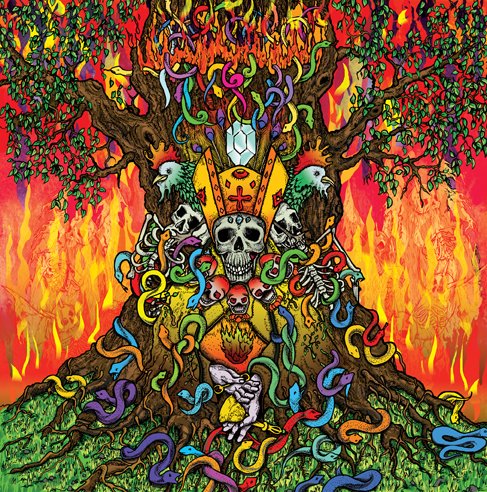 The paths of western musicians dabbling in world / global music or whatever you call it these days is strewn with heroic and not-so heroic failures; Bill Laswell please stand up. So when I first heard that members of Earth, Asva and Burning Witch( three personal favourites) and other Seattle luminaries including the great Alan Bishop were embarking on an ethno music voyage under the infantile moniker of Master Musicians Of Bukkake and the then to see pictures of the band cowled in various ceremonial robes it did not fill me with great anticipation. Obviously all of the MMOB have a fine pedigree as musicians but as previous incantations of this genre have shown this is not necessarily a recipe for success.
So I was pleasantly surprised when I first caught them live at
Supersonic
in 2009; the Master Musicians Of Bukkake like many of their contemporaries are drawn to the musical influences of the Middle East and Italian Film soundtracks.
What I think makes MMOB the success they are, is particularly the skills of Randall Dunn as a producer, arranger and musician and the diversity of material they attempt on each album
. My knowledge of global music is mainly restricted to output of
Sublime Frequencies
and a few cheap
Nonesuch
albums discovered at car boot sales so I am no expert, but like its predecessor
Totem 2
it is built around a central theme – previous incantations had a Moroccan Arabic feel; but here it is India that provides the central influence.
It starts similarly to Totem 2 with Gamelan bells and throaty ritualistic vocals on "Bardo Sidpa." Then Indian themes set in with "In The Twilight of Kali Yuga," which is apparently the fourth stage the world goes through according to Hindu scriptures when the world descends into chaos and strife. It starts beautifully with tabla, sitar and flute before building to a glorious crescendo. "Illuminating the Ten Directions" features synth drone, woodwind and ritual again building to a crushing finale in keeping with the members' day jobs. "6000 Years of Darkness" has to my untrained ears almost a Baroque feel, or is reminiscent of a madrigal. "Reign of Quantity" follows perhaps the least distinctive track before the finale of "Failed Future" which sounds like it could been lifted straight from the soundtrack to Assault on Precinct 13 or one of John Carpenter's other 70s masterpieces.
So
like its predecessors it is extremely diverse and highly rewarding
. Listening to it made me revisit those John Carpenter soundtracks and want to hear more Indian music. I understand their next recording will feature a collaboration with London-based Iraqi musician
Khyam Allami
who, having caught them together at this year's Supersonic, where they were stunning, despite early technical problems . But for now if you want a copy of
Totem 3
don't hang around because I am sure, like its predecessors, the black vinyl higher-fidelity copies will sell out in a flash – and whilst the re-pressed picture discs are no doubt beautiful artefacts in their own right, this deserves to be heard in the highest quality.
-Tim Marsh-