Corsica Studios, London
3 December 2014
One of the bonuses of the gig being at Corsica Studios is that I can have a wander around inside the Elephant and Castle shopping centre beforehand. It's a truly gargantuan space, way too large to justify its enormous real estate footprint in these slavering Neoliberal times, but somehow it manages to persist, its small-flecked 1970s flooring and wooden handrails clinging on in 2014, as anachronistic as pair of brown flares and a pint of Watneys Red Barrel. It's not pink any more, and sadly no longer has wonderfully alliterative pairings of its purchasable wares written around the top of the facade ("Shoes / Sandwiches"!), but damn it, it's still there.
Even its original architects later admitted that "the site is really saying no with a big NO to almost any poor pedestrian who wants to creep into the building." but after many years away from the area, I finally manage to gain ingress and enjoy its bizarre delights once more. Filled now with Latin American and East European influences, grafted uneasily over the indigenous Caribbean culture, the whole cavernous hanger feels like a curious no place, a vast roofed polyglot island un-tethered from the nation state, or even the city state of London. I half expect to see
Iain Sinclair
wandering around researching his next book, but instead have to settle for
five minutes in a vibrating leatherette easy chair
. Yours for only a quid.
I meet Fiona opposite the dimpled silver cube under which Aphex Twin was once rumoured to live (he didn't) and which was also supposed to be a secret government listening station (it wasn't i), and we stroll slowly around the corner to Corsica Studios. Man, even Elephant Road is starting to look cool these days. The once-monolithic Heygate Estate has been reduced to powdered brick dust and a container complex of bars and studio units stands invitingly on its corner. The Elephant and Castle regeneration is in full effect. For the many, not simply for the few? Don't ask that question. What are you? Some kind of socialist?
Corsica itself remains as low-key and charming as always, an almost unmarked door which one could be forgiven for missing in a more distracted moment. The bouncer, though friendly, confiscates Fiona's small carton of Ribena (she had a busy day and didn't have time to drink it at lunchtime), and I can't help wondering whether it would be possible in retrospect to identify the precise moment when 'Rock & Roll' (for want of a better term) went from being the battle-flag of a progressive and transformative social movement iii to the kind of environment in which people have their fruit juices impounded. How the flaming Hell would Iggy & the Stooges be able to make Metallic K.O. today? You can't even take an apricot into a gig these days, let alone a bowling ball.
The show tonight is a sell-out – in terms of ticket sales, not credibility – so by the time support act
Tomaga
take the stage, Corsica's tiny environs are wedged tighter than a sardine packers' outing. And a jolly lucky lot they are too. Tomaga do a very nice job indeed of loosening up the assembled groovsters, their driving rhythm section-based electronica counterpointed by
some slow and spacey visual back projections
.
Valentina Magaletti
's drumming is absolutely infectious and I'm tapping my feet and drumming along on every available surface.
Obviously in tune with the Rudi Protrudi lookalike I spot, the DJ has decided to fill the hiatus between bands with as much Sixties futurism as he can muster, so we are treated to a glorious mash-up of Fifty Foot Hose, White Noise, The United States of America and the whole bonkers roll-call of heroes who nobly coaxed incredible sounds out of primitive, recalcitrant circuits and shaped them into enduring art. Someone fund David Vorhaus to release a new album for Christ's sake.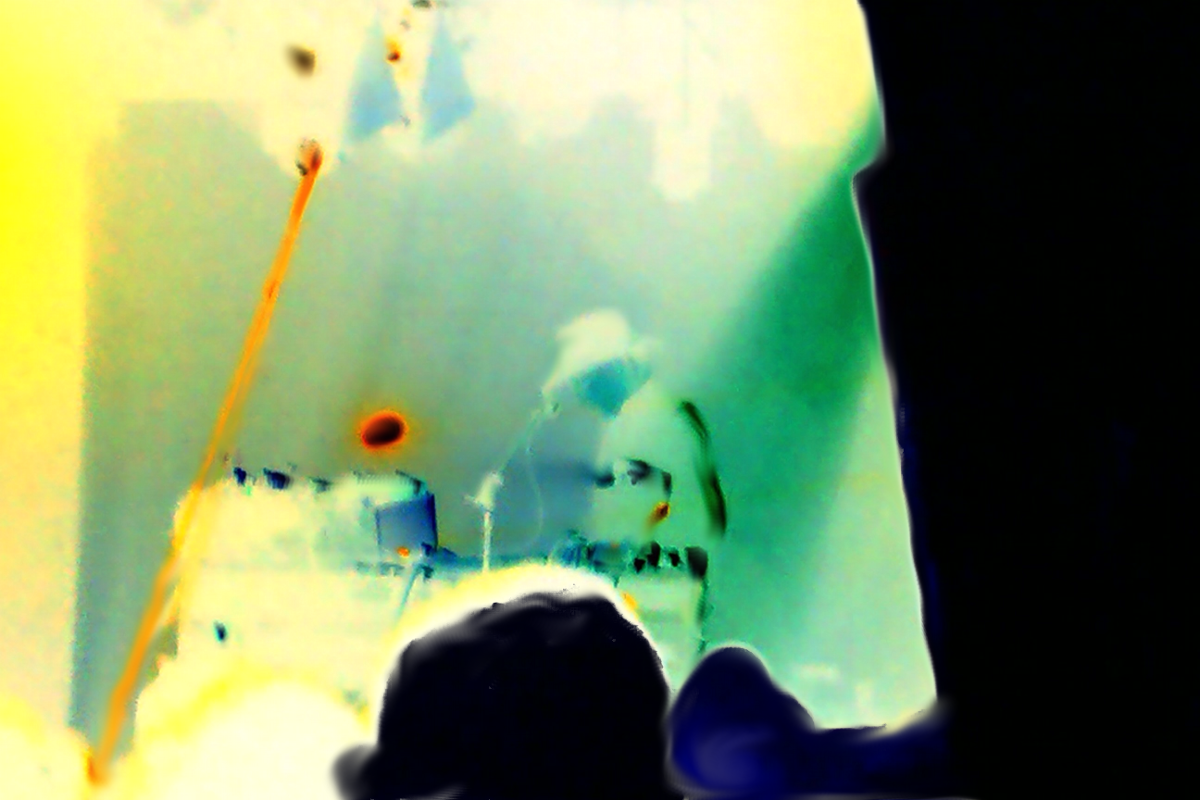 But tonight belongs not to Vorhaus but to the legend that is
Simeon Coxe III
,
now in his glorious 76th year and still appearing on stage with the impact of a large meteorite
. Dressed in black, beneath a big black hat, it's like
Andrew Eldritch
's grandfather has decided to commandeer the family Christmas gathering and play some techno until everyone passes out from too much dry sherry.
A couple of years ago I had the glorious good fortune to spend several hours in Coxe's telephonic company, interviewing him at length at his home in Alabama for this estimable organ. In addition to being an innovator in rock's history the like of which hardly exists anywhere else, he is also a charming, gentle man. And a gentleman, of the old-school Southern variety. His story is completely unparalleled in rock history, and listening to his music, you can hear shades of almost everyone who ever picked up a Moog, a Korg MS20 or an 808 in the years that followed: Kraftwerk, Gary Numan, Suicide, techno, the list goes on and go. Fiona even swears she can hear some of M's "Pop Musik" [iii] in there too. You have to keep reminding yourself that they sounded like him, not the other way around. When Simeon had built his own electronic instruments and issued the first magisterial Silver Apples album, Ralf and Florian were still students at music conservatory tinkering with flutes and pianos. Derrick May was five.
Although Simeon serves up an utterly delicious dollop of vintage Sixties Silver Apples material, this man is no heritage act. At one point, I realise that I am re-experiencing the same feeling I had at
Wire
's
flag:burning
show in 2003 when I enjoyed the
Send
half of the show better than the
Pink Flag
half that had preceded it. Do you know what? It's the same tonight –
I think I'm enjoying the new Silver Apples material even more than the classics
. 'The Edge of Wonder" is absolutely fracking amazing.
Perhaps most pleasingly exemplary of this is the classic "Oscillations," the track which opened the band's first album way back in 1968. Simeon starts up the wobbling analogue bubblebath intro riff, and Danny Taylor's wonderfully proto-loop drumming kicks in and propels the song off on its way, all bleepy background atmospherics and shifting poly-rhythms. It sounds like classic 1960s Silver Apples. Yet three minutes in, Simeon stops the song dead in its track, makes a few honking noises as if summoned from an old brass car horn, before resuming the track, which this time hurtles off in a redux 2014 iteration, pounding bass and drum sounds atop which shrieking, swirling oscillations play like spring lambs gambolling around in a field.
The only fly in tonight's electronic ointment is the terrible sound mix, in which Simeon's vocals are almost lost except when at full strength. There is so much echo on his voice, and the sound is so poorly handled in the mix that even when simply talking between numbers, one can scarcely hear a word that he says. It's a shame that the evident warmth between performer and audience is compromised by such a detail, so Corsica must get a 'Should Do Better' on its end of year report.
F Scott Fitzgerald
once famously remarked that "there are no second acts in American lives," but thankfully Simeon is living proof – at least once – Fitzgerald was wrong about that. During the early part of the 1970s Simeon Coxe was driving an ice cream van around Alabama, a completely forgotten pioneer of a genre that was only just beginning the start of a remarkable twenty year golden age. Thanks to the chance intervention of some German bootleggers, Coxe was granted a second act which, even now, he finds it almost impossible to believe. However, the rapturous applause that greets the set's end it surely evidence that the modern iteration of Silver Apples is here to stay, and that, to a growing number of people,
Coxe has at last been granted his proper place as one of the genre's true originals
,
Chuck Berry
with a low frequency oscillator. The only real tragedy is that Danny Taylor, Coxe's comrade-in arms and Silver Apples' extraordinary original drummer, did not live long enough to have his own rôle within the band's astonishing Indian summer. Yet Taylor's spirit still infuses every note of the band's material, his beats sampled into every track, old and new, by his old friend Simeon.
On the way out, I pick up the 2014 Tour Single, a lovely piece of 7″ green vinyl. Much like the band itself, a 7″ vinyl single seems a curious hybrid of ancient and modern, technology from another era to be sure, but one which nevertheless seems more real, truer and more forward-looking that any amount of lifeless digital formats. Bearing a charming cover illustration by Simeon, the A side is a wonderful demo of "Missing You," a truly haunting piece of Silver Apples electronic melancholia, whilst the flip is a stupendous version of the 1967 / 2014 "Oscillations" hybrid, recorded live in Texas last year.
Vorsrpung durch Technik, as they say in Düsseldorf.
-David Solomons-
ii Sorry, I saw the Henry Cow reunion show the other day and it's sent me all of a tizzy.
iii New York, London, Paris, Munich, everybody talk about…mmm…Pop Musik.